By Eric Abrahamsen, March 10, '08
I went to attend the press conference for Han Dong's new book, 小城好汉之英特迈往 (xiǎochénghǎohàn zhī yīngtèmàiwǎng, The Legendary Exploits of a Small Town Bravo) at the Sanlian Bookstore last Saturday. I haven't been to many book release events outside of China and don't have much to judge by, but I think the local model is strange – the publisher ropes together big-name writer friends of the author, and gets them to speak in praise of the book in question. It's neither a plain press release, nor a meaty discussion of the book, and the event is typically precisely as interesting as the personalities of the writers attending. The only thing that kept me awake during the launch of Li Rui's 人间, for example, was Yan Lianke and his sense of humor.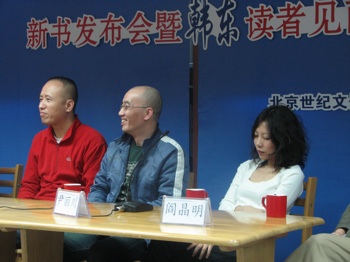 This event was similar – Han Dong's posse included Mou Sen (牟森, an avant-garde theater director), Zhu Wen, Yin Lichuan, and Yan Jingming (阎晶明, a literary critic). For all the ambiguity of the event itself, it was an entertaining crowd. First of all, Han Dong was at a total loss as to what to say. The man has been writing poetry and fiction for twenty years, and this was his first public appearance in support of one of his books – that ought to provide some idea of the literary marketplace here. But Zhu Wen was funny, both Mou Sen and Yan Yingming had thoughtful reactions to the book, and if Yin Lichuan had little to say she at least appeared sincere.