Bi Feiyu

毕飞宇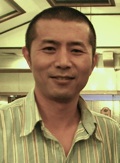 wikipedia / worldcat / MCLC / baidu / CBI / MyChineseBooks.com / Chinese Short Stories
Bi Feiyu was born in 1964 in Jiangsu province and lives now in Nanjing. He co-wrote the script for Zhang Yimou's Shanghai Triad and has won the Lu Xun Prize for Literature twice. Two of his novels, Three Sisters and The Moon Opera have been translated by Howard Goldblatt, who wrote to him in the 1990s asking for permission to translate his story "The Ancestors," which later appeared in Goldblatt's anthology of modern Chinese short stories, Chairman Mao Would Not Be Amused. Though he spent six years as a journalist at Nanjing Daily, he only contributed 6,000 words during his entire tenure there, because (as he claimed in '09) he had a nasty editor who didn't appreciate his writing.
Bi Feiyu's recent novel about blind masseurs, Massage, is set to be published in Italian in 2012 and in English after that (rights purchased by Penguin Group). He is well-represented in French. Bi Feiyu prefers telling other people's stories rather than his own, yet he internalizes the characters and embellishes as his imagination permits. The plot of his most recent novel Three Sisters (titled "corn" in Chinese, after one of the main characters) grew out of childhood memories of watching his father roast corn on the fire as he leaned on the bosom of an elder "sister" (a relation we would refer to as "cousin").
Bi constructs well-rounded characters and is often called China's best male writer on the female psyche, particularly as represented by the main character of The Moon Opera, Xiao Yanqiu. He often writes like he talks. His prose can be meandering and his metaphors indulgent, but his ability to reproduce colloquial language in print and his interest in "commonplace" characters means that his work presents a wealth of truly relevant human detail to the reader.
Winner of the Mao Dun Prize 2011 for《推拿》"Massage."