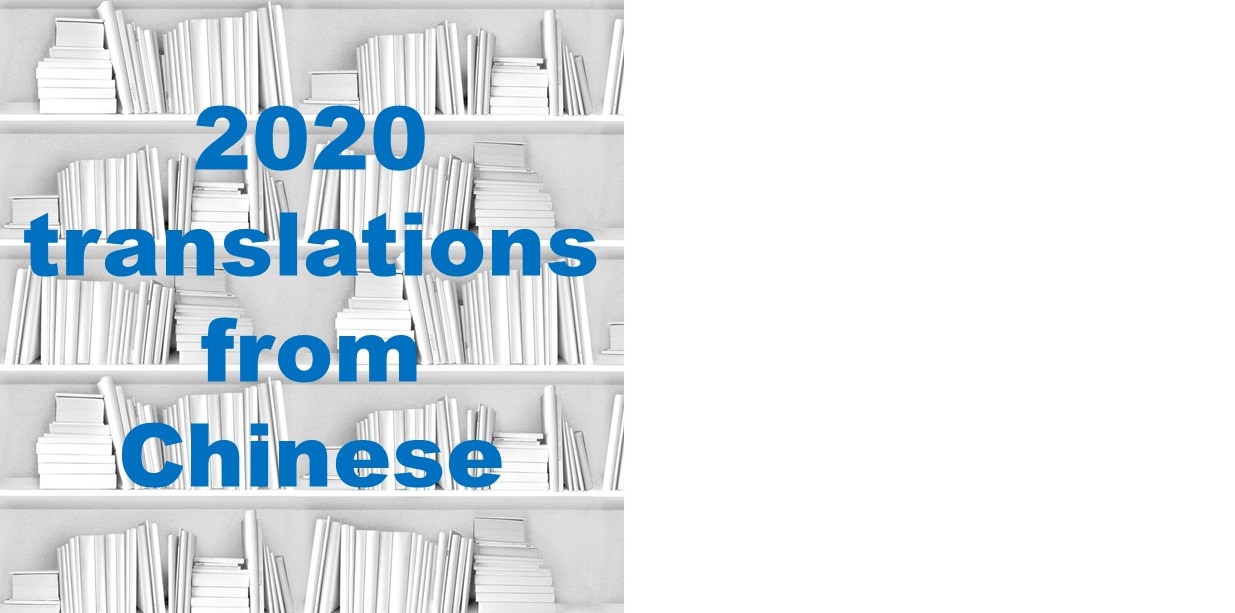 2020: torrid times. Not all of the ones on our 2020 Forthcoming Translations (posted in December 2019) made it into publication this year, but a number of translations from Chinese have still come out.
Kudos to writers, translators and publishers alike!
Prizes
The Newman Prize for Chinese Literature is awarded biennially in recognition of outstanding achievement in prose or poetry that best captures the human condition. The 2021 Prize is awarded to Yan Lianke. Juror Eric Abrahamsen said of the winner, "He remains vitally invested in the ethical responsibility of the author. Though it has been demonstrated to him again and again that his explorations of China's historical trauma are not welcome, he seems not to take the hint, and persists in laying bare what he sees as the original sins of modern Chinese society… His stubbornness, and the perpetual freshness of his sorrow over historical tragedy, are worthy of respect."
The Warwick Prize for Women in Translation shortlisted two Chinese translations, out of five. Lake Like a Mirror, by Ho Suk Fong, translated by Natascha Bruce (Granta 2020) and White Horse, by Yan Ge, translated by Nicky Harman (Hope Road, 2019). The winner was The Eighth Life (for Brilka) by Nino Haratischvili, translated from German by Charlotte Collins and Ruth Martin (Scribe), and the runner-up was Letters from Tove, by Tove Jansson, translated from Swedish by Sarah Death (Sort of Books), all chosen from a total of 132 entries.
And the Best Translated Book Award longlisted China Dream by Ma Jian, translated from the Chinese by Flora Drew (Counterpoint).
Apart from those three awards, Chinese translations made a poor showing again in the international prize lists, with none being long- or short-listed for the International Booker Prize 2020, or the International Dublin Literary Award.
Gender balance
The proportion of translated women novelists has not improved over last year. Of the 17 general fiction single-author books, only 6 are by women. The figures for other categories are: classic fiction, zero; science fiction, 1 out of 2; non-fiction, 3 out of 6. Worst of all, considering the number of excellent female poets in China, only 2 out of the 12 poets listed below are women!
A selection of star reviews of books on this year's list:
General Fiction
A Yi, Two Lives: Tales of Life, Love and Crime, tr. Alex Woodend (Flame Tree press)
Can Xue, I Live in the Slums, tr. Karen Gernant, Chen Zeping (Yale Uni Press)
Chan Ho-kei, Second Sister, tr. Jeremy Tiang (Grove Atlantic)
Chia Joo Ming, Exile or Pursuit, tr. Sim Wai Chew (Balestier)
Ge Fei, Peach Blossom Paradise, tr. Canaan Morse (NYR Books)
Jin Yong, A Snake Lies Waiting: Legends of the Condor Heroes vol. 3, tr. Anna Holmwood, Gigi Chang (Maclehose (UK) and St Martin's Press (US))
Leung Ping-kwan, Dragons, short stories, tr. Wendy Chan (CUHK/ CUP)
Liu Yichang, The Drunkard, tr. Charlotte Chun-lam Yiu (CUHK)
Multiple authors, edited Dai Congrong, The Book of Shanghai: A City in Short Fiction, tr. multiple translators (Comma Press)
Oobmab, The Flock of Ba-Hui & Other Stories, tr. Arthur Meursault and Akira (Camphor Press)
Su Tong, Shadow of the Hunter, tr. James Trapp (ACA)
Various authors, Chinese Women Writers on the Environment: A Multi-Ethnic Anthology of Fiction and Nonfiction, tr. Dong Isbister, Xiumei Pu, and Stephen D. Rachman (McFarland)
Xi Xi, The Teddy Bear Chronicles, tr. Christina Sanderson (CUHK)
Xiao Hong, Vague Expectations, tr. Howard Goldblatt (CUHK)
Xu Xu, Bird Talk and Other Stories, Modern Tales of a Chinese Romantic, tr. Frederik H. Green (Stone Bridge Press)
Yan Ge, Strange Beasts of China, tr. Jeremy Tiang (Tilted Axis)
Zhang Ling, A Single Swallow, tr. Shelly Bryant (Amazon Crossing)
Zhou Daxin, Fields of Joy, tr. Justin Hebert & Zhou Dan (ACA)
Zhou Meisen, In the Name of the People, tr. Emily Hein (ACA)
Classic Fiction
Dong Yue, Further Adventures on the Journey to the West (

西游补

), tr. Robert Hegel and Qiancheng Li (University of Washington Press)
Li Yu, A Couple of Soles, a comic play, tr. Jing Shen and Robert E. Hegel (Columbia University Press)
Lu Xun, Anthology of Tang and Song Tales: The Tang Song Chuanqi Ji, tr. Victor Mair, Zhenjun Zhang (CUHK)
Sun Zi, The Art of War, tr. Michael Nylan (Norton)
Science Fiction and Fantasy
Hao Jingfang, Vagabonds, tr. Ken Liu (Saga)
Liu Cixin, To Hold up the Sky, short stories, tr. multiple translators (Head of Zeus)
Multiple authors, That we may live: collection of speculative fiction, tr. Jeremy Tiang, Natascha Bruce, Canaan Morse, Audrey Heims, Michael Day (Two Lines Press)
Non-Fiction
Dukesang Wong, Diary of Dukesang Wong: A Voice from Gold Mountain, tr. Wanda Joy Hoe, (Talonbooks)
Fang Fang, Fang Fang's Diary, tr. Michael Berry, (HarperCollins)
Hong Yingming, The Art of Living Chinese Proverbs and Wisdom: A Modern Reader of the 'Vegetable Roots Discourse', tr. Tony Blishen, and contributors Wu Yansheng, Ding Liangyan (Shanghai Press)
Multiple authors, Century of Chinese Literature in Translation (1919-1920) - English publication and reception, tr. multiple translators, (Routledge Curzon)
Ou Ning, Utopia in Practice: Bishan Project and Rural Reconstruction, tr. multiple translators, (Palgrave)
Sanmao, Stories of the Sahara, tr. Mike Fu, (Bloomsbury)
Yan Lianke, Three Brothers: Memories of My Family, tr. Carlos Rojas, (Grove Atlantic)
Zhu Xiaowen , Oriental Silk, tr. Nicky Harman, (Hatje Cantz Verlag)
Various authors, Chinese Travelers to the Early Turkish Republic, tr. Giray Fidan, (Princeton Series of Middle Eastern Sources in Translation)
Poetry
Amang, Raised by Wolves, tr. Steve Bradbury, (Phoneme Books)
Anon, Disappearing Ox, tr. Lewis Hyde, (Copper Canyon)
Che Qianzi, No Poetry, tr. Yunte Huang, (Polymorph Editions)
Chen Duxiu, Zheng Chaolin, Chen Yi, Mao Zedong, Poets of the Chinese Revolution, tr. Gregor Benton, (Verso Books)
Jidi Majia, Mother's Hand: Selected Poems, tr. Yuyutsu RD Sharma, Denis Mair, (Nirala Publications)
Leung Ping-kwan, Lotus Leaves, Selected Poems, tr. John Minford, (CUHK)
Luo Ying, Seven + Two: A Mountain Climber's Journal, tr. Denis Mair, (White Pine)
Song Lin, Sunday Sparrows, tr. Jami Proctor Xu, (Zephyr Press)
Wu Sheng, My Village: Selected poems, tr. John Balcom, (Zephyr Press)
Ya Shi, Floral Mutter, tr. Nick Admussen, (Zephyr Press)
Yang Jian, Green Mountain, tr. Fiona Sze-Lorrain, (MerwinAsia)
Yi Lei, My Name Will Grow Wide Like a Tree, tr. Tracy K. Smith , Changtai Bi, (Graywolf)
CHILDREN
Ai Wener, The Empty Bowl, tr. Helen Wang, (Cardinal Media Kids)
Ai Wener, The Empty Lunchbox, tr. Helen Wang, (Twinkling Books)
Bai Bing, The Umbrella Tree, tr. Yijin Wert, (Shanghai Press)
Bai Bing, Myna Bird as Free as a Cloud, tr. Helen Wang, (Balestier Press)
Bei Lynn, Bibbit Jumps, tr. Helen Wang, (Gecko Press)
Cao Wenxuan, Lemon Butterfly, unknown, (Reycraft Books)
Huang Beijia, I Want to be Good, Nicky Harman, (GBD Books, India)
Luo Xi, The Mask that Loved to Count, tr. Helen Wang, (Cardinal Media Kids, Twinkling Books)
Meng Yanan, Sleepy Sleepy New Year, tr. Izzy Hasson, (Balestier Press)
Qian Mo, Mum is Hiding, tr. Helen Wang, (Twinkling Books)
Qin Wenjun, I am Hua Mulan, tr. Helen Wang, (Balestier Press)
Tao Jiu, Levin the cat, tr. Helen Wang, (Cardinal Media Kids, Twinkling Books)
Xue Tao, The Peach Tree Brother, by multiple translators, (Reycraft Books)
Yu Hongcheng, Ambush, by multiple translators, (Reycraft Books)
Yu Hongcheng, Rice, by multiple translators, (Reycraft Books)
Zhang Xiaoling, A Journey of 600 Inches, tr. Helen Wang, (Cardinal Media Kids)
Zhang Xiaoling, A Journey of 9000 Millimetres, tr. Helen Wang, (Twinkling Books)
Zhao Ling, Grandpa's 14 Games, tr. Helen Wang, (Cardinal Media Kids, Twinkling Books)