By Eric Abrahamsen, December 24, '08
This morning was the press conference for the Dangdai literary magazine's fifth annual best novel award. Dangdai, which is run by the People's Literature Publishing House, is trying to turn this prize into a bit of a challenge to the hegemony of the bigger prizes administered by the Writers Association: the editor of Dangdai, Yang Xinlan, specifically touted this prize as the non-governmental answer to the Mao Dun prize.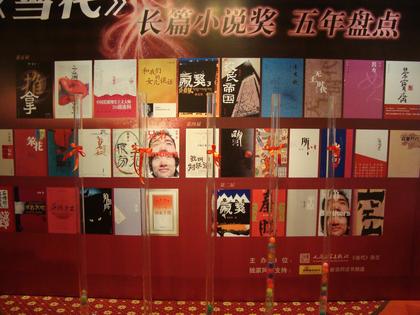 Every literary prize and its brother is touting "transparency" and "fairness" these days, but the Dangdai prize might get a little closer to that goal than most: there is no cash for the winner, reducing some of the incentive for backdoor dealing, and to hear Yang talk, the judges were left unmolested during the nomination process. She even described them as being slightly taken aback when the magazine had no "directives" or even gentle hints as to which direction they should cast their votes — if this is true, it speaks as well for the Dangdai prize as it does poorly for the other prizes.