A Yi

阿乙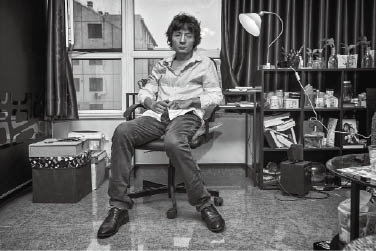 wikipedia | MCLC | baidu | CBI | MyChineseBooks.com | Chinese Short Stories |
Born in 1976, A Yi (real name Ai Guozhu) worked as a police officer, secretary and editor before settling down at the age of 32 to the fiction he always knew he would write. After a brief stint on the editorial board of Chutzpah, a now-defunct but once highly-influential literary magazine featuring work by younger and edgier writers (like A Yi himself), he moved to the Xiron publishing company, where he is an editor of the the "Iron Gourd" literary-fiction imprint. Though highly esteemed by a select group of readers and writers (Li Jingze, former head editor of People's Literature Magazine regularly praises him publicly), A Yi's reputation has been slower to spread to a wider reading public (and, given the darkness of his subject matter, it might not).
A Yi has produced many collections of short stories as well as longer work. Two full-length novels have appeared in English:
Wake Me Up at Nine in the Morning (Oneworld, 2022, translated by Nicky Harman), of which New Internationalist said, 'It's tempting to view the book as A Yi's unflinching take on a moral vacuum at the heart of contemporary China, but he is also lowering his bucket into a much deeper well of delicious literary misanthropy.'
and
A Perfect Crime, Oneworld, 2015, translated by Anna Holmwood. The Wall Street Journal said, 'Tightly crafted…less a traditional catch-him-if-you-can crime caper and more a psychological probe into a pathological mind.'
An English translation of his story "The Curse" can be read here.
A Yi is represented by Peony Literary Agency.
See Asymptote's Sinophone "20 Under 40"
Photo by Matthew Niederhauser.
A Yi is the featured author in READ PAPER REPUBLIC, week 1, 18 June 2015.
Read Now: On Paper Republic
Read Now: Around the Web
Original Works
The Paper Republic database exists for reference purposes only. We are not the publisher of these works, are not responsible for their contents, and cannot provide digital or paper copies.