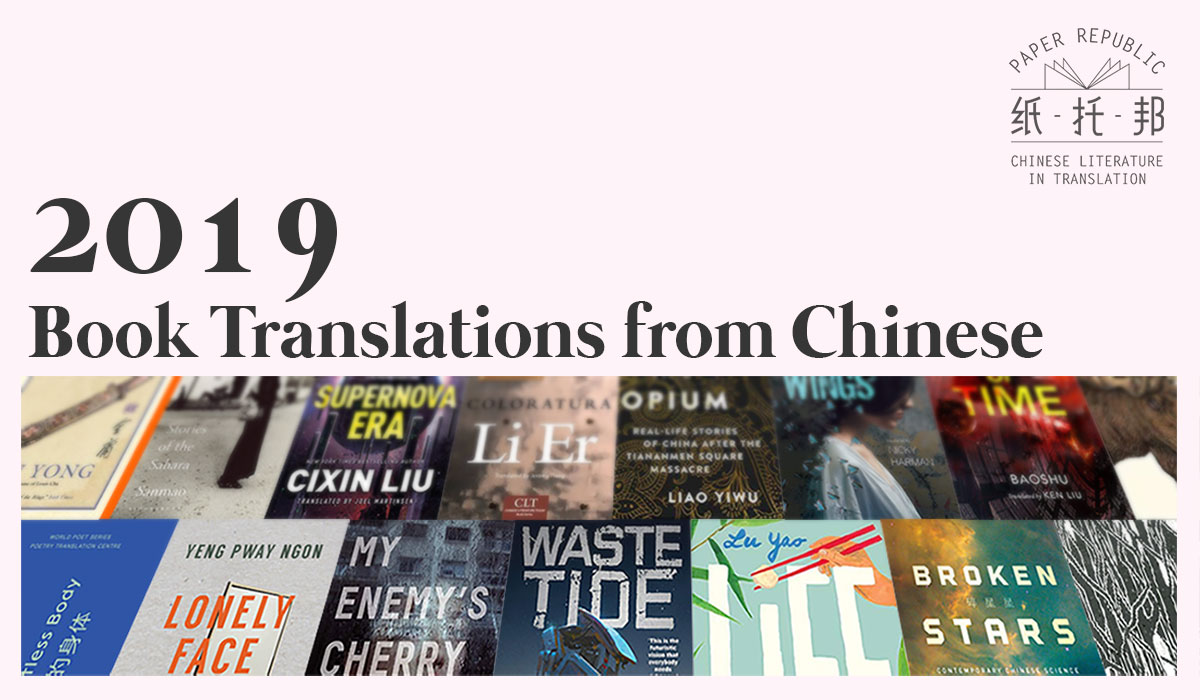 Here's our roll-call of books translated from Chinese in 2019
There's (almost) something for everyone this year – scifi and Singapore fiction have a strong showing, as do pre-modern classics, and even one self-help book. But still, fewer translated works were published in 2019 than in 2018 (31, as against 40-odd in 2018 ) Worst of all, only four of the list below are women writers. Every year, novels that are funny, sharp, moving and entertaining are published in the Chinese-speaking world – there is plenty for publishers and literary agents to seek out. We at Paper Republic continue to work hard to bring our favourite novels to their attention. (Watch out for our list of 2019 publications in Chinese, to be posted next week.) Read on
On the literary prizes front, there has been one recent piece of good news: the Society of Authors TA First Translation Prize has two Chinese novels on the shortlist of six! Shortlisted are: Natascha Bruce and her editor Jeremy Tiang for a translation of Lonely Face by Singapore author Yeng Pway Ngon (Balestier Press, 2019), and William Spence and his editor Tomasz Hoskins for The Promise: Love and Loss in Modern China by Xinran Xue Xinran (I. B. Tauris, 2018). Especially cheering is the diversity of these entries: a Chinese work from Singapore, and a work of non-fiction by Xinran, a Chinese woman based in the UK who writes best-selling reportage about China. So, to Tascha and Will and their authors and editors, 加油! And to our readers, keep an eye out for the results, to be announced in February 2020.
When you look at the list below, you will see that, for the first time, we have added links to book reviews to some entries. The lack of a review link in no way reflects on the quality of the book; it may be that it has only just been published, or simply that we didn't spot a review. If you have a review link to add, send it along and we'll insert it.
—Nicky Harman, with thanks to Helen Wang and Dave Haysom
Fiction (mainly)
Ai Wei, The Road Home, tr. Alice Xin Liu (Penguin China) | review
Che Jianxin, Work Is Life: How to Perform to the Best of Your Ability, tr. Michelle Deeter (Pace University Press)
Chen Qiufan, The Waste Tide, tr. Ken Liu (Tor Books) review
Feng Jicai, Faces in the Crowd: 36 Extraordinary Tales of Tianjin, tr. Olivia Milburn (ACA)
Ho Sok Fong, Lake Like a Mirror, tr. Natascha Bruce (Granta)
Hong Ke, The Howl of the Wolf, tr. unnamed (Valley Press)
Huang, Harry J., A New Anthology of Chinese Short-Short Stories (Bestview)
Huo Yan, Dry Milk, tr. Duncan Campbell (Giramondo) | review
Jia Pingwa, Broken Wings, tr. Nicky Harman (ACA Publishing Limited) | review
Jiang Zilong, Empire of Dust, tr. Christopher Payne and Olivia Milburn (ACA Publishing Limited) | review
Jin Yong, Legends of the Condor Heroes 2: A Bond Undone, tr. Gigi Chang (MacLehose Press)
Kong Ergou, Triads & Turbulence, Volume One: Once Upon a Time in Northeastern China, tr. Stacy Mosher (Rinchen Books)
Li Er, Coloratura, tr. Jeremy Tiang (University of Oklahoma Press)
Liao Yiwu, Bullets and Opium: Real-Life Stories of China After the Tiananmen Square Massacre, tr. D and J Cowhig and R Perlin (Simon and Schuster) | review
Liu Cixin, Supernova Era, tr. Joel Martinsen (Tor Books) | review
Lu Yao, Life, tr. Chloe Estep (Amazon Crossing)
Mao Xiang, The Romance of a Literatus and his Concubine in Seventeenth-century China, tr. Jun Fang and Lifang He (Proverse Hong Kong) | review
Mu Cao, In the Face of Death We Are Equal, tr. Scott E Myers (Seagull Books)
Patigül, Bloodline, tr. Natascha Bruce (Aurora Publishing)
San Mao, Stories of the Sahara, tr. Mike Fu (Bloomsbury Publishing) | review
Shi Tiesheng, My Travels in Ding Yi, tr. Alex Woodend (ACA) review
Sy Ren Quah, Wai Siam Hee, eds. Memorandum: a Sinophone Singaporean short story reader tr. Dan Feng Tan (Ethos Books (Singapore))
Tsering Dondrup, The Handsome Monk and other stories, tr. Christopher Peacock (Columbia University Press) | review
Wang Anyi, Fu-Ping, tr. Howard Goldblatt (Columbia University Press) | review
Wang Dingguo, My Enemy's Cherry Tree, tr. Howard Goldblatt and Sylvia Li-chun Lin (Granta) | review
Wen Zhenheng, The Elegant Life of The Chinese Literati: From the Chinese Classic, 'Treatise on Superfluous Things', Finding Harmony and Joy in Everyday Objects, tr. Tony Blishen (Shanghai Press)
Xu Zhuodai, China's Chaplin: Comic Stories and Farces by Xu Zhuodai tr. Christopher G Rea (Cornell University)
Yang Hao, Black Tales, tr. various (Yangtse River Art and Literature Publishing House)
Yeng Pway Ngon, Lonely Face: a Novel, tr. Natascha Bruce (Balestier Press)
Poetry
Che Qianzi, No Poetry, tr. Yunte Huang (Polymorph Editions)
Lu Xun, Weeds, tr. Matt Turner (Seaweed Salad Editions)
New Poetry from China 1917-2017, tr. Ming Di and others, (Black Square)
Republic of Apples, Democracy of Oranges: New Eco-Poetry from China and the US, ed. Frank Stewart, Tony Barnstone, Ming Di (University of Hawai'i Press)
Yang Lian Anniversary Snow, tr. Brian Holton, (Shearsman)
Yang Lian Venice Elegy, tr. Brian Holton and (Italian translation) Federico Picerni (Damocle Edizioni)
Yu Yoyo, My Tenantless Body, tr. David Haysom and AK Blakemore (Poetry Translation Centre)
Ye Lijun, My Mountain Country, tr. Fiona Sze-Lorrain (World Poetry Books)
Younger Readers (Picture Books, Middle Grade, YA)
Cao Wenxuan, Li Rong, The Last Leopard, tr. unnamed (Starfish Bay)
Cao Wenxuan, Yu Rong, Summer, tr. Yang Ding, Erin Stein (New York)
Chen Jiatong, The White Fox, tr. Jennifer Feeley (Chicken House Books)
Gerelchimeg Blackcrane, The Moose of Ewenki, tr. Helen Mixter (Greystone Kids)
Jen Sookfong Lee and Kileasa Che Wan Wong, The Animals of Chinese New Year, tr. unnamed (Orca Books - bilingual book)
Li Jian and Yijin Wert, A Journey in Our Family's Chinese Garden: A Story Told in English and Chinese (Better Link)
Li Jian , Papa's Garden, tr. unnamed (Shanghai Press)
Li Jian and Yijin Wert, The Little Rat and the Golden Seed: a Story in English and Chinese, tr. unnamed (Better Link)
Lin Xin, I Can Fly in the Sky: a Story of Friends, Flight and Kites, Told in English and Chinese, tr. unnamed (Better Link)
Xiao Mao, Liang Peilong, Yijin Wert, I Have a Zoo: a Story of Animals All Around Me, Told in English and Chinese (Shanghai Press)
Yan Ge, White Horse, tr. Nicky Harman (Hope Road Publishing)
About literature
Lorenzo Andolfatto, Hundred Days' Literature: Chinese Utopian Fiction at the End of Empire, 1902-1910 (Brill)
Gang Zhou, Jeffrey C Kinkley, Chen Sihe, Routledge Companion to Shen Congwen (Routledge)
Sun Yifeng and Chris Song, Translating Chinese Art and Modern Literature (Routledge)
J.C. Hamm, The Unworthy Scholar from Pingjiang: Republican-Era Martial Arts Fiction (Columbia University Press)
Ezra Pound, T.J. Billings, Haun Sassy, Cathay: A Critical Edition (Fordham Univ.)
Mo Yan Speaks: Lectures and Speeches by the Nobel laureate from China, tr. Shiyan Xu (Cambria Press)
Lin Yi-ju, Hsieh Shu-Kai, The Secret to Popular Chinese Web Novels: A Corpus-Driven Study (Schloss Dagstuhl)
Chi Limin, Modern Selfhood in Translation: A Study of Progressive Translation Practices in China (1890s-1920s) (Springer)
William C Hedberg, The Japanese Discovery of Chinese Fiction: The Water Margin and the Making of a National Canon (Columbia University Press)
Mouse vs Cat in Chinese Literature: Tales and Commentary (University of Washington Press, 2019), translated and edited by Wilt Idema.
AND
Chinese Witness Of the Young Turk Revolution with translation of Kang Youwei's Turk Travelogue of 1908. Written and translated by Giray Fidan (Kopernik)