For Kate Briggs, the translator is a "producer of relations" – between herself and the translated text; between herself and the writer she is translating; between herself and her translation. And there is the reader, of course, who becomes entangled in all these relations, while giving rise to new ones.
This dynamic is intensified when translating poets, who are ingenious at forming relations. The remarkable poets featured in this series demonstrate this across their varied registers and domains of interest, drawing connections between Yuan dynasty brushwork and contemporary smog, between delicate syllables and disconcerting fates, between body and nation and world. To inhabit their poems is to be open to relating the unexpected and underseen, to access moments of soothing recognition as well as exquisite confusion, to know that things are both lost and gained in translation.
Born in the '50s, '70s, '80s, and '90s, the poets in this series write from vantage points that span the PRC's decades of vertiginous change. Yet it goes without saying that the series is not 'representative' in even the most modest sense of the word. It offers a few glimpses into contemporary Chinese poetry, several framings of the experience of womanhood, mere slivers of the polyphonic, transnational Sinophone literary universe. The series is an invitation. Here, the work of the reader and the translator begin to dovetail: in the words of Jenny Bhatt, "we are all translators", since reading always entails a form of interpretation and translation, and translating in turn is always an act of cultural intervention. It is an invitation extended both in celebration – of Women in Translation Month – and in trepidation – at a time when the global relationship between English and Chinese is deeply fraught – to let these poetic voices point us to new ways of relating. An invitation to seek out more of these poets' work as well as that of other Chinese women poets, other women poets, other Chinese poets, other poets.
—Alice Xiang, series editor
by Wu Ang, translated by Alice Xiang | Aug 11, 2022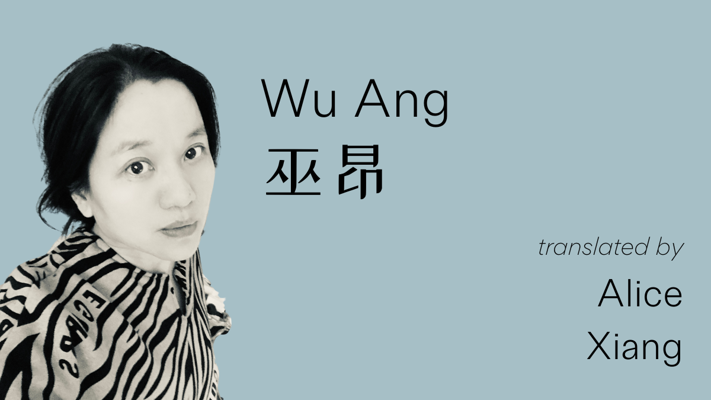 by Zheng Xiaoqiong, translated by Eleanor Goodman | Aug 4, 2022