Luisetta Mudie

穆荻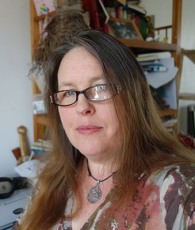 Luisetta Mudie is a Chinese-to-English translator living in a small town just north of London. After graduating in Modern Chinese Studies from the University of Leeds, she found work as a journalist in Taiwan, Hong Kong and Beijing, including for the Financial Times, Reuters, AFP, and the BBC World Service in London.
She now focuses entirely on translation, specialising in contemporary Chinese literature, including poetry, literary non-fiction and reportage.
Luisetta was the winner of the 2nd Bai Meigui Translation Competition, 2016, organised together with Read Paper Republic.
Her poetry translations won an honorary veteran's award in the 3rd Bai Meigui Translation Competition.
She holds a Postgraduate Diploma in Translation and an MA in Documentary Film.
Read Now: On Paper Republic
All Translations
The Paper Republic database exists for reference purposes only. We are not the publisher of these works, are not responsible for their contents, and cannot provide digital or paper copies.