Chi Zijian

迟子建

wikipedia | worldcat | MCLC | baidu | MyChineseBooks.com | Chinese Short Stories |
Chi Zijian (迟子建) was born in 1964 in Mohe in Heilongjiang province on the Sino-Russian border. She's one of China's most prominent female writers, though generally escapes the label of 'feminist' writer so often applied to Wang Anyi or Bing Xin. Much of her work is situated in northeast China, featuring cities such as Harbin (Snow and Raven) and indigenous peoples like the reindeer-herding Evenki of the Greater Khingan Mountains (Last Quarter of the Moon).
Her extensive list of work includes the novels Peak among the Mountains (群山之巅), Puppet Manchukuo (伪满洲国), Sunshine Behind the Clouds, Last Quarter of the Moon (额尔古纳河右岸), Snow and Raven (白雪乌鸦), and the short story collections Tales from an Arctic Village, The Snowy Graveyard, Travels to White Nights, Dead Streams, Washing Off the Dust of the Road, Mist, Moon and Cow Byre, and All the Nights in the World.
She won the 1st, 2nd, and 5th Lu Xun Prizes, the 7th Mao Dun Prize for Literature, and the Australian Suspense Award. Her work has been translated into English, French, Dutch, Italian and Spanish.
A Jar of Lard, tr. Chenxin Jiang Pathlight: New Chinese Writing 1 (2012)
Chi Zijian's Last Quarter of the Moon (额尔古纳河右岸), winner of China's most prestigious literary award -- the Mao Dun Literary Prize in 2008 -- has been translated into several languages as of January 2015: English, Italian, Spanish, Dutch and Japanese, and within 2015, Turkish.
Further information about Last Quarter of the Moon:
Last Quarter of the Moon: Multilingual List of Translations, Book Reviews, Academic Papers & Related Info
Independent Spirits (Financial Times book review)
From the Mountains to the Sea (Author's Afterword in English)
Last Quarter of the Moon: Evenki Place Names Behind the Hanzi
Gray Tan at Grayhawk Agency represents Chi Zijian globally. For a full-length, 3-chapter English excerpt from her novel set in Harbin during the "Great Manchurian Plague" of 1910-11, Snow and Raven, visit Grayhawk.
Read Now: Around the Web
Book Publications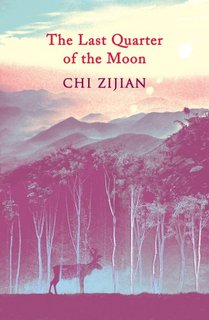 April 03, 2012
Original Works
The Paper Republic database exists for reference purposes only. We are not the publisher of these works, are not responsible for their contents, and cannot provide digital or paper copies.