Anna Holmwood

郝玉青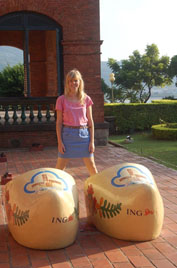 worldcat |
Anna Holmwood translates literature from Chinese and Swedish to English. She was awarded one of the first British Centre for Literary Translation mentorship awards in 2010 and has since translated novels, short stories for publication and samples for agents and rights sellers. She is currently working on a major series of Chinese martial arts novels by Jin Yong for MacLehose Press. In 2011 she co-founded the Emerging Translators' Network to support early career translators, and served on the UK Translators Association committee in 2012.
Anna was editor-in-chief for Books from Taiwan 2014-2015, a project to highlight and provide samples for around one hundred recently published fiction, non-fiction and illustrated titles, as well as modern classics.
Alongside literary translation, Anna has previously worked as a literary agent representing some of China's top writing talent and now as producer.
Original Works
Translations