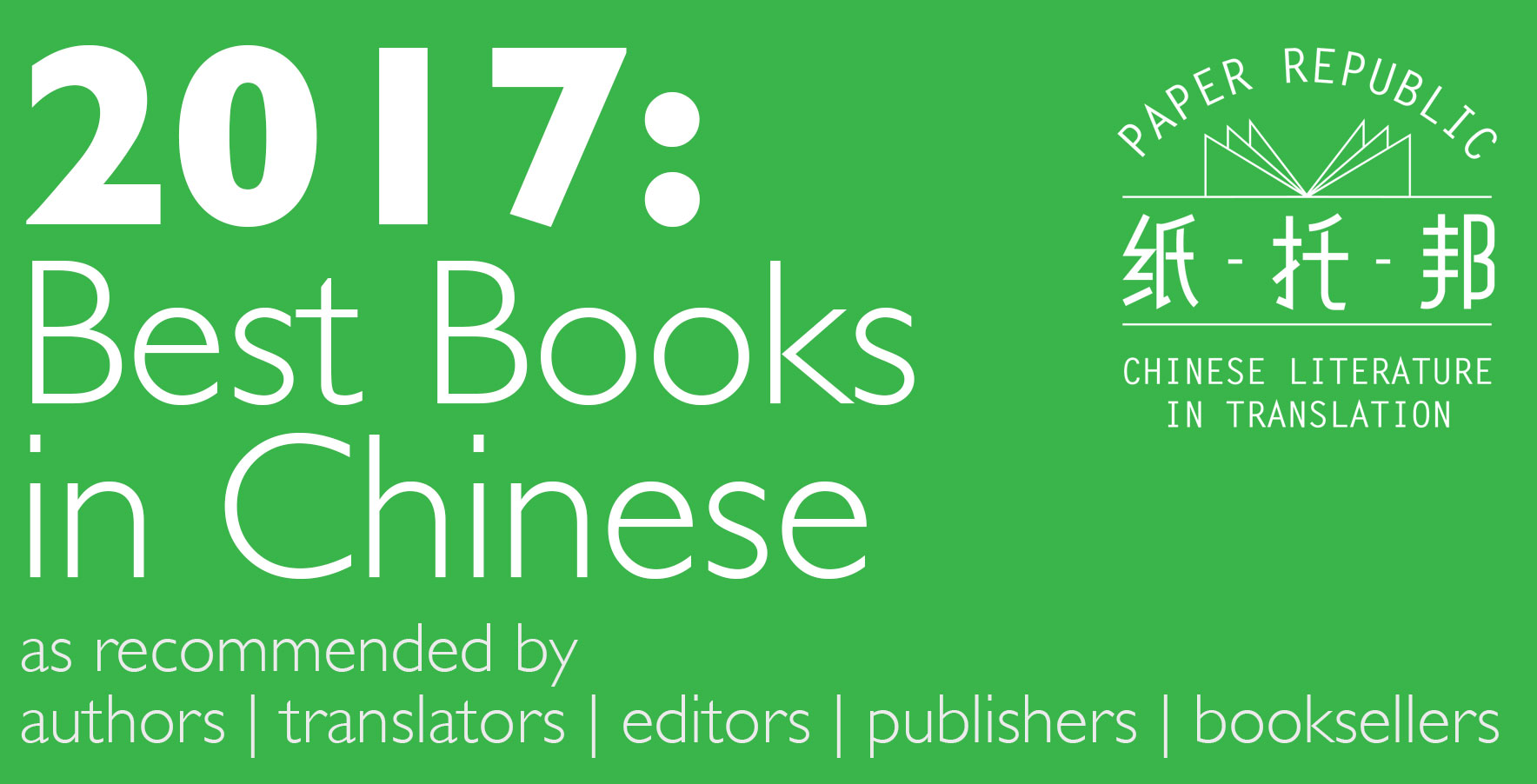 Which works of sci fi were worth reading this year? Whose fiction has forged a new way of representing dialect in literature? Why are Chinese authors reading the critic James Wood? And what was life like for Communist guerrillas in the jungles of 1980s Malaysia? Find out in our list of the best books published in Chinese in 2017, as chosen by Paper Republic and friends!



László Krasznahorkai
Sátántangó
translated from Hungarian by Yu Zemin (余泽民)
Sátántangó is the first of Krasznahorkai's to become available in China. The length and precision of his finely crafted sentences reminds me of Faulkner. The art of the long sentence is a traditional craft that ought to be encouraged: it is a necessary corrective to the laziness of the pampered reader. Ouyang Jianghe has said that Krasznahorkai surpasses García Márquez, and I agree. As I writer, I find Krasznahorkai far more enlightening and instructive. I've had the chance to meet Yu Zemin, the book's translator, and to hear all about the hardships of the translation process.
Chen Dongdong (陈东东)
The Poets of Our Time (我们时代的诗人)
Li Jingze (李敬泽)
The Blackbird Stories (青鸟故事集)
I'd also like to recommend the essay collections The Poets of Our Time and The Blackbird Stories. I have an increasing amount of respect for authors such as Chen Dongdong and Li Jingze – not to mention Bai Hua, Liao Weitang and Chai Chunya – for the breadth of their reading and the vigour of their creativity. To use a perhaps indelicate turn of phrase: they represent the testosterone of the writing community.
Ren Xiaowen (任晓雯)
The Good Woman Song Meiyong (好人宋没用)
My fiction recommendation is this new novel by Ren Xiaowen. She has discovered – or rather, recovered – a remarkable form of language. Though clearly beyond the remit of formal literary language, it does not succumb to the usual pitfalls of writing in dialect. This is almost a quintessence of dialect, recalling translations of the Bible, or perhaps Han Bangqing's The Sing-Song Girls of Shanghai, and it is this language that imbues a well-worn narrative form with fresh life.



Hao Jingfang (郝景芳)
The Other Side of Humanity (人之彼岸)
In Hugo-award winning sci fi writer Hao Jingfang's newest book The Other Side of Humanity, she tackles artificial intelligence in all of its possibilities and risks. In six short stories, she addresses everything from AI and illness to AI and love, pushing the boundaries of how we conceive of this transformational future era. Two essays then close the book, with more direct scrutiny of how far away AI is, and what it will look like when humanity arrives at that other shore.


Chen Dongmei (
陈冬梅

) – Paper Republic


Chai Chunya (柴春芽)
Have You Seen Yangjin's Wings? (你见过央金的翅膀吗)
The eleven stories in this volume, which take place in a fictionalized version of the Tibetan grasslands, are based on Chai Chunya's experience working there for ten years, and they offer an insight into his interaction with Tibet as a Chinese-language author and poet. These tales of death, prophecy, reincarnation, freedom and madness are like an elusive, lingering dream.
Zheng Zaihuan (郑在欢)
Melancholy Tales from Zhumadian (驻马店伤心故事集)
The city of Zhumadian in Henan has become a national byword for poverty. This is where Zheng Zaihuan grew up, in a single-parent family with a cruel stepmother and a violent half-brother. The lives of the characters in these twenty-odd stories are lowly but free, and with its undercurrent of dark humour, this book is an epitome of Chinese magical realism.




Wang Liming (王立铭)
The Scalpel of God (上帝的手术刀)
The author of The Scalpel of God is a molecular biologist, and he offers an introduction to genome editing technology, and the tremendous prospects it offers, in engaging language. This is one of the finest works of popular science to come out in Chinese in the last year.
Ken Liu (刘宇昆)
Staying Behind (奇点遗民)
translated from English by Geng Hui (耿辉)
Staying Behind is a selection of Ken Liu's short stories in a new translation, representing the peak of his work, and indicative of the direction his writing has taken in recent years. He uses the language of poetry to describe the great changes that might affect humankind in the future. Also, the design of the book, which breaks away from the usual sci-fi stereotypes, is a testament to the care of the publishing house [CITIC Press].




Wang Guowei (王国维)
Notes on Ci Poems in the World (人间词话)
with modern Chinese interpretations by Zhou Gongdu (周公度)
A work of literary criticism from a scholar writing in the final years of the Qing dynasty, this linguistic approach is very different from the theory of literature I learned at university. The aesthetic standards of Wang Guowei's framework are exquisite and, at the same time, universal.
Barbara Kingsolver
The Bean Trees
translated from English by Yang Xiangrong (杨向荣)
When a chance encounter brings two luckless girls together, they team up to take on the world. As an only child, my girl friends played the role of sisters when I was growing up. My own happy memories sprang to mind as I was reading this novel.
Baku Yumemakura (梦枕貘)
Legend of the Demon Cat (妖猫传)
translated from Japanese by Lin Jiaobai (林皎碧)
Baku Yumemakura is one of Japan's major fantasy novelists. His works transform the Heian period of Japanese history into a supernatural world shared between mankind and monsters. There's nothing lovelier than seeing spirits, ghosts and demons popping up in human lives. Wonderful, graceful, elusive, and very Japanese.




Lin Yi-han (林奕含)
The Romantic Idyll of Fang Si-chi (房思琪的初恋乐园)
I had a copy of this stunning Taiwanese novel printed out for me by a mainland publishing house. The focal point of the book, an act of sexual violence reminiscent of Lolita, is the kind of topic that has been written about by countless male authors, and more recently by some female authors in the west, but which has rarely been addressed by female authors writing in Chinese. This book has an autobiographical feel: it was written by a young author, and the tone – which echoes the style of Japanese authors such as Mori Mari (森茉莉) – makes the reader sense the intrusion of reality in a way that intensifies the emotional impact of the work. Tragically, Lin Yi-han killed herself after finishing this book.
Ma Boyong (马伯庸)
Zoo on the Grassland (草原动物园)
Ma Boyong's literary imagination is highly refined, and very playful. A missionary leads a group of animals through the grassland: a bizarre scenario, like something out of a children's story. There are many contemporary Chinese authors who project a feeling of profound bitterness and resentment, perhaps because the writers born in the sixties and seventies underwent such suffering during their formative years and are lacking in the spirit of joy as a consequence. The post-eighties writers are different: they know how to have fun, and are capable of instilling glee into their work.
Shen Zhihua (沈志华)
The Last Heavenly Kingdom: Mao Zedong, Kim Il Sung, and the Sino-Korean Relationship (最后的"天朝":毛泽东、金日成与中朝关系)
North Korea has been a hot topic internationally this year – this is a fact. But North Korea – Chaoxian (朝鲜) – is a fantasy. Everyone knows the name Chaoxian, but the associations the word has for us are pure fantasy – such is the fog that obscures the reality of both past and present. Shen Zhihua's book manages to skim away some of that historical fog. History has always appealed to me; the thing that we call reality is in fact buried in the details of history.




Zhou Zan (周瓒)
Nata's Other Life (哪吒的另一种生活)
Selected poems containing work from well known poet and critic Zhou Zan's first formally published book 松开 (1997) and continuing up to the present. These poems span the range from short to several pages long, addressing contemporary China and the wider world, her parents, feminism, and death with a refreshingly confident and adept touch.
Ye Mei (叶美)
Siren's History (塞壬史)
These poems are a kind of herstory, working within and against convention to enter into a conversation with expected gender roles, historical assumptions, and what "poetic language" is, has been and could be. It is an important contribution to our current reassessment of how human beings should relate to each other and communicate with each other.
Li Hao (李浩)
You and I (你和我)
These pages represent a profound spiritual and personal exploration of the social realities of today's China, written with rare power and a painful awareness of what is at stake. A handful of essays at the end offer beautifully written prose reflections of the same issues at stake in a powerful counterpoint to this gorgeous verse.
Zheng Xiaoqiong (郑小琼)
Rose Manor (玫瑰庄园)
A new collection from a poet who started out as a "migrant worker poet" but whose work has far exceeded any limited category. In this book, she explores a hundred years of Chinese history from a female perspective, from family relationships to traditional social structures, from love to violence, from happiness to desperation.




Zhang Yueran (张悦然)
I Came Towards the Flame (我循着火光而来)
This is a short story collection about the enormous gaps between rich and poor, the importance of being "successful" and the difficulties of communicating even with those who should be closest to you. Sad, thoughtful, sometimes funny and often very scary. Zhang Yueran is definitely a writer who improves her skill with her every new work.
Qiao Ye (乔叶)
The Hidden Pearl (藏珠记)
A novel about a young Tang-dynasty girl who eats a magical pearl and gets eternal life, on one condition – she must never sleep with a man. Many years and many broken relationships later she finds herself in the 21st century, in love with a young man and involved in a mystery. An idea that may not have been exploited to its fullest potential, but nevertheless a light and entertaining read.




Wen Zhen (文珍)
Seven (柒)
Wen Zhen's best stories start with knotted, unhappy relationships, and then trace a thread through all the actions and decisions that have led to this point. Seven showcases her sensitivity to unspoken power struggles between couples, and her empathetic ability to inhabit both sides of a conflict.
Lu Min (鲁敏)
Fly Away to the Moon (奔月)
A woman disappears in the aftermath of a coach crash; in trying to track her down, her husband begins to realise that what he knows of her life is only a fraction of the whole. I'm only a few chapters into Lu Min's new novel, but I'm intrigued by the decisions she makes about how and when to reveal crucial information to the reader, and the way this shapes our attitudes towards her characters.
Mu Ye (木叶)
The Flame Beneath the Water (水底的火焰)
My favourite book of literary criticism this year is this collection of essays on contemporary Chinese writers. I appreciate the close scrutiny Mu Ye applies to texts, disassembling passages to identify what works and what doesn't. He doesn't shy away from highlighting flaws – not because he wants to knock authors down, but because he insists on holding them up to the highest of standards.
I'd also like to recommend Si Nan (思南文学选刊), a new publication from the Shanghai Writers' Association that has quickly become indispensable: each bimonthly issue collects a selection of the best recent pieces from other literary journals (some well-known, like Harvest or People's Literature, and some that are more obscure) and bundles them up together in one convenient volume.




A Science Fiction History of China (科幻中的中国历史)
edited by Bao Shu (宝树)
A collection of Chinese SF on the theme of alternate Chinese history. This is a fascinating look into a non-existent (but possible) history of the land we think of as "China."
Xia Jia (夏笳)
A Time Beyond Your Reach (你无法抵达的时间)
A collection of Xia Jia's recent work. Since the publication of her first collection, Xia Jia has evolved significantly as a writer. One notable theme emerges from the stories collected here: the unstable and ever-evolving boundaries of Chinese modernity.




Liu Waitong (Liao Weitang) (廖偉棠)
Cherries, King Kong, and the Diamond Sūtra (櫻桃與金剛)
Liu Waitong is one of Hong Kong's most insightful cultural critics and also one of the city's best poets. His new collection of poems starts with a remembrance of the Hong Kong's late laureate P K Leung 梁秉鈞 / Yesi 也斯 (1949–2013) and ends with a cycle covering the last two centuries of Hong Kong history—delving on the way into Cantonese opera, commemorations of June 4th after a quarter century, and urban landscapes. Though the book's title is two terms in Chinese, I translate it into three in English because the second term refers at once to King Kong and the Diamond Sūtra, a fact that should hint at some of the breadth and depth of these poems.
Ouyang Jianghe (欧阳江河)
Long Poems (长诗集)
After proving himself one of the language's most interesting and ambitious poets with long works such as "Hanging Coffin" (悬棺) (1984) and "Notes Toward a Market Economy Fiction" (关于市场经济的虚构笔记) (1993), Ouyang Jianghe all but stopped writing poetry in the late nineties. This drought ended, however, with "Taj Mahal Tears" (泰姬陵之泪) (2008), which writes of the tears that fill relationships between men and women, the relationships between god or gods and humans, and the relationship between India and China and both countries to their histories. The flow has continued with the ekphrastic "Phoenix" (凤凰) (2011–2012) and further works that have not yet gathered international attention. Collecting his long poems, Ouyang's 2017 publication stands as a testimony to the knowledge, wisdom, and craft of one of the most interesting and ambitious poets now at work in any language.
Shih, Shu-mei 史書美
Against Diaspora (反離散)
One of the most provocative incursions in scholarship on Chinese literature in recent years is Sinophone Studies. Inaugurated by Shu-mei Shih, it attempts to decenter China from studies of literature in Chinese, arguing for more attention to cultural production in the non-Han and non-PRC places of the Chinese- (or Sinitic-) speaking world. For various reasons, though, much of this work has taken place in English. As a corrective, this Taiwan publication comprises translations into Chinese of Shih's key writings on the Sinophone, as well as new writings in Chinese and transcribed interviews with her on the topic and its disciplines. Making the field's debates accessible now to readers of Chinese, Against Diaspora will no doubt create further ripples and responses to the notion of the Sinophone from the places it matters most.




James Wood
The Nearest Thing to Life
translated from English by Jiang Yi (蒋怡)
This year I've mostly been busy looking after my son, so I've spent more time thinking about life than fiction. This book made me reflect on the relationship between the two.




Liu Zhenyun (刘震云)
Children of the Melon Eating Age (吃瓜时代的儿女们)
Following his previous award-winning books such as I Did Not Kill My Husband and A Word is Worth Ten Thousand Words, Liu Zhenyun's new book continues his typical sick humour and absurdism. The lives of four unrelated strangers turn out to be interconnected in ways both ridiculous and serious. The "melon-eating masses" (a trendy Chinese online term which often refers to a passive group of bystanders at a major incident or event) often find the most amusement in the worst misery of others. Under its funny surface, the book evokes reflections on China's social mentalities and characteristics.




Lu Min (鲁敏)
Fly Away to the Moon (奔月)
I was eager to read Lu Min's new novel, as I very much enjoyed her previous work, Dinner for Six (六人晚餐). She's an author to look out for in the future, and I'll certainly be doing so.
Yan Geling (严歌苓)
Youth (芳华)
The basis for a recent popular movie, Youth has been in demand everywhere these last few months, and I'd say rightfully so.




Han Song (韩松)
Expelling the Demons (驱魔)
Jia Pingwa (贾平凹)
Playing the Game (游戏人间)
Li Jingze (李敬泽)
The Blackbird Stories (青鸟故事集)
So I'm going to be very boring (and typical) by recommending two books by authors that I've translated, and one by an author I haven't, but who I met earlier this year. The first is Han Song's novel, Expelling the Demons, which won the 2017 Chinese Nebula. I really enjoyed the discussion that my translation of his short story, "Finished" (originally published in Pathlight), kicked off on the China Channel, and this book continues a number of the themes we touched on there: aging and illness, and general body horror, the instability of memory in a dystopian future. Expelling the Demons is the second in his Hospital Trilogy, and follows last year's equally chilling Hospital (医院). The second book from 2017 I want to recommend is an essay collection by (who else?) Jia Pingwa. The Chinese title means something like Playing the Game, and it's also a follow-up to very well received book from 2016, Jia's essay collection, Walking Alone (自在独行). Although Jia has been getting a lot of attention for his novels in English lately, in China today he's actually just as well-known for his non-fiction. So both collections are great places to get some of his more famous essays (most of which are also available online, for free, natch) in one place. Finally, I wanted to recommend Li Jingze's experimental novel / essay collection The Blackbird Stories. Li is a really sharp critic, and from the blurb (and from being upstaged by him at the Beijing International Book Fair launch for Nicky Harman's translation of Jia Pingwa's Happy Dreams) I'm really looking forward to getting my hands on a copy of this to check out.




A Yi (阿乙)
Wake Me Up at 9AM (早上九点叫醒我)
Reading this challenging book is like discovering a new direction for the writing of fiction. Though this is a rural novel, it is rooted in no particular place, and is not built to offer social commentary. It is about people – not characters, people – which makes it a very penetrating book. The sentences are a complicated mass of overlapping ravines and ridges. This work is true to the flow of life and thought, and packed with meticulous details. Sometimes the narration breaks through the ramparts of chronological sequence, and the sentences stop flowing forward to pause, turn around, and echo.
(This novel is already out in an Italian translation by Paolo Magagnin, published by Metropoli d'Asia; and will come out in English translation by Nicky Harman, published by Oneworld in 2018/9).
Ren Xiaowen (任晓雯)
The Good Woman Song Meiyong (好人宋没用)
In terms of language, Ren Xiaowen has created a new stylistic model, one that is simple and unadorned, and rich in history. In terms of content, this is a book that represents a powerful testament to suffering.
James Wood
The Fun Stuff and Other Essays
Unlike other critics, Wood never wastes words in his essays, which are sincere and incisive. Having read several volumes of his work, I am extremely impressed by the way he describes the details of fiction, and also fascinated by him as a person. He isn't afraid to reexamine the same examples from Tolstoy, Flaubert, or Orwell, across different books (like How Fiction Works and The Irresponsible Self), or even within the same one. Nevertheless, this is a fine and sincere book.




Hai Fan (海凡)
Delicious Hunger (可口的饥饿)
Even if I weren't mildly obsessed with Malayan leftists, Delicious Hunger would still be a highlight of my year. These short stories are a frank, earthy account of the lives of Communist guerillas, written by one of them under the pseudonym Hai Fan – some in the 1980s while he was still in the jungles of North Malaysia, others more recently. Less didactic and more nuanced than most examples of this genre, this book paints a picture of day-to-day survival against land mines and wild boar, even as the movement declines and surrender looms, capturing the rise and fall of an entire political era.
Also, a shout-out to Intellectual (知识分子), a zine replete with well-researched, thoughtful essays by the politically-minded Malaysian collective Amateur (业余者), who take their name from Edward Said's idea of the intellectual as amateur.




Zhang Dinghao 张定浩
Professional and Amateur Authors (职业和业余的小说家)
A remarkably honest essay collection. Good literary criticism does not owe its existence to either novel or author, but it can can be mutually beneficial to both the critic and the object of criticism.
Zhang Yiwei (张怡微)
A Feast for Common Folk (细民盛宴)
Zhang Yiwei is a young writer, born in 1987, and though this is a novel she finished four years ago, it displays the same maturity and pathos as her more recently written works.
Yan Geling (严歌苓)
Youth (芳华)
This is the kind of material Yan Geling writes best: it follows the lives of youths in a military dance troupe, including the recurring character Xiao Suizi (萧穗子) who previously appeared in Yan Geling's 2011 short story collection Grey Dancing Shoes (灰舞鞋).
Lao She 老舍
Four Generations Under One Roof (四世同堂)
new edition with lost ending restored by Zhao Wuping (赵武平)
Four Generations Under One Roof preserves the last of the old, traditional Chinese way of life, and contains a sorrowful critique of the destruction of a nation, of a people, of the world.
Terry Eagleton
The Event of Literature
translated by Yin Zhike (阴志科)
I've always appreciated Eagleton's literary criticism, and I like this series from Henan University Publishing House, which includes many other commendable titles from the forefront of contemporary literary criticism. Eagleton is sincere, precise and rational, executing the deftest of handiwork through his seemingly clumsy efforts.




Yun Yetui (云也退)
Neot Semadar Diary (自由与爱之地)
The diary of a Chinese writer's travels through Israel, this is also a record of the soul of contemporary China. As a literary critic and translator, Yun Yetui is a paragon of creative authenticity, showing how to create works that remain true to oneself and one's literary inclinations.
Jiang Ruoshui (江弱水)
Eight Lessons on Poetry (诗的八堂课)
In comparison to fiction and poetry, literary criticism still strikes me as the area where Chinese writing falls short. Jiang Ruoshi represents a high watermark for the form – he can serve as our inspiration in learning to appreciate the arts.
Shuang Xuetao (双雪涛)
The Aeronaut (飞行家)
Many authors have been dedicating themselves to the short story form in 2017, and Shuang Xuetao is a leading example. Just like the name of his book: he is on the verge of lift off.
Richard Wolin
The Wind from the East
translated from English by Dong Shubao (董树宝)
This book, recently published in China, is the best I have read on France's period of civil unrest in 1968.




Athena Farrokhzad
White Blight
translated from Swedish by Xu Lan (许岚)
This volume tells the stories of three generations in the family of a migrant to Sweden, offering a nuanced and piercing portrayal of the many ways war, migration and racism affect the migrant community that Farrokhzad represents. Her poems are calm and cold; they may be full of emotion, but they are nothing like the kind of overwrought self-indulgence that is often associated with the work of women poets. It is impossible not to be lacerated by the depth and insight of Farrokhzad's poetry.




Yuan Che-sheng (袁哲生)
A Lonely Game (寂寞的游戏)
Though oppressive and desolate, Yuan Che-sheng's novel has a robust poetic quality. When one has seen through everything life has to offer and discovered no exit, the novel becomes one last, helpless sigh.
J. A. Baker
The Peregrine
translated from English by Li Siben (李斯本)
The Peregrine is the purest of books, and Baker is less a writer in the traditional sense of the word than he is a holy man. The peregrine falcon is not the object of the writing – it is what sustains the writing.
Liu Yichang (Lau Yee Cheung) (劉以鬯)
The Labyrinth Palace (迷楼)
This collection of fiction offers the opportunity to observe the author's sixty-year literary trek from every possible angle. It is a book with ample capacity to reflect the times, and literature, and shifts in human feeling.



Let us know what books we've missed! We hope some of these titles will eventually find their way into English translation, but in the meantime you can check out our list of translations from Chinese published in 2017, and our latest series of online short stories: Read Paper Republic – Bare Branches.