Yan Geling

严歌苓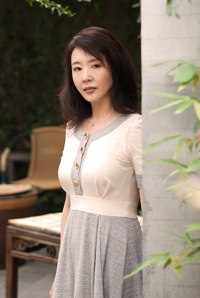 homepage | wikipedia | worldcat | MCLC | baidu | MyChineseBooks.com | Chinese Short Stories |
Yan Geling is one of the most acclaimed contemporary novelists and screenwriters writing in the Chinese language today and a well-established writer in English. Born in Shanghai, she served with the People's Liberation Army (PLA), starting at age 12 as a dancer in an entertainment troupe.
She published her first novel in 1986, and ever since has produced a steady stream of novels, short stories, novellas, essays and scripts. Her best-known novels in English are The Banquet Bug (The Uninvited in its UK edition - written directly in English) and The Lost Daughter of Happiness, (translated by Cathy Silber) both published by Hyperion in the US and Faber & Faber in the UK. She has also published a novella and short story collection called White Snake and Other Stories, translated by Lawrence A. Walker and published by Aunt Lute Books.
You can find more information at this site.
Several of Yan Geling's works have been adapted for film, including internationally distributed films Xiu Xiu: The Sent-Down Girl (directed by Joan Chen) and Siao Yu (directed by Sylvia Chang; script co-written by Ang Lee), and Chinese director Zhang Yimou (To Live, Raise the Red Lantern) has acquired the film rights of one of her novellas. She has also written numerous scripts based on her own and other authors' work, both in English and Chinese, including most recently a script for Chinese director Chen Kaige on the classic Peking opera star Mei Lanfang.
To date she has published over 20 books in various editions in China, Taiwan, Hong Kong, the US, the UK and elsewhere; has won around 30 literary and film awards; and has had her work adapted or written scripts for over a dozen film, TV and radio works. Her works have been translated into Dutch, English, French, German, Japanese, Portuguese, and Thai, and translations are currently in preparation in Hebrew, Hungarian, Italian, Romanian and Vietnamese. The English rights to Yan Geling's novels are represented by Peony Literary Agency.
Foreign rights sold (as of Dec 2008):
BANQUET BUG:US – Hyperion; Czech – Kniha Zlin Euro; Romania – Minerva; UK - Faber & Faber; Israel – Yediot Aharonot; Thailand – Sangdad; Vietnam – Phuongnam
LOST DAUGHTER OF HAPPINESS: US – Hyperion; The Netherlands - De Bezige Bij; French - Plon; Portugal – ASA; Hungary – Ulpius; Romania – Minerva; UK - Faber & Faber; Vietnam - Security Publishing
THE NINTH WIDOW: Vietnam - Vietnam Culture & Information; Italy – Rizzoli; Spain - Santillana
SUIZI STORIES: Vietnam, Bach Viet Books
WHITE SNAKE AND OTHER STORIES: US – Aunt Lute Books; Japan – Kadokawa Shoten; Vietnam – Bach Viet; Thailand – Nanmeebooks Publications ("Siao Yu" story only)
Yan Geling is the featured author in READ PAPER REPUBLIC, week 23, 19 November 2015.
Her Facebook fan site.
Read Now: On Paper Republic
Original Works
The Paper Republic database exists for reference purposes only. We are not the publisher of these works, are not responsible for their contents, and cannot provide digital or paper copies.