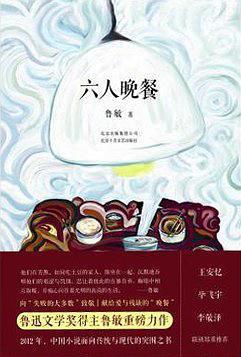 For the final week of Sunday Sentence round one, we have the opening sentence of the as-yet untranslated 《六人晚餐》 (Dinner for Six) by Lu Min 鲁敏 (2012). Thanks to Emily Jones for the suggestion!
Please input your translation in the comments box at the bottom of the page.
The sentence to translate is:
所有的一切,不如就从厂区的空气说起。这空气,是酿造情感起源的酵母,也是腌制往事的色素与防腐剂。
Remember, you can post your translation anytime between now and next Sunday, so you have plenty of time to ponder and refine it.
Synopsis:
Engulfed by the choking air of a large Chinese city's factory zone, the story follows the lives of six characters forced to sit across from each other every Saturday evening at the dinner table, at once an uncomfortable composite family and a collection of six lonely souls, struggling with the harsh realities of life in the new China.
Why this sentence:
It's really quite simple. But there are so many ways to put it into English: which is best, which is most faithful, which is most elegant? How you open the books sets the tone for the rest.
Author Bio:
Lu Min was born 1973 in Dongtai, Jiangsu Province. Her mother was a teacher, her father an engineer. She started working at eighteen, and has been a post office clerk, a secretary, a journalist, a civil servant and more. She currently lives in Nanjing. Lu Min started writing at the age of twenty-five and has published novels such as Multiple Love Letters, The Steering Wheel, Undeliverable Feelings, and Dinner for Six. Her short story collections and novellas include Accompany the Feast, The Song of Parting, The View finder, Stirring up the Dust, and Page-Drunk.
Looking forward to your translations!