Feng Tang

冯唐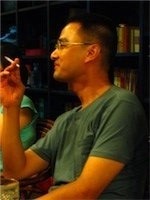 MCLC | CBI | MyChineseBooks.com |
The consummate chronicler of youth in Beijing, Feng Tang is the author of a series of novels deeply evocative of growing up in the Chinese capital during the 1990s. Though they lack the satiric bite or social criticism of Wang Shuo or Zhu Wen, his main trilogy of semi-autobiographical novels (Happiness, written when the author was just 18 years old, Everything Grows and Given a Girl at Age Eighteen) evoke the experience of youth and growth with lyric accuracy, and are immensely popular with readers who were a certain age at a certain time. Feng Tang studied medicine at university, following that with a degree in business, and is a former consultant for McKinsey & Co. He now lives in Beijing.
With the novel Oneness, a semi-pornographic work set in the Tang dynasty, Feng Tang departed abruptly from his earlier themes. In it he deploys a classical style, harking back to the traditional racy novels of imperial China, to tell the story of Buddhist monks and nuns achieving enlightenment through unorthodox means. Written with the knowledge that it could not be published in Mainland China, Oneness went directly to publishing houses in Hong Kong and Taiwan.
His most recent novel is No Woman No Cry.
Feng Tang is the featured author in READ PAPER REPUBLIC, week 29, 31 December 2015.
Read Now: On Paper Republic
Original Works
The Paper Republic database exists for reference purposes only. We are not the publisher of these works, are not responsible for their contents, and cannot provide digital or paper copies.