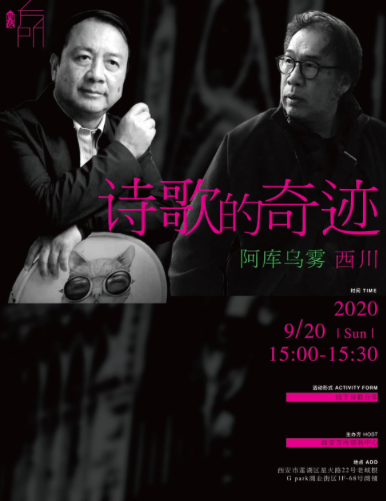 To celebrate its opening in Xi'an, Fangsuo Xi'an Creative Union (西安方所创联中心) will host a month or so of cultural forums/salons during mid-September to mid-October.
Poets Aku Wuwu (阿库乌雾) and Xichuan (西川) will appear together Sunday Sep 19 at 15:00-15:30, and Aku Wuwu will recite his long poem 《火颂》in the Yi language. Renowned Shaanxi novelist Jia Pingwa (贾平凹) is scheduled for some time during 16:00-18:00, if I interpret the poster correctly . . .
Venue: 西安市 莲湖区 星火路 22 号 老城根 G-Park 商业街区 1-F 68 商铺
For more on all the events during Sep-Oct info in Chinese visit here.
If that link downloads too slowly, you can try this one, but both are slow due to heavy load of graphics.