Xi Chuan

西川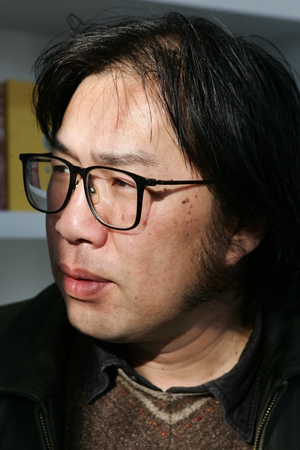 MCLC |
Xi Chuan (pen-name of Liu Jun) was born in Jiangsu province in 1963 but grew up in Beijing, where he still lives. One of contemporary China's most celebrated poets, having won the Lu Xun Prize for Literature (2001) and the Zhuang Zhongwen Prize (2003), he is also one of its most hyphenated littérateurs – teacher-essayist-translator-editor-poet – and has been described by American writer Eliot Weinberger as a "polymath, equally at home discussing the latest American poetry or Shang Dynasty numismatics." A graduate of the English dept. of Peking University, where his thesis was on Ezra Pound's Chinese translations, he is currently employed at the Central Academy for Fine Arts in Beijing, where he was hired as an English instructor, then taught Western literature in Chinese translation, and now teaches pre-modern Chinese literature. He has taught at New York University (2007) and University of Victoria (2009), and is currently translating the work of Gary Snyder into Chinese.
The Body and History, I11 Fortune H 00325, Looking at the Mural in the Ruicheng Temple of Eternal Joy, Dragon, tr. Lucas Klein; Pathlight: New Chinese Writing 1 (2011)
Original Works
The Paper Republic database exists for reference purposes only. We are not the publisher of these works, are not responsible for their contents, and cannot provide digital or paper copies.