Zhu Yue

朱岳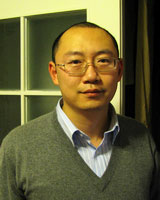 MCLC | academia | baidu | Chinese Short Stories |
Zhu Yue, born in Beijing in 1977, practised as a lawyer after graduating from university, but later became an editor. He began writing fiction in 2004, and has also published works on analytical philosophy. China is not short of writers who swear fealty to Borges, but Zhu Yue is one of the few whose work has the philosophical weight to substantiate the metafictional trimmings. Rarer still is the kind of dry humour he brings to his brief but highly evocative stories. To date, he has published three collections:《蒙着眼睛的旅行者》(The Bleary-Eyed Traveller, 2006), 《睡觉大师》(Masters of Sleep, 2010) and《说部之乱》(Chaos of Fiction, 2015). His work has also featured in People's Literature magazine and Chutzpah!
Zhu Yue is the featured author in READ PAPER REPUBLIC, week 6, 23 July 2015.
Read Now: On Paper Republic
Read Now: Around the Web
Original Works
The Paper Republic database exists for reference purposes only. We are not the publisher of these works, are not responsible for their contents, and cannot provide digital or paper copies.