In the comments following the recent and ongoing discussion on book reviewing, Paper-Republic contributors have raised the issue of footnotes. Cindy Carter first wrote,
I've often wondered if it might not be a good idea to return to endnotes in fiction translation. Readers who want to crack right through can do so and not get hung up on the fine print at the bottom of the page, but those who crave more cultural or historical background can flip to the back and read what could well be some fascinating tidbits.
Bruce Humes responded in the affirmative, but also asked,
But how are the footnotes presented? Where they are placed -- on the page itself, at the end of a chapter, or at the back of the book -- what sort of information do they contain, and how they are written are all very important.
Bruce's questions are certainly essential to deciding whether we want to allow footnotes into our translations. Likewise is his admonition against those who would "argue that it is the translator's job to remain 'invisible.'"
The issue seems to be centered around "academic" versus "popular" translations, or publications of translations, and how footnotes have been conceived as a hallmark of academic writing. But while that's certainly true, I wonder if a look at publishing history in Chinese can't help us figure something out about how to use the footnote when we translate.
I'd like to echo Bruce's question about what sort of information might be contained within these footnotes. I could handle a footnote that offered some sort of cultural information, such as an explanation of a reference or allusion, but I couldn't tolerate a footnote that explained the translation, or apologized for not coming up with a good translation. I remember reading a translation of a Shěn Cóngwén 沈從文 story and the translator translated the expression tāmāde 他媽的 as "his mother's," and then added a footnote explaining that this was an explicative in Chinese. Why didn't the translator just translate the word as "damn it," or some other English curse?
But while examples like that seem obvious, and do what they can to slippery up the slope for all footnotes to slide towards, I have the impression that the real issue is that footnotes interrupt the text, and therefore interrupt the sanctity of the aesthetic experience. How could I enjoy the piece of writing if I'm constantly reminded, by losing my place in flipping to the back of the book or shifting my glance to the bottom of the page, that I'm dealing with a piece of writing, and moreover with a piece of writing I don't understand? Footnotes scream "academic" because we feel like academics don't worry about their enjoyment of a text, don't mind the interruption of aesthetic sanctity.
Whether this is true of academics doesn't need to bother us now, I think. What does interest me is that, while in English today we're very impatient with interruptions to our reading, historically, in Chinese, writing has been cluttered with all sorts of interruptions. I have the impression that our attachment to the uninterrupted aesthetic moment of writing didn't take hold in the west until Romanticism; certainly after Romanticism took hold in China, along with a great deal of other Westernisms, annotation in Chinese writing also receded to the margins, but before that it was right there in the middle of the page, in the middle of the line.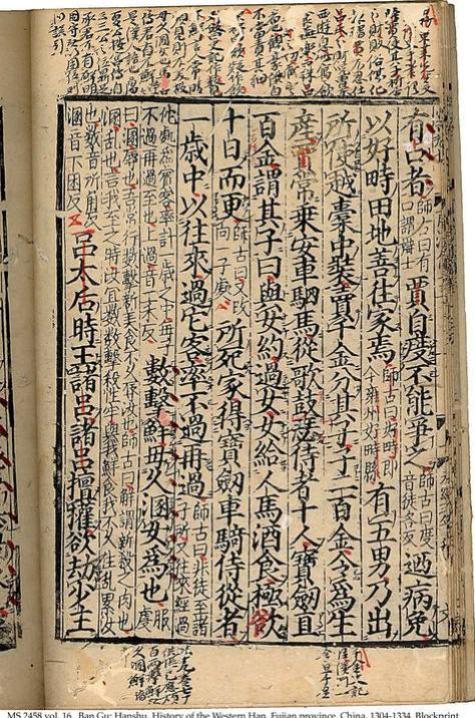 That's an image of what pages often looked like in printings before the twentieth century. The smaller characters are explanations or annotations or just editorial commentary to the larger texts. Both poetry and prose would be published this way, so that the rhythm of the line could be broken up by an editorial "exquisite" 妙也 or further exegesis. In many cases, for canonical works, the commentator might even get top billing over the work in question, the way that actors get top billing over the title of the film: Kenneth Branagh's Hamlet! The Zhīyàn Zhāi 脂硯齋 Commentary on Dream of the Red Chamber 紅樓夢! Maybe one day translators will enjoy the same prestige in offering their versions of pre-eminent texts.
While the usefulness is limited, I think, when dealing with modern Chinese literature, perhaps this opens up a way for us to involve annotations in pre-modern poetry and prose (which to me seem to request more explication anyway). We like our texts noise-free, sure, but when translating from works that would not have been encountered in pristine aesthetic isolation, into a world where writing has to compete against all kinds of hypertextual interference, what if we incorporated the note into the line, drawing attention to the translatedness, the materiality, and the interference of the text?
Maybe we'd find that the only way to translate would be to make something that looks like this: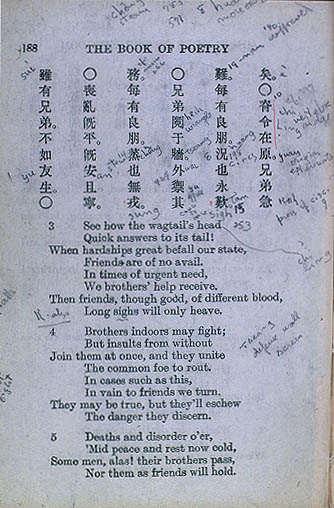 This is a page of Ezra Pound's copy of James Legge's translation of the Book of Odes 詩經, or what he had titled the The Shih King. And while it was a step towards Pound's own Shih-ching: The Classic Anthology Defined by Confucius, nevertheless as we look at it today, with its layers of Chinese, Victorian English, and Modernist (probably incarcerated) pencil-scribbles, we can see something of how the annotations might add, rather than subtract, poetic meaning to the text, and how through translation writing might gain, rather than always be said to lose, a bit of poetry.