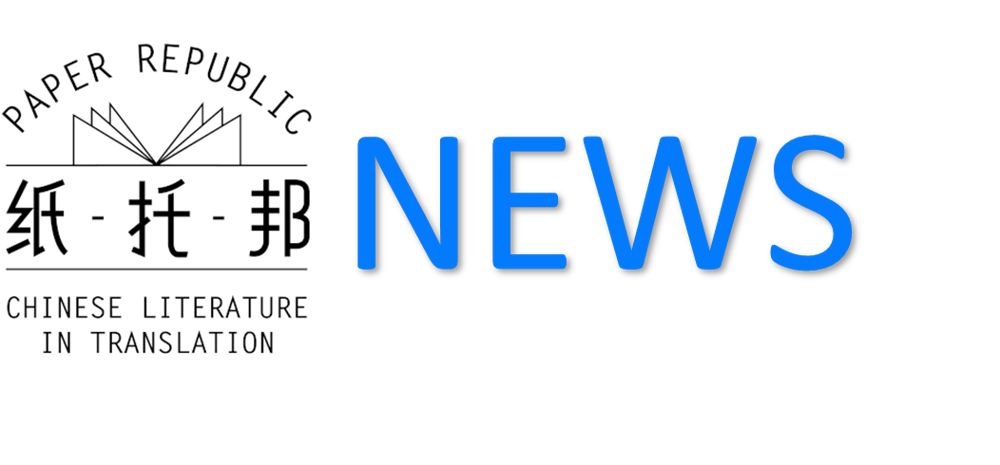 LOTS to read this week: poetry aplenty, a story from the inimitable Zhu Yue, another review of Strange Beasts of China, extract from Uyghur writer Alat Asem's work, and a discussion with translator Carlos Roja about The Four Books. Dig in!
News:
1. PEN AWARD FOR POETRY IN TRANSLATION goes to Raised by Wolves: Poems and Conversations, Amang (Phoneme Media) Translated from the Chinese by Steve Bradbury -- congratulations!
2. Three ALTA Emerging Translator Mentees working from the Chinese! -- Jenna Tang, Ho Zhi Hui and Jack Hargreaves will be spending nine months working alongside Mike Fu, Julia Sanches and Jeremy Tiang, respectively, on pieces from Taiwan and Singapore
3. Applications for Bread Loaf Translators' Workshop Series open until March 20
4. Message from new MCLC editors
Events:
1. Newman Prize Symposium: "Yan Lianke and Contemporary Chinese Literature," Thursday, March 18 -- held by the OU Institute for US-China Issues
2. Adventures in Translating Between Cultures and Eras, February 17 -- a double launch event for The Monkey King & The Best China with Julia Lovell and John Minford. REGISTER VIA THE LINK.
Extracts and stories:
1. Zhu Yue's short story, "Leaving Home," translated by Jianan Qian and Alyssa Asquith -- the story has been selected for the 2020 Best of the Net anthology. Read the rest of the selected pieces here
2. 'Notes on Craft', Ho Sok Fong, tr. Natascha Bruce -- "While writing we recover memories, recover moods, and we start to interpret them."
3. Poems by Qiu Jin, in new translation by Yilin Wang -- More from the Feminist, Revolutionary, Poet. Click here for the first five of Yilin's wonderful translations of the Qing Dynasty poet to go online
4. Two Ya Shi poems, tr. Nick Admussen, Imagination Poem and Cryptic Poem -- "These are some of the first Ya Shi poems I ever read, the ones that hooked me on his work."
5. An Excerpt from Sidik Golden MobOff by Alat Asem, tr. Bruce Humes
6. Four poems about Hong Kong's past, present and future, by Cheng Tim Tim -- "Rocks, sacrifices and songs — I love you / twisted. I love you straight. I'm aware / there're so many ways of breaking." (original English)
Reviews and releases:
1. The Membranes, Chi Ta-Wei, tr. Ari Larissa Heinrich -- "Chi's classic queer Chinese-language SF novel, first published in 1995, makes its English-language debut and invites a new audience into its strange, subtle world. [...]Though Chi's meandering, restrained style will be unfamiliar to many Western readers, this captivating novel is rich and rewarding."
2. Seeing Sounds and Tasting The Words: Reviewing Xi Xi's Not Written Words, tr. Jennifer Feeley, by Jennifer Anne Eagleton -- "Xi Xi's poems often deal with light-hearted topics of daily life. Her voice is curious, questioning and playful. When she writes about political topics... her narrative voice becomes more solemn and open, employing a straightforward manner."
3. Can Xue on Calvino's Cosmicomics -- Can Xue has an impressive body of critical writings on Kafka, Borges, Schulz, Goethe, Dante, etc. Firmament 2 contains one essay translated by Natascha Bruce
4. "Asymmetric and Unexpected", a review of Yan Ge's Strange Beasts Of China, tr. Jeremy Tiang, by Ari Santiago -- "Across all the novel's episodes, stories serve both as a catalyst to action and a pathway to truth. They forge bonds among people with disparate origins, experiences and aspirations. [...they] offer a refuge from [the nefarious myths that plague society]."
5. Loving Anarchy: A Review of Che Qianzi's No Poetry, tr. Yunte Huang, by Ang Kia Yee
Media:
1. Women Writing China: Outside Society, a conversation with Yan Ge and Li Juan, incl. Jeremy Tiang and Christopher Payne -- recording of Sinoist Books event
2. Jeremy Tiang reads from Yan Ge's Strange Beasts of China -- what a voice, what a book
3. Transcript of LitFest book club discussion of Yan Lianke's The Four Books with translator Carlos Rojas -- I make a brief appearance!
4. RadiiChina's 100 Films to Watch to Help You Understand China