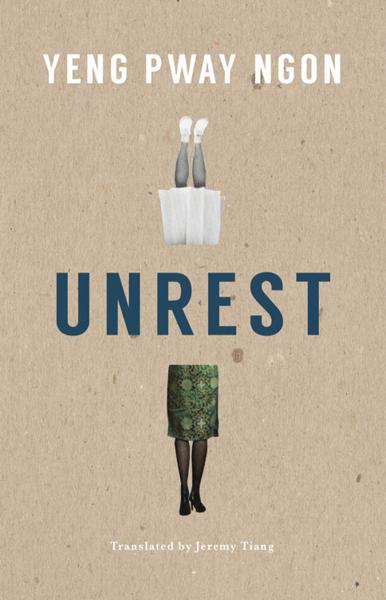 This week's Sunday Sentence is something entirely different: Yeng Pway Ngon 英培安 inserts himself into the narrative on page 25 of 《骚动》(2002), translated by Jeremy Tiang as Unrest. Thank you to Jeremy for setting this week's challenge.
Please input your translation in the comments box at the bottom of the page.
The sentence to translate is:
我启动电脑的时候,小说的女主人翁和男主人翁正在床上。我的手指在键盘上犹疑了好一阵子,不能决定应该由我还是由他们其中一人来叙述这场性爱。无论如何,窥视小说主人翁的私生活是读者的权利,所以作为读者的你是可以看到的,床上的性活动正在进行中,男主人翁的状态似乎并不理想。
Remember, you can post your translation anytime between now and next Sunday, so you have plenty of time to ponder and refine it.
Synopsis:
Four leftist teenagers in 1950s Malaya dedicate themselves to overthrowing colonialism and bringing about a better world. With time, their paths diverge — into capitalism, into adultery, into the dark heart of the Cultural Revolution. Disillusioned and middle-aged, they look back at their lives from the prosperous but soulless 1980s, wondering what has become of their dreams and ideals.
Why this sentence:
In Unrest, Yeng Pway Ngon himself makes several appearances in the narrative, positioning himself as an intrusive author having a conversation with the reader. This places the translator in an interesting position, serving as a conduit for a voice that needs to feel like it's being transmitted directly from the writer's brain to the reader's. These sentences present a particularly comic use of this device, with a sex scene between the two main characters taking place almost incidentally as the author muses about how best to describe it.
Author Bio:
Yeng Pway Ngon is a Singaporean poet, novelist and critic in the Chinese literary scene in Singapore, Malaysia, Hong Kong and Taiwan. A prolific writer, Yeng's works have been translated into English, Malay and Dutch. Yeng received the National Book Development Council of Singapore's Book Award in 1988, and the Singapore Literature Prize in 2004, 2008, 2012 and 2016. He was awarded the Cultural Medallion in 2003 for his contributions to literature in Singapore, and the SEA Write Award in 2013.
Thanks again to Jeremy Tiang for the suggestion and background.
Looking forward to your translations!