Yang Lian

杨炼

楊煉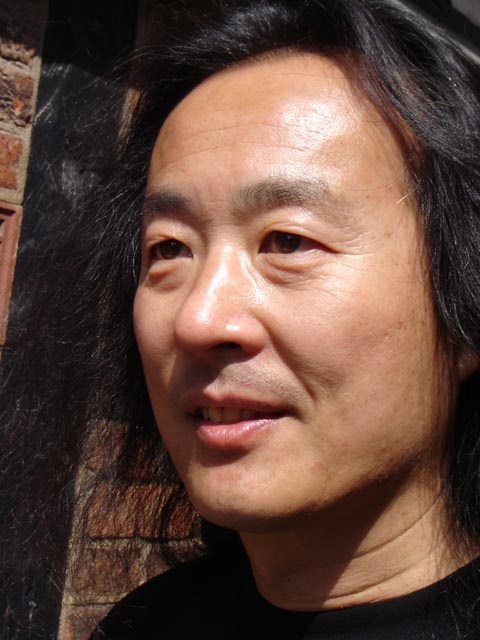 homepage | wikipedia | worldcat | MCLC | baidu | MyChineseBooks.com |
Yang Lian was born in Switzerland in 1955, and grew up in Beijing. He began writing when he was sent to the countryside in the 1970s. he was among the "Misty" school of Poets. His poems became well-known and influential inside and outside of China in the 1980s, especially when his sequence 'Norilang' was published in 1983.
Yang Lian was invited to visit Australia and New Zealand in 1988 and next year, he became a poet in exile and started his journey through out the global since then. All these years, his literary writing, as well as his outspoken voice, has been called as a highly individual voice in world literature, politics and culture.
Yang Lian has published fourteen collections of poems, two collections of prose and one selection of essays in Chinese. His work has also been translated into more than twenty languages, including English, German, French, Italian, Spanish, Japanese and many Eastern European languages. Among 14 books of poems in English translation, his most representative works including the sequences and long poems such as Yi, Where the Sea Stands Still, Concentric Circles, Narrative Poem and Anniversary Snow, they display a profound understanding of, and creative links with, Classical Chinese poetry. His work has been reviewed as "like MacDiarmid meets Rilke with Samurai sword drawn!", "one of the most representative voices of Chinese literature" and "one of the great world poets of our era". Yang Lian and the Scottish poet W. N. Herbert together with Brian Holton and Qin Xiaoyu are the co-editors of Jade Ladder, a brand new Anthology of Contemporary Chinese Poetry (1978 -- 2008) in English, and published by Bloodaxe Books in Apr, 2011.
2019, Yang Lian won "Premio Sulmona" prize in Italy; and the Beijing Literature Magazine Prize for Poetry in China. 2018, Yang Lian won the first prize for Poetry of "He Ze Du Lin Cup", Shanghai, China ; 2018 Premio International NordSud (2018 NordSud International Prize) for Literature, Italy. 2018 Janus Pannonius International Poetry Grand Prize in Hungary; and the 2018 L'Aquila International Literature Prize, Italy. His long poem "Concentric Circles" in Swedish translation ("Koncentriska Cirklar") been selected into the "Litteraturtoppen" and the Daily News's 5 best poetry books of the year. 2017, Narrative Poem, Yang Lian's autographical book-length poem selected as a recommended translation by Poetry book Society in UK, as well as won the English PEN Award. Yang Lian won also the Shanghai Literature Magazine Prize for Poetry. 2016, Yang Lian was awarded The 2016 Pacific International Poetry Prize in Taiwan. 2015, Yang Lian has won The Li Bai Nomination Poetry Prize; Zuo Pin (Works) Magazine's Prize for Sequence; The First Long Poem Prize (Fo Shan City, China); Great Kunlun Cultural Prize․Prize for Outstanding Contribution to Poetry. 2014, Yang Lian won the International Capri Prize 2014, a well-known international poetry prize. December of 2013, Yang Lian's "Concentric Circles Trilogy" (YI, Concentric Circles and The Narrative Poem) won the first issue of Tianduo Award for Long Poems in China. January of 2012, Yang Lian has won Nonino International Literature Prize in Italy, the juries of the prize were presided by V S Naipaul. Yang Lian was also awarded the Flaiano International Poetry Prize (Italy, 1999) and his Where the Sea Stands Still: New Poems was Poetry Books Society Recommended Translation (UK, 1999). Yang Lian has been elected a board member of PEN International in 2007, and reelected in 2011.
Yang Lian has been invited to become a member of The Norwegian Academy for Literature and Freedom of Expression in 2013, and a distinguished professor by Shantou University, Guangdong Province, China.
Yang Lian is one of two chief-editors of Survivors Poetry Magazine, a poetry magazine found in China in 1988 and been banned after Tiananmen Massacre in Beijing 1989, it is online only today: www.survivorspoetry.net
Yang Lian lives in London and Berlin.
Yang Lian's website: www.yanglian.net
and Facebook page
Links:
Yang Lian's website (in Chinese and English)
Author page on Poetry International Web
Author page from Shearsman Books
Author page from New Zealand Electronic Poetry Centre
Original Works
The Paper Republic database exists for reference purposes only. We are not the publisher of these works, are not responsible for their contents, and cannot provide digital or paper copies.