Brian Holton

霍布恩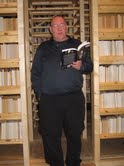 wikipedia | worldcat | academia |
Brian Holton was born in Galashiels in the Scottish Border country, but grew up partly in Nigeria, the son of an Irish father who was bilingual in English and French, fluent in Hausa and West African Pidgin, and competent in Yoruba; his mother was a natural Border Scots speaker.
After an old-fashioned Scottish education in classical Greek, French and Latin, he studied Chinese at the universities of Edinburgh and Durham, two institutions where he later taught Chinese language and literature. He was the first programme director of the Chinese-English/English-Chinese translation programme at Newcastle University; he then went on to teach translation for ten years at the Hong Kong Polytechnic University.
He began publishing his Scots translations of Shuihu Zhuan in 1981, but has so far been unable to find a publisher willing to take the book on (he has published about 10% of the book in various journals). In 1992 he began a continuing working relationship with the poet Yang Lian, which has so far resulted in a dozen books of translated poetry.
While, as a literary gent, he was lucky to slip in the back door of universities when no-one was looking, he would have been happy to do nothing but literary translation, had it been possible to earn a living from it. As it is, he continues to translate into both English and Scots, and though he is currently taking a break from teaching while he works with W. N. Herbert on a major new anthology of contemporary poetry for Bloodaxe Books, he regularly attends literary festivals and poetry readings with Yang Lian, and also leads master-classes and workshops on poetry translation.
He is married to well-known Beijing writer Guo Ying, and plays Scottish and Irish traditional music on whistles, smallpipes, guitar, bouzouki and dulcimer.
For further details, see Brian's Wikipedia entry here
Original Works
All Translations
The Paper Republic database exists for reference purposes only. We are not the publisher of these works, are not responsible for their contents, and cannot provide digital or paper copies.