Wang Gang

王刚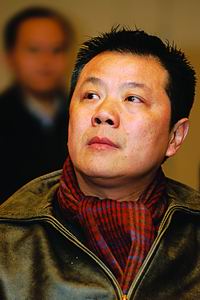 MCLC |
Now a resident of Beijing, Wang Gang was Born 1960 in Xinjiang. Wang studied writing in Xi'an at Northwest University Literature Department and did postgraduate studies at the Lu Xun Institute and Peking Normal University. He now holds a position in the Dept. of Dramatic Arts in the Communications University of China. His works include the novels The Forbes Curse, Back of the Moon, English, Kwan Kwan Saith the Osprey, and collections such as Man in Autumn. In 2006 China Times in Taiwan included English in its top ten list and "A World Without Thieves" won Best Screenplay at the 42nd Golden Horse Awards, also in Taiwan. Penguin has published English in English, Italian, French, Korean, German and Spanish.
In 1987《当代》Dangdai Magazine published《冰凉的阳光》Icy Sunlight. Other works, including 《博格达童话》Bogda Fables,《红手》Red Hand,《秋天的男人》Man in Autumn, and《遥远的阳光》Distant Sunlight were published in literary magazines in China.
Wang Gang is also a successful scriptwriter. His popular filmscripts co-written with Feng Xiaogang are: 《甲方乙方》The Dream Factory (1997) and《天下无贼》A World Without Thieves (2004). Wang's TV series script is:《月亮的背面》The Other Side of the Moon (1997).
Wang Gang's novel 《英格力士》published in 2004, won literary awards in both China and Taiwan, is based on his childhood experiences growing up in Xinjiang during the Cultural Revolution. The English translation, titled English, published in 2009 by Penguin under the Viking imprint, was translated by Martin Merz and Jane Weizhen Pan.
Wang's experiences as a real estate developer are the inspiration for《福布斯咒语》The Curse of Forbes, a no-holds-barred romp through the world of the rich and infamous in China's murky business mileu.
Recollections of the Hunan Cemetery, tr. Martin Merz and Jane Weizhen Pan Pathlight: New Chinese Writing 1 (2012)
Original Works
The Paper Republic database exists for reference purposes only. We are not the publisher of these works, are not responsible for their contents, and cannot provide digital or paper copies.