Sun Yisheng

孙一圣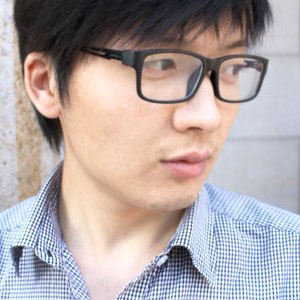 MCLC |
Born in 1986 in Shandong province, Sun Yisheng has done a variety of jobs since graduating in chemistry – security guard at a cement factory, waiter, factory operator, technician in pesticides factory. He has had short stories published several mainstream literary journals. He sent "Periscope" to Chutzpah's founder and editor, Ou Ning, on spec, and it appeared in issue 7 of this independent Chinese magazine (spring 2012). Sun Yisheng featured as one of three young writers at a Chutzpah "Literary New Blood" event in Beijing 9 September 2012 (see link below). He appeared at the Bookworm Festival, 2015, talking with Nicky Harman and Dave Haysom about his short story Apery. And his first collection of short stories, called 《你家有龙多少回》 (literally Your Family Has How Many Dragons, but figuratively, "how many dragon-fields does your family own?") was launched at the National Museum of Modern Chinese Literature in Beijing in August 2016.
Sun Yisheng had an article in Granta magazine, UK, entitled "The best book of 1926", translated by Dave Haysom.
Short stories in translation
In The Name of The Father in Asia Literary Review
Apery in Pathlight, and Read Paper Republic
The Stone Ox that Grazed in Asymptote
The Shades who Periscope through Flowers to the Sky in Words Without Borders
Dad, Your Name is Field-Keeper on Read Paper Republic. The author says of this story: [It] is an assemblage of disconnected images, in a landscape that flows like an inkwash painting. The Bao Tian (Field-Keeper) of the title never makes an appearance, has no surname or family, and is thus "everyman."
Read Now: On Paper Republic
Original Works
The Paper Republic database exists for reference purposes only. We are not the publisher of these works, are not responsible for their contents, and cannot provide digital or paper copies.