from Danny Hahn, Translators Association, London
For some time those of us at the (British) Translators Association have been discussing the possibility of setting up a mentoring scheme, as a way of allowing emerging translators to benefit from the experience of their more experienced colleagues. Mentoring does of course happen informally all the time – translators are a benign, helpful bunch on the whole, after all – but we wanted something more formal, something that the emerging translator could rely on for a set period of time, and which would also involve a modest fee to recognise the mentor's time. And thanks to the generosity of the Calouste Gulbenkian Foundation we are delighted to have secured funds to make this happen at last.
Working in partnership with the British Centre for Literary Translation, we decided to choose the first two mentees (we couldn't come up with a better word – someone suggested protégés? acolytes? apostles? – translators are always ever so good at synonyms…) from the pool of students attending this year's BCLT Summer School, and in an energetically argued meeting on the penultimate night the two were duly chosen – Anna Holmwood and Vineet Lal, translators from Chinese and French, respectively.
Anna will be mentored by Nicky Harman (also her tutor at the Summer School), and their work together will focus particularly on the new translation she is embarking on – her first full-length work – for Virago Press. It's a novel by Ai Mi, Hawthorn Tree Forever, and I for one, as a non-Chinese-speaker, am very much looking forward to reading Anna's translation when the time comes. Friends of Paper Republic hardly need me to tell them just how badly Chinese literature has traditionally been served in UK publishing (I mean in quantitative terms, of course), so anything that can help to develop really first-class translators to ameliorate that situation is to be welcomed. I'm thrilled that the TA mentoring programme will be able to contribute towards that effort, and have all confidence that Anna's work will make us proud!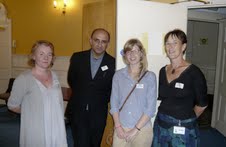 From L: Sarah Ardizzone, Vineet Lal, Anna Holmwood, Nicky Harman at the Translators Assocation offices