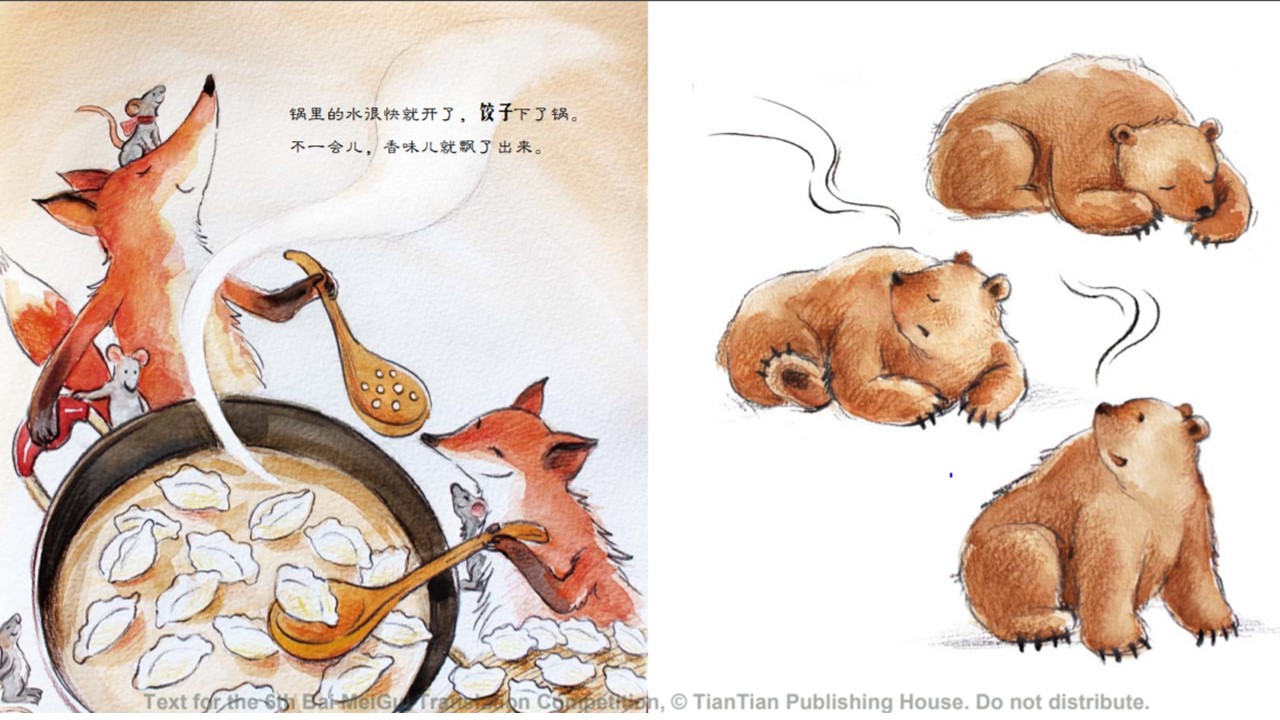 We're back! And we're starting 2021 with two sentences from two wonderful children's books.
The first is from 《好困好困新年》by Meng Yanan 孟亚楠, translated by winner of the 6th Bai Meigui Translation Competition, Izzy Hasson, as Sleepy, Sleepy New Year and published by Balestier Press.
The second is from 《我要作好孩子》 by Huang Beijia 黄蓓佳, translated by Nicky Harman as I Want to Be Good, to be published by New Classic Press this February.
The sentences and their context are below, but first some brief instructions for those joining us for the first time or in case 2020 has made you forget how this works.
You have two weeks to complete your own translations of the sentences below.
Once you're happy with them, post them in the comments at the bottom of the page. If you like, tell us what you liked about doing the translation or about the text or what you found difficult.
Read others' translations, ask them questions in the comments, admire their work and generally just geek out as much as you like!
[Pictures reproduced by kind permission of the publisher.]
SENTENCE 1
锅里的水很快就开了,饺子下了锅。不一会儿,香味儿就飘了出来。
Context:
Every winter, Bao Bear hibernates until spring. So when Bao overhears a family of rabbits talking about making jiaozi for the New Year holiday, Bao doesn't know what they mean. But the encyclopaedia can explain it, and so can Bao's forest friends. In fact, they can show Bao what the New Year holiday is and how to spend it! When the holiday begins, one by one, family by family, Bao's friends arrive to help Bao stick up couplets around the door, hang lanterns and make a feast! Only, sleepy Bao Bear keeps on falling asleep…
SENTENCE 2
金铃说:"我不要意义,只要开心。我现在上学读书太不 开心了,没完没了的考试,满耳朵的分数,我觉得活着还没有死了快活。"
Context:
Ling is an average sort of kid: quick-witted, kind, good at writing stories, but––no matter how hard she tries––hopeless at maths! As Ling and her friends get ready for their middle school entrance exam, the pressure piles on. Minjie Chen, Cotsen Children's Library, Princeton University, USA, says this: "In China, a test-driven, ultra-competitive educational environment has turned the school experience into an arms race. But Ling has qualities that the school cannot measure with a numerical score. The persistent tension of the novel is the gap between who Ling is and what her anxious mother and teachers' expectations of her are. Funny, moving, and a very appealing read."
In the sentence above, Ling is beginning to rebel. She has just told her mum that she wishes she could be really old and take things easy like her grandparents. Her mum says, "But then there wouldn't be any meaning (意义) in your life!"
We look forward to seeing your translations!