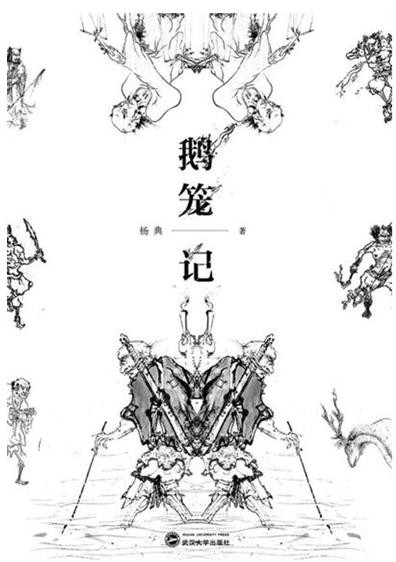 Week 4 of Sunday Sentence! Halfway through!
A lesser-known writer this week, but one of my favourites, Yang Dian 杨典 and the two opening sentences of his short story, 《朱厌》, which I've tentatively translated for the purposes of this exercise as 'Ape of War'. The story is taken from his as-yet untranslated 2019 collection, Stories from the Goose Cage 《鹅笼记》.
Please input your translation in the comments box at the bottom of the page.
The sentences to translate are:
前朝灭亡的最后一个夏日,我那位集病夫、书生、杀手与某秘密社团激进分子于一身的兄弟,我窝藏多年的故知,我不可同日而语的镜子,终于在十字路口法场走到了魂断他乡的绝境。他的死是在我意料中的。
Remember, you can post your translation today or any day next week, so you have plenty of time to think about it and there's no need to rush.
Here is a little context:
The narrator reflects on the events leading up to and following the execution of his reluctant assassin friend, who persisted in his work out of an unusual sense of duty and bewildering purpose.
The collection's name is taken from Wu Jun's 吴均 "The Scholar from Yangxian" 《阳羡书生》, which you can read here, about a traveller's encounter with a scholar who asks to be carried inside the traveller's goose cage and later, while the traveller rests, spits out a mistress to keep him company in the cage, who spits out her other lover to keep her company, who spits out his secret mistress to keep him company, before in turn each of them is swallowed back up.
About the challenges:
Every third sentence in Yang Dian's stories could be described, for one reason or other, as a challange to translate - they are rich in arcane cultural allusions, blend classical and modern language and flit easily from prose to poetry to historical record. This sentence though shows something a little more commonplace in Chinese literature than all of those things combined: stacked qualifiers, which in English are prone to sounding clunky or clumsy, yet here, still pack a punch.
About the Author:
Yang Dian was born in Chongqing in 1972 and has been based in Beijing since 1985. He is a writer, artist, and Guqin expert. Known for his unique literary experiments that blend different genres and styles, he has published more than a dozen Chinese-language books including a novel, short story collections, a micro-fiction collection, poetry and essays. His most recent work has been dedicated to honouring and reviving the neglected traditions of Chinese writing such as opera scripts, Guqin manuals, annotations, commentaries and the encyclopaedic leishu through recontextualising the storytelling inherent within them for a modern reader. I'm currently translating his flash-fiction collection, A Contrarian's Tales 《懒慢抄》, from which you can read three of the three hundred plus stories here; the quest for a publisher is ongoing.
As a secondary challenge this week, I'd love to see people's translations of the story's title too - 《朱厌》.
Looking forward to everyone's translations!