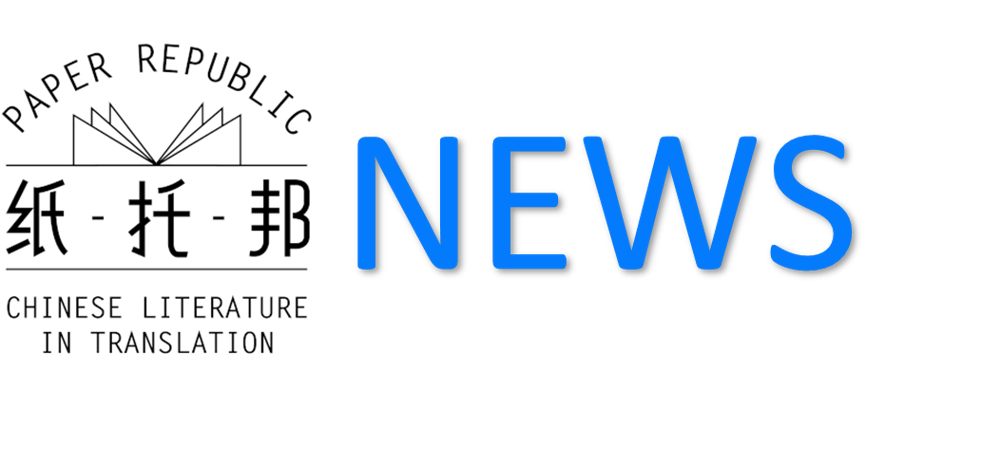 I'm going to start off with the reminder this week: you can subscribe here to receive this newsletter straight into your inbox every fortnight! And if you are already signed up, please check your junk/spam/trash folder on Tuesday evening in case the email hasn't arrived yet.
Now for the news: first of all I'd like to point you to all the poetry that has been dug up from the archives or newly published online in commemoration of a certain anniversary this month. Powerful stuff - a lame analysis I know, but the poems speak for themselves. Next, it's Pride month, and there's lots that is related going on within Chinese-language lit for us to be happy about. One thing is the continued and welcomed publication of reviews and extracts from The Membranes, and another is the release of a new book from one of my favourite authors, Chen Xue 陳雪, Dear Accomplice (親愛的共犯), a detective novel published by Mirror Fiction, though no translation available as yet of course! AND -- this just released as I was about to post -- Words Without Borders' 12th annual queer issue contains two translations from Chinese! And for the rest, well, have a see for yourself below:
News:
1. Mekong Review is now an affiliate of the LA Review of Books
2. Peter Hessler will be leaving China because Sichuan University declined to renew his teaching contract -- read "Three Sketches of Peter Hessler" by Wu Qi, tr. Luisetta Mudie, from our Dispatches series here
3. Children's Literature in Translation: An Interview w/ Edmund Wee, publisher of Singapore-based Epigram Books
4. Asymptote Editor-at-Large, Vivian Szu-Chin Chih, reporting from Taiwan
5. A call for poetry for publication in the anthology If Words Can Spill Beyond Their Own Bounds -- Ukiyoto Publishing & Asian Cha Journal are seeking poems that explore the possibilities and potentialities of language in articulating the self, both in times of crisis and in everyday life
6. BooksActually celebrating Pride month by revisiting the LGBTQ classic, I Will Survive edited by Leow Yangfa -- "real-life experiences of love, grace, faith, dignity and courage from 21 ordinary gay, lesbian, bisexual and transgender people in Singapore who have survived extraordinary circumstances"
Events
1. China in One Village: A Conversation on Literature and Translation in a Changing World, Jun 9 -- a conversation between Liang Hong and her translator Emily Goedde and more about the upcoming release that kickstarted a phenomenal wave of literary nonfiction writing in China and established the author's reputation as a deft chronicler of China's changing society
2. The Force of Forging Words: A Translation Conversation, Jul 9
3. Elisa Wouk Almino is teaching a beginner's translation course for UCLA online, starting July 6
Extracts, stories and poems:
1. Suspension: Complexed Developments and Hypermobility In and From China
2. "Before the Valley" By Rachel Heng -- Singlish in The New Yorker!
3. For a taste of Chi Ta-wei's work, here's a story of police violence, queerness, disease and youth from 1998, but which seems incredibly familiar even today. Tr. Fran Martin, "A Stranger's ID"
4. Cha have been doing a fantastic job posting poetry and stories to commemorate the June 4th Massacre, so here are a list of the ones I've seen -- Bei Dao, tr. Eliot Weinberger; Liu Xiaobo, tr. Ming Di; "One Family's Story" by Ding Zilin, tr. Kevin Carrico; Chan Lai-kuen, tr. Jennifer Feeley; "Tiananmen: Lives of the Poets" by Gregory Lee; Xi Xi, tr. Jennifer Feeley; Liu Waitong, tr. Lucas Klein
5. Poems by Chung Kwok-Keung 鍾國強, tr. May Huang 黃鴻霙 -- there's a wonderful translator's note to boot!
6. An extract from The Membranes by Chi Ta-wei, tr. Ari Larissa Heinrich, on Words Without Borders
7. Two Poems 27 Years after Tiananmen by Mai Mang
8. "Yun-Fan: Singing the Variety of Queer Life" by Wanning Chen, tr. Jeremy Tiang, on Words Without Borders
9. "Solo Dance" by Li Kotomi, extract tr. Natascha Bruce, on Words Without Borders -- the full-length, translated from Japanese (that's right, Li Kotomi wrote the book in both Japanese and Chinese), will be released next year, tr. Arthur Reiji Morris
Reviews and releases:
1. A Q&A w/Liang Hong: China's fading hinterland
2. Strange Beasts of China by Yan Ge, tr. Jeremy Tiang in Vulture's list of 35 books for the summer
3. Yan Lianke's Hard Like Water tr. Carlos Rojas recommended by LitHub as a novel to read this summer
4. Asian Review of Books on Queer Taiwanese Literature: A Reader, edited by Howard Chiang
5. Words Without Borders recommends The Secret Talker by Yan Geling, tr. Jeremy Tiang
6. The Enchanted Bells: Marco Piccolo's Musical Adventure by April Chung & Li-Ling Chen -- "The perfect bedtime story for musically inclined little ones!"
7. The Secret Talker by Yan Geling, tr. Jeremy Tiang, in The New York Times
8. Asian Review of Books on The Membranes by Chi Ta-wei, tr. Ari Larissa Heinrich
9. Strange Beasts of China by Yan Ge, tr. Jeremy Tiang, reviewed by Yen Ooi -- "surreal and bizarrely beautiful"
10. Chi Ta-wei's The Membranes, tr. Ari Larissa Heinrich, is the the Official Du Mois Selection for June '21 -- "A plunging submersible disguised as a novel—filled with incisive, inventive peculiarities"
11. LA Times on The Membranes by Chi Ta-wei, tr. Ari Larissa Heinrich -- "What a 1995 Taiwanese queer sci-fi novel got right about the future"
12. Cha on The Membranes by Chi Ta-wei, tr. Ari Larissa Heinrich
13. The Modern Novel on The Membranes by Chi Ta-wei, tr. Ari Larissa Heinrich
Media:
1. Training Our Tongues to Forget, by Zhang Yashu, on the fading linguistic diversity in China
2. Jia Pingwa talking about his book The Mountain Whisperer
3. Translating the World Undone: An Interview with Translator Nicholas Glastonbury -- "it seems to me there's something of a trauma porn industrial complex in World Literature: certain literatures, especially those from the Global South, are often only called upon or published to serve this purpose..."
4. Translator Yilin Wang on podcast NüVoices -- Revolutionary feminism, wuxia, and the politics of translation