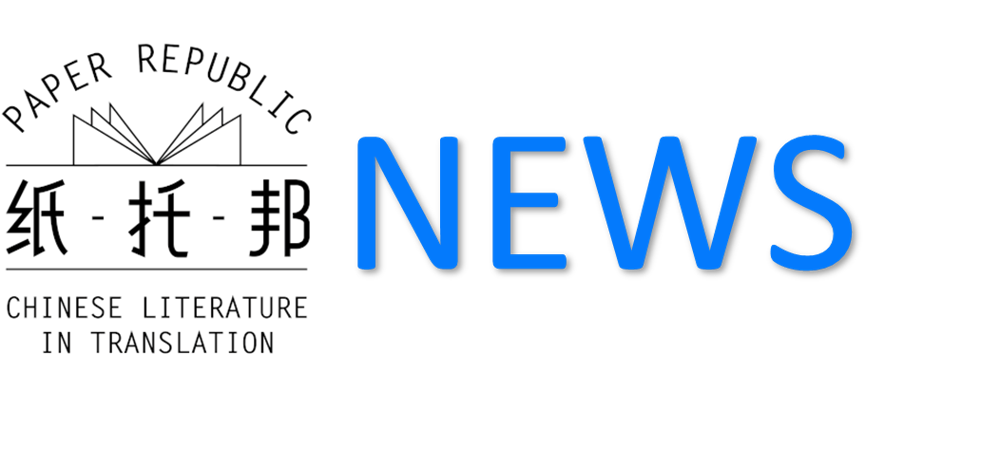 Autumn is here, a time of year I actually really like, and there's certainly a lot to celebrate at the moment! On a personal note, I might be able to travel to the American Literary Translator's Association conference next month, the virtual leg of which has already started. Then there's the approaching completion of a big Paper Republic project which a few of the members have been plugging away at for over a year by now, and which has involved contributions from tens of wonderful people at this point. Watch this space.
On top of those, it's what is, I suppose, an unofficial award season in the world of translated literature, or at least one of them. And there are plenty of congratulations to go around: Sanmao, Mike Fu, Can Xue, Karen Gernant, Chen Zeping, Ge Fei, Canaan Morse, Chiou Charng-Ting, May Huang, Tracy K. Smith, Changtai Bi, David Hinton...
There are also a number of exciting events coming up, one of which involves Nicky Harman, in conversation with Jun Liu, and another which will be led by Jennifer Wong. Booking information can be found via the links below.
Last but not least -- although this is a different kind of announcement to the ones above -- if you are an author, translator, publisher or organisation with a Chinese-literature related event coming up and you'd like to share some information about it, say a few words, share an idea you have, please do get in touch and we'll feature you/it in an upcoming newsletter both on the site and in the email version (which you can sign up to here).
Just a heads up before we get into the news, in case you haven't noticed or have been confused, we've reset the counter on the issue number, in order to align the site and subscription versions. Anyway, on with what you're here for!
Extracts, stories and poems:
Read a translation of Liang Wern Fook's "Unfinished" in Adda, by Christina Ng
Here are three new translations of poems by Yang Xiaobin on Circumference, translated by Canaan Morse
Read May Huang's translator's note about Ma Xiaoquan's story, "How the Best Masters Died", featured in the wuxia issue of Pathlight Magazine
Read a translation of "Dark as a Boy" by Ho Sok Fong, tr. Natascha Bruce, in Words Without Borders's new issue on Malaysia
I-Novel, You-Novel, True-Novel, False-Novel: Jeremy Tiang talking about Lo Yi-Chin's Faraway
Events
There are two events on Oct 4: Borderless Books x Gŵyl Haf International Translation Day Festival with Nicky Harman and Jun Liu discussing their experiences of co-translating Jia Pingwa for Sinoist Books
AND
A Lunchtime Poetry Workshop with our very own Jennifer Wong, Translating Chinese Women Poets like Zhou Zan, Zhai Yongming and Leung Lai-chi. NO prior experience of Chinese language / Chinese translation required
News:
Nominations for the ALTA National Translation Award in Prose include Can Xue's I Live in the Slums, tr. Karen Gernant and Chen Zeping, and Sanmao's Stories of the Sahara, tr. Mike Fu; in Poetry, Yi Lei's My Name Will Grow Wide Like a Tree, tr. Tracy K. Smith and Changtai Bi, and The Selected Poems of Tu Fu, tr David Hinton
Ge Fei's Peach Blossom Paradise, tr. Canaan Morse, is longlisted for the National Book Award for Translated Literature. Go get'em!
A PEN/Heim grant goes to May Huang for her translation of Young Gods by Chiou Charng-Ting: suffused with the seductive pull of heartbreak and pleasure
A translation by one of our RPR contributors, Karen Hung Curtis, is Highly Commended in the John Dryden Competition for (Desert) War Diaries translated from Wong Bik-Wan's 戰爭⽇記 (在沙漠). The longlist also included Chen Du and Xisheng Chen for The World's Ten Portraits 世界的十幅肖像 (from "Rock Arrangement" 整理石头) by 阎安 (Yan An), and Jack Hargreaves for Little Miss Box Person 盒人小姐 by Shen Dacheng 沈大成
The 2021 Lucien Stryk Asian Translation shortlist includes The Selected Poems of Tu Fu tr. David Hinton
Leeds Centre for New Chinese Writing launch Writing Chinese, a new open access journal now open for submissions
Hard Roads an Cauld Hairst Winds: Li Bai an Du Fu in Scots by Brian Holton receives a Scots Language Publication Grant
Yilin Wang is one of ALTA's 2021 Virtual Travel Fellows
Reviews and releases:
Fancy an oddity? LitHub recommends Yan Ge's Strange Beasts of China, tr. Jeremy Tiang. And so does the NY Times, BookRiot and Ian Mond on Locus Mag, as long as you can get past the vomiting...
Read Nick Admussen's thoughtful review of Ghosts • City • Sea, poems by Wang Yin 王寅, tr. Andrea Lingenfelter
Lemon Butterfly by Cao Wenxuan is out now! If only we knew who translated it...
The newest release from Sinoist is Open-Air Cinema by Su Tong, a collection of micro-essays written as sanwen
An NY Times review of Lo Yi-Chin's 骆以军 Faraway: "Lo's language, beautifully translated by Jeremy Tiang, is a life raft in the chaos, images burned in the mind"
Graphic novel of The Wandering Earth by Cixin Liu out now
Media:
Photos of Sanmao by Hsieh Chun-Te, taken in 1976
An interview with Jennifer Feeley about translating White Fox in the Forest by Chen Jiatong
An essay about The Drunkard author, Liu Yichang, on Zolima City Mag
Read about ALTA mentee Jenna Tang's journey to translation
Chi Ta-wei & Jeremy Tiang talk about their experience leading this year's BCLT Summer School workshop for Chinese
Have a look at this map to find out which book from each country has been translated into the most languages. Can you guess which one is from China?
Translator Jennifer Croft on Why translators should be named on book covers