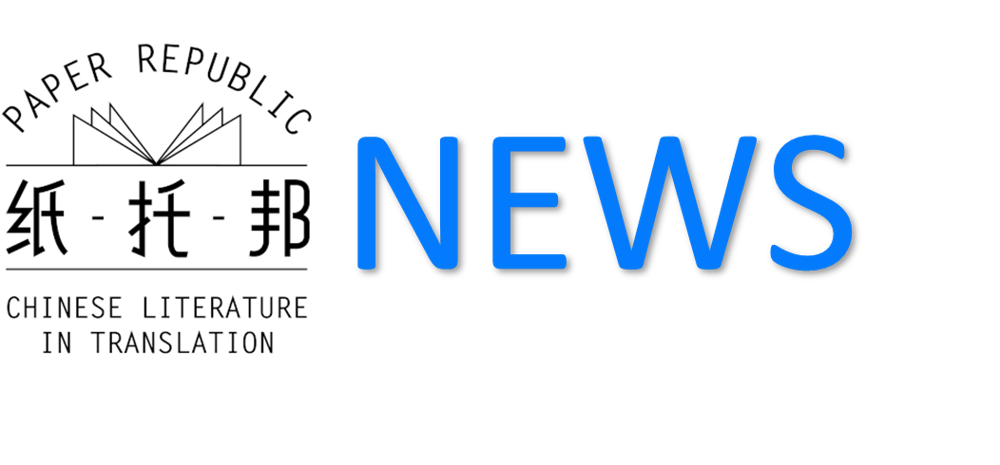 Here's your fortnightly round-up of recent news regarding Chinese literature, the people who write it, the people who translate it, and the people who read it.
What's going on these days? Yan Ge has switched to writing in English, that's what. And how: her debut English-language story collection and novel have already sold, to Faber and Scribner. While this is obviously objectively awesome news, there is something a tiny bit bittersweet about it for those of us who translate. Nothing has been lost, we tell ourselves. Nothing lost! We have not asked Jeremy Tiang for a quote, but imagine him gazing fondly yet a little forlornly at a copy of Strange Beasts of China (which is hot in Philly).
If you're tired of books (as if), why not watch some book-related movies next month? The Chinese Visual Festival has a great line-up of Chinese-language film, including a screening of Jia Zhangke's Swimming Out Till the Sea Turns Blue, a documentary about three Chinese authors (Yu Hua, Jia Pingwa, and Liang Hong) and their connection to the land. Note that the related event with Jia Pingwa and Liang Hong has been cancelled, as well as a few of the film screenings, as well as... Well, more about that in the next newsletter.
Other news from the Republic: we're scrambling to keep up with a multitude of educational projects, running workshops and talks in partnership with Aberdeen University, judging submissions for the Anthea Bell Prize for Young Translators, and gearing up for the Bristol Translates summer school. Meanwhile Nicky hates Microsoft Teams, Jack has mastered the art of Twitter-fishing, and Eric, despite decades of working between continents, still can't keep his timezones straight.
And here's something that doesn't happen often enough: we're hearing a lot of buzz from inside China about a new Chinese-language novel. It's titled Folk Music 《民谣》, by a literary critic named Wang Yao (王尧). It came out in Harvest (收获) magazine in 2020 – still for our money the best literary magazine in China – and was published in book form this past April by Yilin Publishing House. Both the magazine and the publishing house have gotten in touch with us to tell us how much they loved the book, and how much they think someone should translate it. It seems to be a work of autofiction, set in northern Jiangsu province during the 1970s, a finely-experienced story of the narrator and his family. We'll let you know what we think!
Remember, if you want to receive these newsletters straight into your inbox every fortnight, sign up here.
And, finally, the actual news:
News:
1. Xin Xu wins the WLT Student Translation Prize with her translations of Yu Jian's poetry -- read here
2. The Janus Project Translation Grant -- open to individuals and publishers of Chinese literature in translation in any language until 31 December, 2021
3. New Speculative Sinophone Fiction Podcast Launches -- Sinophone Unrealities -- first episode is Invisible Realms of Science Fiction with Mingwei Song
4. Sales on translations of Duo Duo's work -- The Boy Who Catches Wasps, tr. Gregory B. Lee & Snow Plain, tr. John Crespi
5. Faber & Scribner Acquires Yan Ge's First English-Language Works, Elsewhere & Hotel Destination
6. Noted translator Xu Yuanchong dies at 100
Events
1. SUSTAINABILITY AND TRANSLATION Call for Papers: annual conference of the Institute of Culture Studies and Theatre History 2021 at Austrian Academy of Sciences
2. London Book Fair events by the British Council -- incl. "Closing the translation gap – translating in a second or additional language" which features ALTA mentee Jenna Tang
3. Professor John Minford's Lectures "Hong Kong: Literature and Translation" June-July 2021
4. I Share This Shape with You: Fiction and Translation Workshop with Bonnie Chau, July 13 to August 17, 2021
5. June Session of London Chinese Science Fiction Group -- 1923—a Fantasy /《一九二三年科幻故事》by Zhao Haihong / 赵海虹 tr. Nicky Harman and Pang Zhaoxia (2012). 27 June 2021
6. Feng Jicai: on History, Folk Arts and Writing, Friday 25 June -- A guided tour of Feng Jicai's work & Tianjin's broader artistic legacy, led by world-class experts from Sotheby's Institute of Art and co-organised by Sinoist Books
Extracts, stories and poems:
1. Leiden University's collection of unofficial or "underground" poetry publications
2. Another bump for the Words Without Borders Queer Issue XII -- including "Barriers, Privileges, and Invisible Labor: A Sino Diaspora Translator's Perspective" by translator Yilin Wang, "The Great White Canceling" by translator Anton Hur & "Privilege, Race, and Translation Opinion" by translator Corine Tachtiris plus a number of translations from Chinese
3. Chi Ta-Wei's "Umbilicus" (臍), translated by Susan Wilf and originally published in Renditions magazine, is the Leeds Centre for New Chinese Writing's Book Club Story of the Month
4. Nick Admussen says, "Many of the magazines newly digitized at the Leiden archive #leidenunpo are still running. One especially important one is Wings, founded 1998, a pathbreaking journal of women's writing." Its first issue is here
5. Lucas Klein'S Introduction to Duo Duo's Words As Grain + "The Force of Forging Words"
6. What Does Tang Poetry Mean to Contemporary Chinese Writers? Li Bai and the Canonicity of Tang Poetry in Liu Liduo, Ha Jin, Yi Sha, and Xi Chuan —— by Lucas Klein, in Prism
7. Comb of Chastity by Dan Ying, tr. Christina Ng, on adda
8. Three Leung She Kwan Poems tr. May Huang on Los Angeles Review
9. "Face Changing" by Jiang Bo, tr. Andy Dudak, on Clarkesworld
Reviews and releases:
1. A number of Chinese-language works feature in the NYT's list of new international books
2. Review of The Membranes by Chi Ta-Wei, tr. Ari Larissa Heinrich -- "A pre-cursor to posthumanism in literature, The Membranes asks important questions about consent, embodiment, ethics, and technology. The ontology of human is challenged and tested; cartesian dualism warped beyond recognition."
3. The Membranes by Chi Ta-Wei, tr. Ari Larissa Heinrich, is a staff favorite at Mad Street Books
4. A Fable for Now by Wei Yu-Chia, tr. Jeremy Tiang, a new Egret Acting Edition, out now
5. 8 Queer Books in Translation to Read Now -- Mu Cao, Queer Taiwanese Literature: A Reader and Qiu Miaojin
6. The Arts Fuse Review of Hard Like Water by Yan Lianke, tr. Carlos Rojas
7. Nina Mingya Powles' Magnolia 木蘭 to be published by Tin House Press in 2022
8. South China Morning Post Review of The Membranes by Chi Ta-Wei, tr. Ari Larissa Heinrich -- "The author's project is large, as is his vision, and imagines the future like the best of our dystopian meditations"
9. An Interview w/ Yan Lianke now that Hard Like Water, tr. Carlos Rojas
10. 10 New Children's Books in Translation to Read This Summer -- Leilong the Library Bus by Julia Liu, tr. Helen Wang
11. My Good Son by Yang Huang
12. Yan Ge's Strange Beasts of China, tr. Jeremy Tiang, is one of the Philadelphia Inquirer's Hot Books of Summer 2021
13. South China Morning Post Review of Liang Hong's China in One Village, tr. Emily Goedde
14. Yan Lianke on Intoxicated Revolutionaries and the Importance of "Literary Distance"
Media:
1. List of Chinese and Chinese diaspora audio storytellers
2. Robert Chandler, "Found in translation", from 2011
3. "Why Read Translated Fiction? (5 Reasons)" by Books and Bao
4. Li Kotomi reading an excerpt of her debut novel Solo Dance in Chinese w/ subtitles of Natascha Bruce's translation
5. "The irreplaceable art of translation" by Emily Lawford
6. TrChFic Ep 56 - Pai Hsien-yung and Taipei People with Nadia Ho
7. BCLT Summer School sessions available to watch for free
8. Fans of Literature Are Creating Hubs for Translated Chinese Fiction Online, RadiiChina by Gladys Mac -- article on the translation of Internet lit
9. Reading as Surveillance Work: Yu Jian's File Zero - lecture by Nick Admussen
10. Christopher Payne reads from Li Juan's Distant Sunflower Fields
11. The New Age of Chinese Illustration, Bologna Children's Book Fair, video
12. Chinese Children's Literature in Translation, w/ Nicky Harman & Helen Wang at Gŵyl Haf Festival
13. Shanxi encourages historical sci-fi