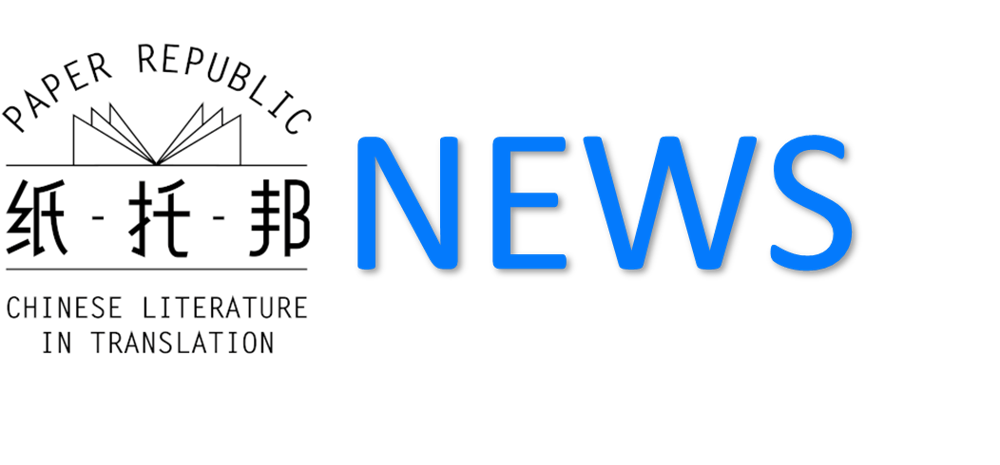 Sorry for the delay this time around. Fortunately, it's not stopped this from being a jam-packed edition, and one full of excitement too: winner announcements, new books, upcoming big events and recordings of those you might have missed. PLUS, in the next newsletter there'll be an option to subscribe to receive future editions via email. It's something we've been thinking about a while, and something a number of you have requested we do already. It will mean additional content in the future as we develop the newsletter further. So look out for that!
Have a lovely two weeks!
News:
1. 11th Chinese Nebula Awards Winners -- congratulations all!
2. Yi Lei's My Name Will Grow Wide Like a Tree, tr. Changtai Bi and Tracy K. Smith shortlisted for the Griffin Poetry Prize
3. Stephen Spender Prize is now open for entries! Deadline: July 16
4. Cover reveal of The Way Spring Arrives and Other Stories -- A New Collection of Chinese Fantasy and Science Fiction, ed. Yu Chen and Regina Kanyu Wang
5. Francesca Jordan wins the 7th Bai Meigui Translation Competition -- congratulations all!
Events:
1. The Sebald Lecture 2021: Jhumpa Lahiri In Praise of Echo, Jun 2
2. Have a go at "translating" this poem
3. 海外中国科幻研究 | "科幻中国:异形,异次元,异托邦"工作坊实录, event report in Chinese
4. ONLINE TALK: The global appeal of the new generation of Chinese sci-fi writers with Regina K Wang
5. Reading in Translation: Approaches to the Study of the Reception of Translated Literature, May 17/18
6. Two Adaptations of Classic Theatres at HK Arts Festival
7. Women in Chinese Science Fiction, recording of event with Xia Jia and Regina Kanyu Wang, moderated by Francesco Verso -- two of the most important voices in contemporary Science Fiction about feminism and inclusivity in Chinese genre literature
8. LitFest: Representation & Translation, May 14
9. Recording of "The Membranes and Queer Literature in Taiwan Featuring Chi Ta-wei and Ari Larissa Heinrich"
10. Threads, Texture, Translation, Tactility 'Oriental Silk 鄉綢', Book Launch -- Xiaowen Zhu, Nicky Harman and Michael Mason
Extracts, stories and poems:
1. "Two Poems for My Father" by Ming Di
2. Writing Britain Now: Poems by Sean Wai Keung
3. "1761", Tang Fei, tr. Xueting Christine Ni -- "a bodyhacking, queer, slow burn, Chinese cyberpunk"
4. Excerpt of "The Secret Talker", Yan Geling, tr. Jeremy Tiang
Reviews and releases:
1. Irish Times on Li Juan, Distant Sunflower Fields, tr. Christopher Payne
2. Lineages of the Literary Tibetan Buddhist Polymaths of Socialist China by Nicole Willock
3. Chen Jiatong, White Fox in the Forest, tr. Jennifer Feeley -- "white fox Dilah and his friends follow the moonstone's guiding light, hearts set on transforming into humans"
4. Centre for New Chinese Writing on The Membranes by Chi Ta-wei, tr. Ari Larissa Heinrich -- "...where Chi truly excels is in going beyond trope mechanisms to deconstruct these normative ideas about reality and embodiment."
5. Yan Geling, The Secret Talker, tr. Jeremy Tiang released and on sale
6. The Diplomat on Winter Pasture, Li Juan, tr. Jack Hargreaves & Yan Yan -- "Li Juan tackles big themes like Kazakh identity, oil and mineral exploration in Xinjiang, climate change in the grasslands, and the rise of consumer culture in China through the prism of one family's survival in the wilderness"
7. Publishers Weekly on Chang Kuo-Li, The Sniper, tr. Roddy Flagg -- "Fans of Stephen Hunter's Bob Lee Swagger series will want to check out this tense thriller."
8. "Fighting Epidemic Staying Home Series", tr. Helen Wang, Levin the Cat, TAO Jiu, YANG Shanshan ; A Journey of 9000 Millimetres, ZHANG Xiaoling, YAN Qing ; Grandpa's 14 Games, ZHAO Ling, HUANG Lili ; The Mask that Loved to Count, LUO Xi ; Mum is Hiding, QIAN Mo, ZHOU Yi ; The Empty Lunch Box, AI Wener, XING Huo
9. Queer Taiwanese Literature: A Reader by Howard Chiang
Media:
1. Talking Translation: Mike Fu and Annelous Stiggelbout on Sanmao -- "Spunky Taiwanese woman flies off to Africa, marries a Spaniard, and enjoys a life of colorful encounters and quite a few misadventures during the waning years of Spain's colonial rule over the Western Sahara."
2. Catrina Liu on Taiwan's Cultural Diversity on Display in Original Picture Books
3. Bringing Asian Poetry into the Classroom
4. Ep 53 of The Translated Chinese Fiction Podcast - The Membranes with Chi Ta-wei and Ari Larissa Heinrich
5. Why Translation is Art: a video
6. The Craft of Editing -- a series of in-depth discussions between recent Brick contributors and the magazine's editors about the editorial process
7. Minding the Gap: An American Skateboarding Story, by Bing Liu
8. "How Hong Kong Shaped Eileen Chang", by Ilaria Maria Sala -- the first in a new series of articles on Hong Kong's great writers
9. "Between Two Worlds: A Chinese American Story" -- "As borders closed, I became trapped in my Americanness"
10. "Whence the Clunker? or, Towards Improving the Style of English Translations of Sinophone Fiction" I & II
11. Ep 54 of The Translated Chinese Fiction Podcast - Qiu Miaojin and Notes of a Crocodile with Conor Stuart
12. 《小說-詩意年代》 The Obscure -- Chinese authors talk on poetry, writing, life as a writer and more, filmed in 1999
13. Michelle Kuo and Albert Wu on moving to Taiwan
14. Symposium: Chinese Science Fiction and the World
15. IN CHINESE -- Taiwanese publisher Linden Lin talks about historian Ray Huang's famous book: "China, A Macro History"
16. Canaan Morse on Translating Cui Jian, "Break on the Beat: Translating Chinese Rock 'n Roll"