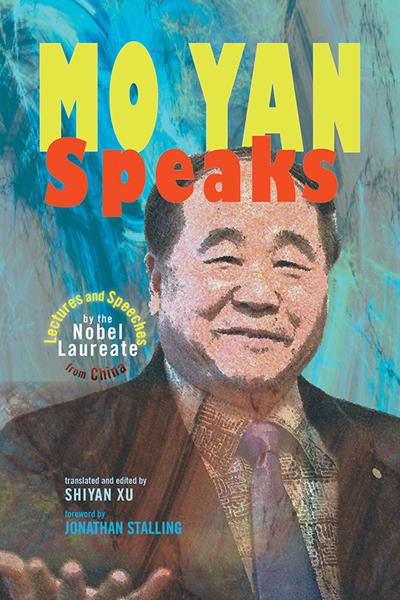 A few of us had the pleasure of hearing Shiyan Xu speak at the launch of Paper Republic's latest Reads series, Figures in a Landscape, a partnership with Perspectives in the Arts and Humanities Asia to present short stories from their double issue dedicated to Nanjing literature. We thought a conversation with her about her most recent book, Mo Yan Speaks: Lectures and Speeches by the Nobel Laureate from China, would make for the perfect next feature. Enjoy!
You can buy the book here
About the Editor:
Shiyan Xu is Professor of English at Nanjing Normal University and holds a PhD from Nanjing University. She is Deputy Editor-in-Chief for Chinese Arts and Letters, a journal whose aim is to translate works of Chinese literature and introduce them to the English-speaking world. In addition to several journal articles, her previous publications include The "Weather Vane" of Mainstream Theatre: Study of the Pulitzer Plays in the 21st Century. Dr. Xu also translated Eugene O'Neill's newest biography Eugene O'Neill: A Life in Four Acts (Yale University Press, 2014), which was published in 2018 by Nanjing University Press and won the prestigious Purple Mountain Prize in Literary Translation awarded by the Jiangsu Writers' Association.
About the Book:
Nobel Laureate Mo Yan, whose name literally means "don't speak," is renowned for his fiction, which the Nobel Prize Foundation notes "merges folk tales, history and the contemporary" "with hallucinatory realism." His works include The Garlic Ballads; Red Sorghum; Shifu, You'll Do Anything for a Laugh; Life and Death Are Wearing Me Out; The Republic of Wine; and Big Breasts and Wide Hips (all translated into English by Professor Howard Goldblatt).
Mo Yan's fiction has captivated a global audience for years, and his lectures and speeches are just as riveting. They provide rare insights into the complex thought processes of one of the most influential writers in the world. Mo Yan's passion for his work comes across clearly in his lectures and speeches, reinforcing the strong emotions his works evoke in his readers. Many of these speeches have been translated into Japanese and Korean, and they are now finally available in English. From the writers who have influenced him to the relationship between his life and his works, this book—a priceless first-hand account from Mo Yan himself that offers an extraordinary window into his world—not only deepens our appreciation of his works but also of the role and importance of literature. (taken from the Cambria Press website)
1. Why did you decide to translate Mo Yan's lectures and speeches?
Mo Yan is one of my favorite writers. When he was awarded the Nobel Prize for Literature in 2012, I was very happy, and I also noticed controversy over the "Mobel". I think part of the controversy might have arisen from the fact that the English-speaking world did not have access to Mo Yan in his own words, as Jonathan Stalling said in the Foreword of the book, "In the months that followed the announcement, much was made of the small tidbits of information making their way imperfectly into the Western media through a handful of poorly translated comments." Despite his pen name Mo Yan, which literally means Don't Speak, he is a great speaker and has spoken publicly on many topics. I believe these speeches may provide an extraordinary window into Mo Yan's world and will help readers appreciate his works further. Luckily, in 2017 I was granted the Chinese Fund for the Humanities and Social Sciences and the project of translating Mo Yan's lectures and speeches into English got started.
2. How did you go about completing the project?
Most of the lectures and speeches are from the book Collection of Mo Yan's Speeches (Culture and Arts Press, 2009). According to suggestions from the experts of the Chinese Fund for the Humanities and Social Sciences Committee, the editors at Cambria Press, and Prof. Jonathan Stalling, I organized them into sections based on his writing style, literary influences, biographical information, and values. Then I began translating the book in collaboration with two American translators, Jesse Field and Ella Schwalb, who translated most of the speeches and worked with me throughout the entire process of the translation. I learned a lot from our discussions about how to ensure fidelity to the original texts while delivering them in beautiful and fluent English, how to achieve the best combination of domestication and foreignization techniques, and how to clarify background information that is often strange to Anglophone readers. After we finished the translation and revision, I sent the manuscript to Alison Van Deventer, who is a Ph. D. in literature and has many years of experience as an editor and university writing teacher. Unlike Jesse and Ella and me, she does not know Chinese and has never read any works by Mo Yan. This is exactly what I wanted, for I hoped she could read the book just as one of our targeted readers. My heart-felt thanks go to Alison, who not only carefully edited the manuscript to make sure the language sounded natural and polished, but also told me, "This is a fascinating book, and I'm sad to come to the end of it! I really enjoyed reading everything Mo Yan had to say." I am also very grateful to the renowned translators Howard Goldblatt and Sylvia Li-chun Lin. Two speeches translated by Sylvia and published in World Literature Today are included in this book, and the Introduction and the Prefaces to the book's sections quote extensively from Mo Yan's Nobel Lecture and "The Story of My Life," translated by Howard Goldblatt.
3. What does Mo Yan talk about in the book?
He covers various topics, including class as divisions, world literature, translation, the anxieties of Western influence in China, the homogenization of globalization, the pitfalls of narrowly defined nationalistic literary definitions, and many others. I hope readers will follow Mo Yan on his literary journey across China, Europe, and North America to discover insight into his complex thought processes, as well as his passion for his work.
4. Why is the book named "Mo Yan Speaks"?
The title of the book was figured out after a brainstorming session between Jonathan and me. Let me quote from the Foreword by Jonathan, "When English speakers heard that his name meant 'don't speak,' and that there was little to no accessible record of his public comments on any given topic, those who were against Mo Yan receiving the prize saw this perceived silence as Mo Yan's complicity with the status quo. Others saw this lack as the dilemma of an author who has been silenced by others. The publication of this volume of his speeches, however, reveals that the author has spoken at great length on many topics over several decades, thus setting the record straight."