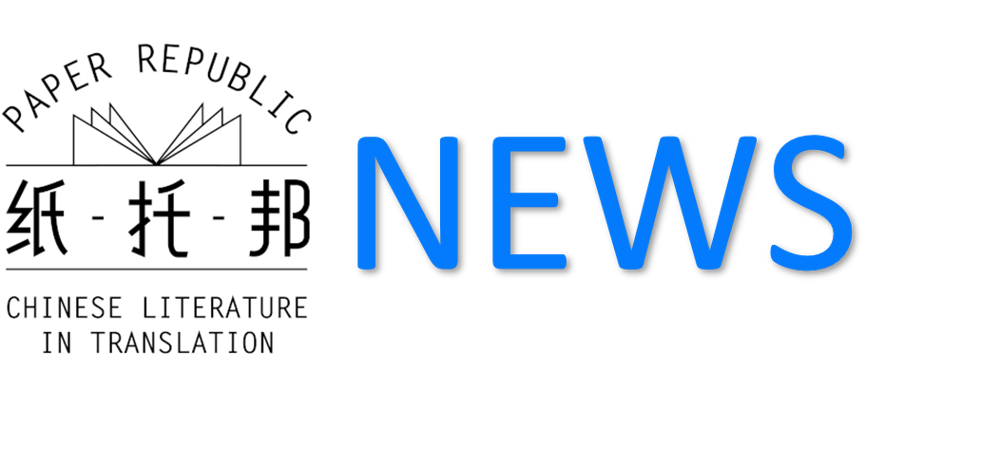 The International Booker Prize longlist is out, and Can Xue features, timely news given the announcement of her new novella (tr. Natascha Bruce) out next year. Yang Lian and Brian Holton are on the podium, too, for Anniversary Snow. But alas, it's not all good news. LARB China Channel is closing due to struggles with funding. But ever the givers, its contributors have provided one last hurrah by pointing us in the direction of their own favourite sources of all things China and Chinese. See below for more!
News:
1. LARB China Channel is closing -- but don't despair, the channel's contributors recommend their favourite alternative sources of China-related news here
2. China's first 3D-printed concrete bookstore opens to the public in Shanghai -- 3D-printed books next
3. Yang Lian and Brian Holton win first Sarah Maguire Prize
4. I Live in the Slums by Can Xue, tr. by Karen Gernant & Chen Zeping, longlisted for Booker International
Events:
1. Jia Pingwa: Master Storyteller of rural China, with Christopher Payne, April 9
2. Winter Pasture: A Writer's Journey to Altay, Northern Xinjiang - A Conversation with Li Juan, April 2 -- Li Juan, David Der-wei Wang, Mingwei Song and Kyle Shernuk in conversation
3. Li Juan: Memoirs from Xinjiang
Extracts and stories:
1. The Rainforest By Chi Hui Translated by Jie Li -- "The grey rainforest now tore off its temperate mask. The vines and branches appeared to have come to life, meandering, reaching out to halt her steps. Above her head came loud, clacking sounds." And the same story in the original Chinese
2. "November 2020", a poem by Tammy Lai-Ming Ho
3. Three poems by Yi Sha 伊沙, in Chinese, English, German & Spanish
4. Lin Bai poems translated by David Haysom republished on Antonym
5. "Huangmaling" by Zheng Xiaoqiong, tr. Tammy Lai-Ming Ho 6. Two Chinese Working-Class Poems by Xiao Hai, tr. Tammy Lai-Ming Ho
Reviews and releases:
1. Leilong the Library Bus by Julia Liu & illustrated by Bei Lynn, tr. Helen Wang
2. Li Juan's Winter Pasture one of Outside magazine's 3 Beloved Nature Books You Probably Haven't Read -- "Her travelogue isn't some astonished, anthropological view of a vanishing way of life; it's a raucous and thoughtful adventure that she knows she is lucky to have been on."
3. Stephanie Gou reviews Dragonfly Eyes by Cao Wenxuan, tr. Helen Wang
4. Mystery Train by Can Xue, tr. by Natascha Bruce, an "anxiety dream" of a novella set for 2022
Media:
1. Alex Marshall on representation in translation, for the NYT
2. Newman Prize Symposium: Yan Lianke and Contemporary Chinese Literature
3. Chinese Literary Magazine Fiction Monthly's 《小说月报》 best fictions published in Chinese literary journals in 2020 4. Why China studies needs Black scholars --"Anti-Blackness and Orientalism are indivisible problems"
5. Jeffrey Wasserstrom on "The Good China Story? Literature as a nation's lifeblood"