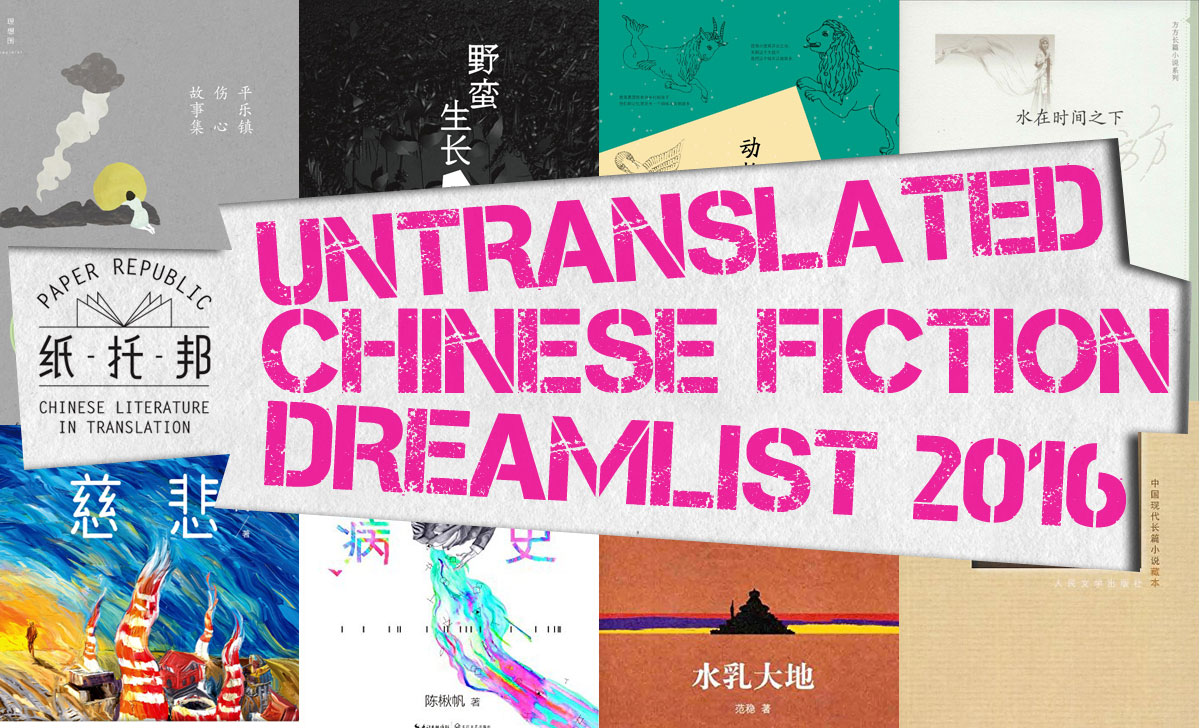 At the start of 2016, we decided to revisit the 2009 dream-list of untranslated Chinese novels recommended by the Paper Republic team. We wanted to see which of them had been translated (see update here), and to invite our readers to recommend titles for a new 2016 list.
Translators and agents, if you are working on samples, we'd like to add this information to the database – we can tag them as "excerpts" - you can search for a list of excerpts here. If you tell us that an "excerpt" is available from [a named person or job-title] at [literary agency], we can add this too! Think of it as free publicity!
Here are the recommendations we received. Thanks to everyone who joined in!
• Fresh Flowers And (鲜花和), by Chen Cun 陈村
"The novel might be more or less unique for its choice of protagonist: a stay-at-home father who gradually comes to terms with his domestic existence and who exposes in great detail his private thoughts about his relationships with women, especially his girl-friend and his daughter [...] Although there is plenty of male bias in the novel, there is also plenty of humour and plenty of honest soul-searching to undercut it" - Michel Hockx
• Short stories by Chen Qiufan 陈楸帆
Wanted! A collection of short stories by established science fiction duo - writer Chen Qiufan and translator Ken Liu.
• Black and White (黑白), by Chu Fujin 储福金
A young chess prodigy uses his skill to make a life for himself in pre-war Nanjing, a life that is thrown into chaos when the Japanese invade and the boy, now becoming a man, embarks on a journey south that simultaneously leads him forward and backward in the history of his romantic relationships.
• The Tibet-related trilogy, by Fan Wen 范稳
The first volume 《悲悯大地》 has been translated by Shelly Bryant as (Land of Mercy, Rinchen Books, 2015), and she is working on a sample and synopsis of the second 《水乳大地》 and third 《大地雅歌》volumes.
• Water Under Time 《水在时间之下》, by Fang Fang 方方
Things are not what they seem - who is the old lady selling tea eggs in a corner of Hankou?
• South of the mountains, north of the river (山南水北) by Han Shaogong 韩少功
The author of A Dictionary of Maqiao goes back to the rural area of his youth, and in a collection of essays, considers life in China today.
• Floating City (浮城), by Liang Xiaosheng 梁晓声
This "Lord of the Flies for adults" tells the bizarre tale of an entire city that breaks away from the mainland and floats away to sea, leaving the inhabitants to cling to civilization as best they can.
• Dinner for Six (六人晚餐), by Lu Min 鲁敏
Under factory skies, two single parents in a social mismatch of a relationship bring their four very different offspring together for Saturday dinners... then try to keep them apart.
• Nine Kinds of Sorrow (九重忧伤), by Lu Min 鲁敏
A collection of short stories - the author's favourites.
• Mercy (慈悲), by Lu Nei 路內
Life in the city - living with oneself, with the past and with the present.
• An Ordinary Life (平凡的世界), by Lu Yao 路遥
This book won the Mao Dun Prize in 1991, and has been made into a very successful TV series.
• After-school Class (托管班), by Ning Dai 宁岱
Shelly Bryant has prepared a sample and synopsis.
• Notes of a Crocodile (鳄鱼手记), by Qiu Miaojin 邱妙津
By the author of Last Words from Montmartre. Bonnie Huie is working on the translation.
• More works by Sheng Keyi 盛可以
The author of Northern Girls.
• Notes on Principles (务虚笔记), by Shi Tiesheng
The incredible challenge of self-definition in the new China is dramatized through the experiences of six characters: a painter, a teacher, a doctor, a poet, a director and a disabled person.
• I am Your Son (我是你儿子), by Sun Rui 孙睿
• Short pieces by Tang Keyang
Is this the same 唐克扬 who writes about Chinese gardens and architecture?
• Incognito (匿名), by Wang Anyi 王安忆
• Wild Animals (动物凶猛), by Wang Shuo 王朔
• 1966 (1966年), by Wang Xiaoni 王小妮
Eleanor Goodman's translation of "1966: Locomotive", from this collection, is available to read online, and Eleanor's interested in translating more.
• Whistling Wind, by Xu Xu 徐訏
Romantic fiction of the 1940s.
• The Chilli Bean Paste Clan (我们家), by Yan Ge 颜歌
Gran's impending 80th birthday is the trigger for growing tensions among her middle-aged children - sharp humour in small town Sichuan as secrets from the past are revealed.
• Sad Stories from Pingle Township (平乐镇伤心故事集), by Yan Ge 颜歌
A collection of long short stories/short novellas of life in Pingle Township. Sharp, funny and always surprising.
• Flea-ridden robe - the later life of Zhang Ailing (瘙满华袍 张爱玲后半生), by Yi Bei 伊北
The third in a trilogy by this young author.
• You are on the Highland 《你在高原》, by Zhang Wei 张炜
Shelly Bryant has prepared a sample and synopsis of this novel.
• Exile and Loss in an Ancient Land* 《故土流亡与散轶之书》, by Zhou Kai https://paper-republic.org/authors/zhou-kai/
A collection of short stories.
Notes on what has been translated into German, Dutch and French
German editions
Jia Pingwa's novels: 花腔 has been translated into German as "Koloratur" and Li Er's 石榴树上结樱桃 has also been translated ("Der Granatapfelbaum, der Kirschen trägt"). I couldn't find any of the other books listed. Jia Pingwa's太白山记 is out as "Geschichten vom Taibai-Berg". Other authors that have made it into German include 阎连科,廖一武,阿来,王刚,戴思杰,张翎,马建,陈冠中,卫慧,冯丽,姜戎,毕飞宇,虹影,徐星,棉棉,黑马,张洁, and of course 余华,莫言,高行健.
Dutch editions
In Dutch, only seperate chapters have been published (in magazines) of Shi Tiesheng's Notes and Sheng Keyi's Beimei (as well as of Murong Xuecun's Chengdu…; but not Dust). But Shi Tiesheng has several short stories in translation, and rightly so. Li Er's Huaqiang is out in French as well, as Le jeu du plus fin.
French editions (summary by Brigitte Duzan)
Bertrand Mialaret was right, Jia Pingwa and Murong Xuecun are very popular in France. The translation of 《废都》= La cité déchue, was publisheded way back in 1997 (+ reedition 2004). Translation by Genevieve Imbot-Bichet. Two novels by Feng Tang have also been translated into French : 《十八岁给我一个姑娘》= Une fille pour mes 18 ans, 2009 et 《万物生长》 = Qiu comme l'automne 2007, both translated by Sylvie Gentil. Northern Girl has not yet been translated, but I have translated several of Sheng Keyi's short stories, published in one anthology and two magazines. Lots of stories by Shi Tiesheng have been translated, by Annie Curien. Not sure whether the one you mentioned is among them. And, last but not least, 《花腔》by Li Er has recently been translated as "Le jeu du plus fin" and published in 2014. Translation by Sylvie Gentil. Sylvie is also a friend of Yan Lianke and has recently translated two of his latest novels 《四书》= Les quatre livres, 2012 and《炸裂志》= Les Chroniques de Zhalie, sept. 2015. Other popular authors in France (apart from Mo Yan) are Liu Zhenyun (tr. by G Imbot-Bichet), Yu Hua (tr. Angel Pino/Isabelle Rabut), and Bi Feiyu whose 《推拿》has been translated by Emmanuelle Péchenart and published in 2013. We are expecting a translation of 《苏北少年"堂吉诃德"》for March. But editors of Chinese literature in France are just a few now, and very cautious. They tend to favour established authors and novels. With exceptions, like the short stories by Pema Tseden I translated for Philippe Picquier or the collection of zhongpian by Cao Kou I translated for Gallimard/Bleu de Chine, just recently published.
French editions (summary by Bertrand Mialaret)
Made a quick check but could be some mistakes. Compared to what is published in France: 1/ some writers are ignored : Chi Li (10 books in french), Galsan Tchinag (Mongolia) 10 books , writes in german. 2/ Books to be translated: Yan lianke: les jours, les mois, les années / Songeant à mon père / Les chroniques de Zhalie Chen Kaige (the movie director): Une jeunesse chinoise. Eileen Chang: Little reunion , on her life with Hu Lansheng (only available in Chinese) He Jiahong: three crime novels not translated. Mo Yan: many short stories and novellas. Gao Xingjian: many of his plays : His major essays, De la Creation, published by Noel Dutrait with Le Seuil 3/ Essays or Philosophy: The works by François Julien L'histoire de la pensée chinoise de Anne Cheng A good book on Mo Yan by Yinde Zhang "Le lieu de la fiction", Le Seuil Could mention many others of undertranslated writers in English like Lao She, Mao Dun... If I were a publisher I would have a look at Yan Lianke, to avoid the ridiculous situation the industry was in when Mo Yan got the Nobel.
Chi Zijian's 额尔古纳河右岸 (Last Quarter of the Moon) is currently being rendered in French by Stéphane Lévêque and Yvonne André. - Sarah Kirchberger