The following was provided by Stacey Duff, Art Editor of Time Out Magazine.
Celebrated Norwegian writer Olav H. Hauge has been translated into Chinese by Beijing-based poet, Xi Chuan. Xi Chuan translated the work in collaboration with Norwegian professor Harald Bockman and Norway-based Chinese translator, Liu Baisha.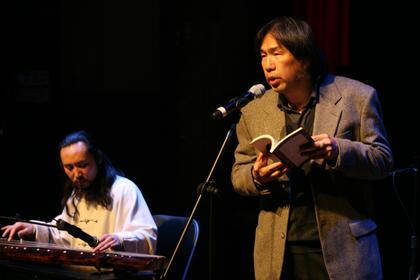 Photo courtesy of Gøril F. Borgen/The Norwegian Embassy in Beijing
Hauge spent his entire life working as a fruit farmer. Reading these poems, you immediately sense a closeness to the land. Frequent appearances are made, for instance, by the sea, the moon and the wind. Hauge's earthiness is furthered by the fact that he spoke and wrote in the dialect of Western Norway, where he lived.
Hauge's poems were translated into English as early as the 1980s by noted American poet, Robert Bly. In a way, Bly is ideally placed to be Hauge's American translator – he lives in the rural Northern US and comes from Norwegian stock. English-language readers can also find a recent selection of Hauge's verse, published in 2008, and reviewed here at coldfrontmag.
Hauge's Chinese translation – titled 我站着,我受得了 (I'm Standing, I Can Take It) – was launched on February 28 at Ma Wood Theatre, a restored 700 year-old Taoist temple just up the hutong from Bed Bar here in Beijing. Hauge himself would have been thrilled to see his work read in China. He read widely, taking in American, European and Chinese literature. Some of his poems are epistolary, like this one to Li Bai:
| | |
| --- | --- |
| 李白,你似乎乐于 | To be emperor of the Divine Kingdom |
| 在天上做皇帝。 | No doubt appealed to you, Li Po. |
| 是否在沉醉之中 | But didn't you have the whole world, the wind and clouds, |
| 你更拥有了四海之内的云,风 | and happiness when you were drunk? |
| 与富了之境? | Greater still. Li Po, is |
| 李白,更了不起的 | to master your own heart. [trans. Robert Bly] |
| 是做自己内心的主人。 | |
Xi Chuan read the translations at the launch, accomapnied by a guqin player . A poetry reading set to the guqin, for those who haven't heard one, is a nice variation of the standard no-frills poetry reading. There are no silences, for instance, between poems as the poet flips through the book looking for the next one to read. The guqin fills that space nicely. The most memorable and impassioned moment, for this observer, came from Xi Chuan's reading of the title poem. You could feel and hear in Xi Chuan's spoken performance the affirmative and grounded stubbornness that's true to the written poem:
| | |
| --- | --- |
| 你看,我站着。 | Look, I'm standing. |
| 你看,我去年也站在这里。 | Look, last year I was standing here. |
| 你看,我还是会站在这里。 | Look, I will still stand here. |
| 你看,我受得了。 | Look, I can take it. |
| 你看,你一定是刚来的。 | Look, you certainly just got here. |
| 我们需要在这站多久? | How much longer must we stand here? |
| 你看,我们应该吃饭。 | Look, we should eat. |
| 你看,我吃饭的时候也站在这里。 | Look, when we eat, we'll still be standing here. [trans. Stacey Duff] |
The event, hosted by the Norwegian embassy, was well attended. The second half of the reading came courtesy of a three-piece jazz-folk-fusion trio from Norway's Vision Theatre Company. Tore Brunborg and Thomas Stronen provided sax and percussion while Juni Dahr vocalized many of Hauge's poems. Dahr's vocal range and her expressive stage manner really brought the poems to life. The performance also gave a rare opportunity for Beijing audiences to hear the unique texture of Hauge's original Norwegian. That texture – both earthy like the soil on which Hauge grew his apples, and pulsating, not unlike the sea that surrounds his country – is impossible to emulate with ease in either English or Chinese. But now at least, readers in both languages have a place to start digging. Stacey Duff
我站着,我受得了
奥拉夫 H 豪格诗选 著
勃克曼 西川 李白沙 译
作家出版社
127 pp., 16RMB
http://www.zuojia.net.cn/