The pause that refreshes! Just a couple of days ago I got a new Kindle 3 thanks to some intrepid cross-Pacific muling (thanks Canaan!), and while I have refrained from actually drooling on my shirtfront in public, I am, to say the least, enthused. To spare the unimpressed, screen shot etc is after the jump.
Mostly I was looking forward to seeing how it displays Chinese, and the answer is: just fine.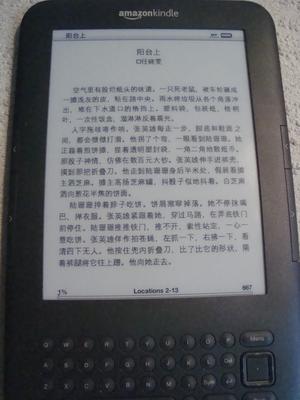 [Pictured is a short story by Ren Xiaowen]
This was converted from a DOC file, and the characters actually look a bit better if you feed it a PDF file. The PDF formatting is fixed, however, so you have to make sure it's the right size and layout before you stick it on there. On the other hand, I've run into encoding problems converting DOC and TXT files (you email them to your Amazon address and they are converted and delivered to your Kindle wirelessly, isn't that nifty), somewhere along the line the Chinese gets munched, I blame less-than-rigorous adherence to the Unicode Way. More experimentation to come; mostly I'm thrilled that now, when writers send me digital files of their work, I don't have to spend yet more time in front of the computer reading.
Lest anyone accuse me of shilling, I only got this old thing until Shanda comes out with the next version of the Bambook.