The One Way Street Bookstore is putting on a talk with A Cheng this weekend at its Wanda Plaza location. A Cheng is renowned as a free spirit and a bit of a contrarian; I've run into him a few times, though, and he's usually just seemed crotchety and confused. Still, he's a Personality, and the event ought to be interesting.
Update: The Bi-Cultural Freak went to this event, and wrote a bit about it, plus pictures. We hereby steal one of her pictures, though stealing with permission takes most of the fun out, doesn't it.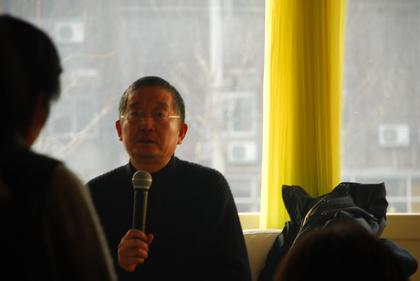 Her write-up is in Chinese, but here's a translation (of her transcription) of A Cheng's ramblings:
Art arises from witchcraft. It has no religious faith; it's good at dispelling all that. It dispells stress. Errenzhuan [a kind of two-person song and storytelling routine from northeastern China] is a kind of witchcraft. In ancient times witchcraft was a primary form of performance. There were all types and kinds. Many artists suffer now. It used to be that if you were a painter you just painted… Now it's about politics, publication… You work all day, then struggle all night. Errenzhuan: it's a soporific; the northeast; jumping rope. One person says: I'll make your Granny appear, the other: okay, no problem.

And it really sounds like his grandmother's voice. All the bystanders get involved. I worked in a labor team in the northeast when I was young, it snowed starting in September, so what could you do but listen to errenzhuan? Errenzhuan's got these robes, and they squat and waddle around – that's all witchcraft. And it makes you laugh out loud, it can make you laugh at anything, like that Zhao Benshan [a comedy actor from the northeast] – it's a soporific. Art. It has a hold on everything, on every craft.
[The Chinese word for art, 艺术, is made up of two characters which roughly mean "art" and "craft". 术 by itself, however, is closer to "magic", here "witchcraft".]
As I said: a little crotchety, a little confused.
PS: Can someone weigh in authoritatively on the A Cheng vs Ah Cheng vs Ah-Cheng issue? My fingers type something different every time.