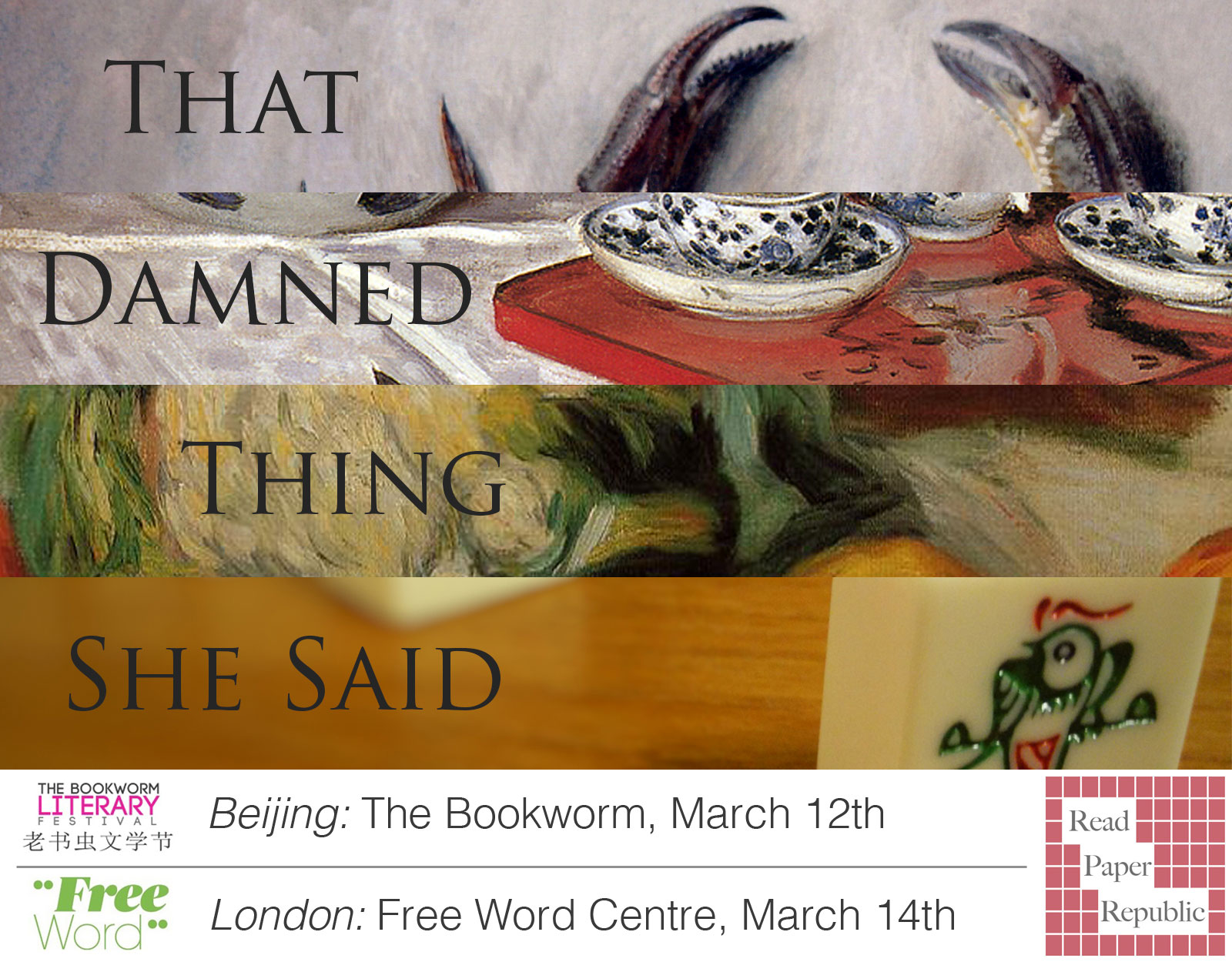 As we announced last month, on March 14th London's Free Word Centre will be hosting "That Damned Thing She Said", a speed bookclubbing event at which translators Roddy Flagg, Nicky Harman, Emily Jones and Helen Wang will be discussing short stories by authors Feng Tang, Fu Yuli, Li Jingrui and Liu Qingbang. (You can find out more and purchase tickets here.)
We are delighted to announce that we will be holding the same event in Beijing as part of the Bookworm Literary Festival on March 12th. The China line-up: Eric Abrahamsen, Dave Haysom, Nick Stember, plus one more participant TBC.
UPDATE: We can now reveal that our fourth participant will be the writer Karoline Kan!
Tickets are available to purchase now online or at the Bookworm.
With International Women's Day (March 8th) in mind, Read Paper Republic has selected four short stories from China that focus on highly-charged issues such as sexual freedom, political disappearances, "left-over" women, and compromising situations. A woman trapped in a loveless marriage has an awkward, but ultimately empowering, one-night stand. A wife comes home to find her husband has disappeared, or rather "been disappeared". The colleagues of a career woman apply their engineering expertise to the intractable problem of finding her a worthy husband. A young woman refuses to sleep with her boss, with catastrophic consequences for her family:
"That Damned Thing She Said" by Fu Yuli, translated by Nicky Harman - read online | download PDF
"Missing" by Li Jingrui, translated by Helen Wang - read online | download PDF
"Mahjong" by Feng Tang, translated by Brendan O'Kane - read online | download PDF
"The One Who Picks Flowers" by Liu Qingbang, translated by Lee Yew Leong - read online | download PDF
Don't worry if you don't finish all the stories before the event - you can download a cheat sheet providing an introduction to each of them so that you can still enjoy the discussion.
We will also be submitting questions from readers to the authors in advance, so if you are interested in attending either of the events, please feel free to post any queries below and we will send them along!