"Human shadows flicker to and fro over the double-paned windows, followed by threads of tiny lights that run across the glass like hairline cracks, then vanish instantly. When the train arrives at a station, the windows all light up, admitting the shadows of those without. Yet the light dispersed into the train car washes out the view of things inside..."
Wang Anyi, In The Belly of the Fog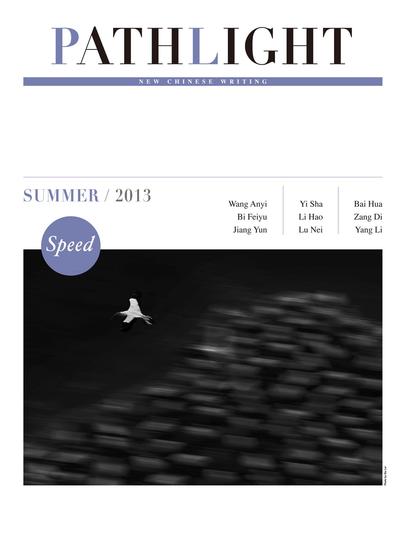 The Summer 2013 Pathlight: New Chinese Writing ebook is only a couple days away from publication on Amazon.com and iTunes. This issue features stories by Wang Anyi and Bi Feiyu, as well as A Yi, Lu Nei, Ren Xiaowen and others. Here's the full ToC:
Fiction:
Wang Anyi _ In the Belly of the Fog _ 4
Tradition and Rebellion: A Conversation with Wang Anyi _ 12
Bi Feiyu _ The Deluge _ 18
A Professional Interest in Suffering: A Conversation with Bi Feiyu _ 36
Jiang Yun _ The Red Detachment of Women _ 46 Li Hao _ The General _ 58
Lu Nei _ Keep Running, Little Brother _ 66
A Yi _ Two Lives _ 88
Ren Xiaowen _ I Am Fish _ 100
Su Cici _ The Zebra That Didn't Exist _ 110
Sheng Tie _ The Train Was Clean and Cool _ 122
Poetry:
Bai Hua _ Small Town Tale, Village, 1977, Mock Nursery Rhyme, The Illusion of Life, Thoughts Arising from the Pig _ 132
Yang Li _ Fated, An Old Poem, The White Horse, Courthouse (I) _ 138 Yi Sha _ Rhythm is What Matters, Memories Evoked by Reality, Notes on Mt. Erlang, Cross-eyed _ 142
Zang Di _ Remembrance Series, Transmission Series _ 146
Ma Yongbo _ Night Traffic, Letter to My Wife, at Mid-Autumn Festival, Fragment of a Memory From 1977 _ 150
We'll make an announcement when it's live. Stay tuned!
The Editors