Chinese Publishing Industry Reports
Paper Republic provides reports on various aspects of the Chinese publishing industry and book market.
Monthly Book Market Reports
contact us for more information
In cooperation with the China Book Business Report and Shanghai Eastern Book Data (ISBNOK), Paper Republic produces monthly reports on China's book market.
These reports include bestseller lists, both general and by category, as well as analyses of sales trends, and rankings of domestic publishing houses.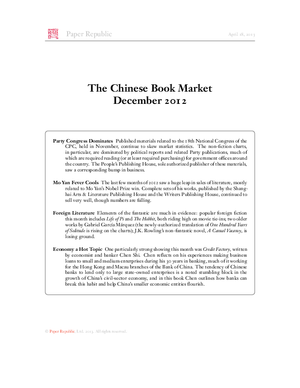 Download a sample monthly report (PDF, 15 pages) for December, 2012.
The report includes 19 charts and tables, with sections for overall bestsellers, new publications, and publishing houses.
Several subscription options are available, including six-month and one-year subscriptions, please email us for details.
As a bonus, we're also providing a 14-page overview of the Chinese publishing industry in 2011, which can be downloaded here.