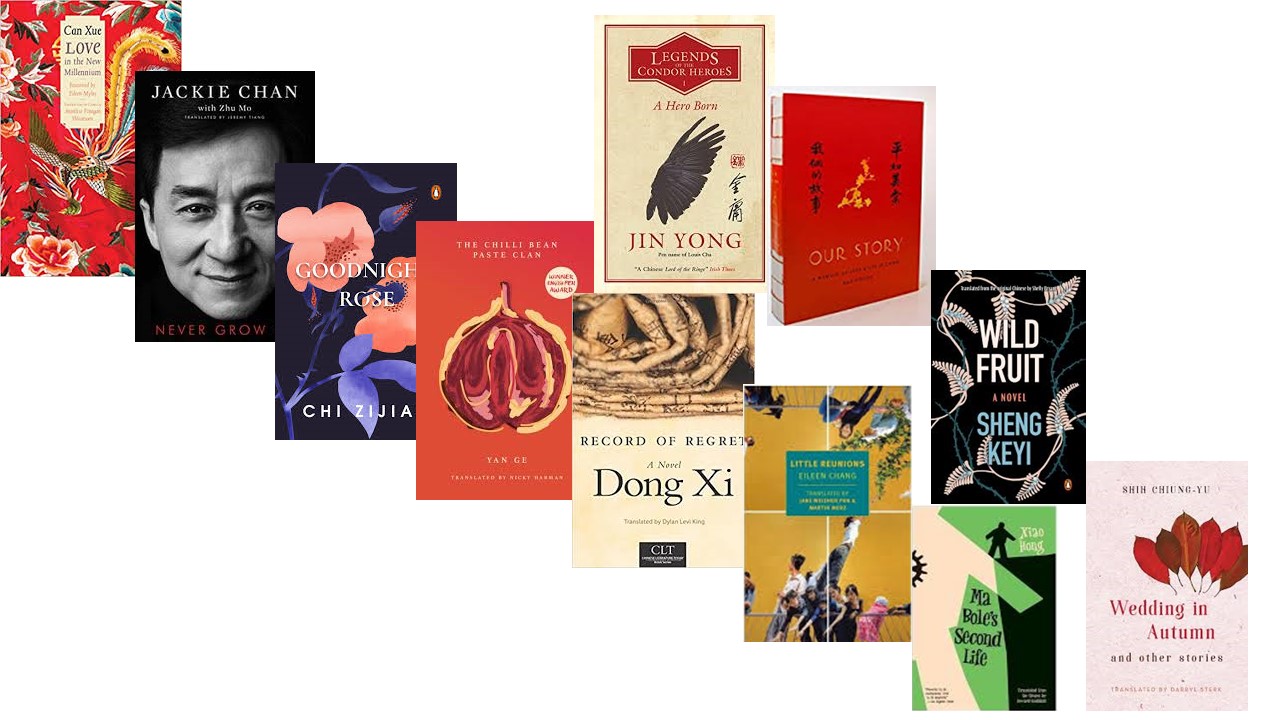 We say this every year, but this really is a bumper crop. From classics to contemporary literature, poetry to scifi to short stories and a beautiful graphic memoir (Rao Pingru), our list this year has nearly forty novels or other book-length works, and six poetry collections.
And some of last year's books have won or been listed for prestigious prizes:
Remains of Life by Wu He, tr. Michael Berry (Columbia University Press), 2017, was shortlisted for the Best Translated Book Award 2018.
Notes of a Crocodile, Qiu Miaojin, tr. Bonnie Huie (New York Review Books), was longlisted for the 2018 PEN Translation Prize and won the 2018 Lucien Stryk Asian Translation Prize.
The Stolen Bicycle, by Wu Ming-yi, tr. Darryl Sterk (Text Publishing Company), was longlisted for The Man Booker International Prize.
Click Roll-call of Book Translations from Chinese in 2018 for the full list.
And finally, our previous years' lists start here.
THE LIST
ASEM Alat, Confessions of a Jade Lord, tr. Bruce Humes and Jun Liu (Aurora Publishing LLC)
CAN Xue, Love in the New Millennium, tr. Annelise Finegan Wasmoen (Yale University Press) (reviewed Paris Review)
CHI Pang-yuan, The Great Flowing River: A Memoir of China, from Manchuria to Taiwan, tr. John Balcom (Columbia University Press)
CHI Zijian, Goodnight, Rose, tr. Poppy Toland (Penguin)
DONG Xi, Record of Regret, tr. Dylan Levi King (University of Oklahoma Press)
Eileen CHANG, Little Reunions, tr. Jane Weizhen Pan and Martin Merz (New York Review Books Classics) (reviewed New York Times)
Jackie CHAN and ZHU Mo, Never Grow Up, tr. Jeremy Tiang (Gallery/ Simon & Schuster)
JIA Pingwa, The Earthen Gate, tr. various (Valley Press)
JIN Yong, A Hero Born, tr. Anna Holmwood (MacLehose Press) (reviewed The Guardian, The Economist)
JIU Dan, The Embassy's China Bride, tr. Bruce Humes (Yat Yuet Publication Company)
LAI Ho [Lōa Hô], Scales of Injustice, tr. Darryl Sterk (Honford Star)
LAO TZU (Lao Zi) Tao Te Ching: The Essential Translation of the Ancient Chinese Book of the Tao, tr. John Minford (Viking)
LIANG Xiaosheng, Confessions of a Red Guard, tr. Howard Goldblatt (Merwin Asia)
LING Mengchu, Slapping the Table in Amazement: a Ming Dynasty Story Collection, tr. Yang Shuhui, Yang Yunqin and Robert E. Hegel (University of Washington Press)
LIU Yiqing, Hidden and Visible Realms, tr. Zhenjun Zhang (Columbia University Press)
LIU Zhenyun, Someone to Talk To: A Novel, tr. Howard Goldblatt and Sylvia Li-chun Lin (Duke University Press)
LUO Guanzhong, The Romance of the Three Kingdoms, tr. Martin Palmer (Penguin)
MA Jian, China Dream, tr. Flora Drew (Chatto and Windus) (reviewed New York Times, The Economist, The FT, The Guardian)
MA Pinglai, The Elm Tree Vol 1: Seeds of Change, tr. James Trapp (ACA Publishing)
Mingwei Song and Theodore Huters, eds. The Reincarnated Giant: An Anthology of Twenty-First-Century Chinese Science Fiction, tr. various (Columbia University Press)
Pema Tseden, Enticement: Stories of Tibet, tr. Patricia Schiaffini-Vedani and Michael Monhart (State University of New York Press)
Qinghan CeCe, The Golden Hairpin, tr. Alex Woodend (Amazon Crossing)
RAO Pingru, Our Story, tr. Nicky Harman (Square Peg/Penguin)
SHENG Keyi, Wild Fruit, tr. Shelley Bryant (Penguin)
SHIH Chiung-Yu, Wedding in Autumn and other stories, tr. Darryl Sterk (Balestier Press)
SU Tong, Petulia's Rouge Tin, tr. Jane Weizhen Pan and Martin Merz (Penguin Specials)
SU Wei, The Invisible Valley, tr. Austin Woerner (Small Beer Press)
WANG Hongjia, Final Witness vols 1 and 2, tr. James Trapp (ACA Publishing)
XIAO Hong, Ma Bo'le's Second Life, tr. Howard Goldblatt (Open Letter)
XUE Mo, Selected Stories, tr. Nicky Harman (Encyclopedia of China Publishing House)
XUE Mo, Desert Rites, tr. Howard Goldblatt and Sylvia Li-Chun Lin (Encyclopedia of China Publishing House)
XUE Mo, Desert Hunters, tr. Howard Goldblatt and Sylvia Li-chun (Encyclopedia of China Publishing House)
YAN Ge, The Chilli Bean Paste Clan, tr. Nicky Harman (Balestier Press)
YAN Lianke, The Day the Sun Died, tr. Carlos Rojas (Melbourne: Text Publishing) (reviewed New York Times, The Guardian)
YANG Zhengguang, How Old Dan Became a Tree, tr. unnamed (Valley Press)
YENG Pway Ngon, Unrest, tr. Jeremy Tiang (Balestier Press)
YU Hua, The April 3rd Incident, tr. Alan Barr (Penguin)
ZHOU Haohui, Death Notice, tr. Zac Haluza (US Doubleday, UK Head of Zeus) (reviewed New York Times)
ZONG Pu, Departure for the South, tr. Wen Lingxia (ACA Publishing)
YA and CHILDREN'S BOOKS
My Beijing: four stories of everyday wonder, Nie Jun, tr. Edward Gauvin (Graphic Universe)
Happy Mid-Autumn Festival, Meng Yanan, tr. Jasmine Alexander (Balestier Press)
The Dragon Ridge Tombs (The City of Sand, volume 2), Tianxia Bachang, tr. Jeremy Tiang (Delacorte Press)
POETRY
YANG Mu, Hawk of the Mind, ed. Michelle Yeh, various translators, (Columbia University Press)
Li Shangyin, ed. Chloe Garcia Roberts, tr. Chloe Garcia Roberts, A.C. Graham and Lucas Klein, (New York Review Books)
GAO Xingjian, Wandering Mind and Metaphysical Thoughts, tr. Gilbert C F Fong. Bilingual edition (Chinese University Press)
YAN Jun, 100 Poems of 10,000 Elephants, tr. Matt Turner and Weng Haiying (www.subjam.org)
MANG Ke, October Dedications, tr. Lucas Klein, Huang Yibing, and Jonathan Stalling (Zephyr Press)
ZHU Zhu, The Wild Great Wall, tr. Dong Li (Phoneme Media)