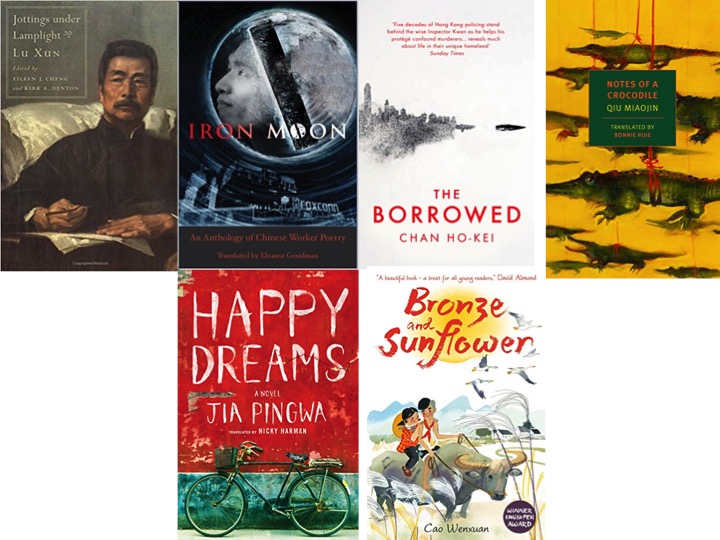 As usual, we at Paper Republic have assembled a list of book-length translations from Chinese into English over the year. Congratulations to all authors and translators! This year's list is longer than ever, and several books have won international prizes. Your additions, comments, corrections to this list are welcome - please leave a comment below and we'll update the list.
This is our sixth annual list; previous lists are here: 2012, 2013, 2014, 2015, 2016.
Prizes
Bronze and Sunflower (by Cao Wenxuan, translated by Helen Wang) has done very well – Helen's translation won the 2017 Marsh Christian Award for Children's Literature in Translation, was a Kirkus Awards Young Reader's Literature finalist, and has been nominated for a YALSA award. For her contribution to Chinese children's literature (incl. this translation), Helen received the 2017 Chen Bochui International Children's Literature Awards – Special Contribution Award.
Fiction
Aina the Layman, Idle Talk under the Bean Arbor: A Seventeenth-Century Chinese Story Collection, translator not stated [Robert Hegel ed.] (University of Washington Press)
Can Xue, Frontier, translated by Karen Gernant and Chen Zeping (Open Letter)
Chan Ho-Kei, Borrowed, translated by Jeremy Tiang (Black Cat)
Dung Kai-Cheung, Cantonese Love Stories: Twenty-Five Vignettes of a City, translated by Bonnie S McDougal and Anders Hansson (Penguin)
Eileen Chang, Little Reunions, translated by Jane Weizhen Pan and Martin Merz (New York Review Books)
Fang Qi, Elegy of a River Shaman, translated by Norman Harry Rothschild and Meng Fanjun (University of Hawai'i Press) (2016/2017)
Jia Pingwa, Happy Dreams, translated by Nicky Harman (AmazonCrossing)
Jia Pingwa, The Lantern Bearer, translated by Carlos Rojas (CN Times)
Lu Nei, A Tree Grows in Daicheng, translated by Poppy Toland (AmazonCrossing)
Luo Guanzhong, Quelling the Demons' Revolt: A Novel from Ming China, translated by Patrick Hanan (Columbia University Press)
Na Duo, All the Way to Death, translated by Jiang Yajun (Shanghai Press)
Qiu Miaojin, Notes of a Crocodile, translated by Bonnie Huie (New York Review Books)
Wu He, Remains of Life, translated by Michael Berry (Columbia University Press)
Xue Yiwei, Dr. Bethune's Children, translated by Darryl Sterk (Linda Leith Publishing)
Yan Lianke, The Years, Months, Days: Two Novellas, translated by Carlos Rojas (Grove Press)
Ye Guangqin, Mountain Stories, translator not stated (Valley Press)
Zhang Yihe, Red Peonies: Two Novellas of China ("The Woman Liu", "The Woman Yang"), translated by Karen Gernant and Chen Zeping (Mānoa/U. Hawaii Press)
Zhang Tianyi, The Pidgin Warrior, translated by David Hull (Balestier Press)
Zhang Yingyu, The Book of Swindles: Selections from a Late Ming Collection, translated by Christopher Rea and Bruce Rusk (Columbia University Press)
Zhou Haohui, Valley of Terror, translated by Bonnie Huie (AmazonCrossing)
Essays/Non-fiction
Bei Dao, City Gate, Open Up: A Memoir, translated by Jeffrey Yang (Carcanet)
Lu Xun, Jottings under Lamplight, translator(s) not stated [Eileen Cheng, Kirk Denton, eds] (Harvard University Press)
Tan Hecheng, Stacy Mosher, Guo Jian, The Killing Wind: A Chinese County's Descent into Madness during the Cultural Revolution (Oxford University Press)
David Wang Der-wei, A New Literary History of Modern China, translator(s) not stated (Harvard University Press)
Poetry
Liu Waitong, Wandering Hong Kong with Spirits, translated by Enoch Yee-lok Tam, Desmond Sham, Audrey Heijns, Chan Lai-kuen, and Cao Shuying (Zephyr Press and MCCM Creations)
Various authors, Iron Moon, translated by Eleanor Goodman (White Pine)
Yang Lian, Narrative Poem, translated by Brian Holton (Bloodaxe Books)
Zang Di, Roots of Wisdom, translated by Eleanor Goodman (Zephyr Press)
Children's/YA
Tianxia Bachang, The City of Sand, translated by Jeremy Tiang (Delacorte Press)
Man-Chiu Lin, The Ventriloquist's Daughter, translated by Helen Wang (Balestier Press)
Children's Picture books (incl. bilingual picture books)
Bai Bing, Free as a Cloud, translator not stated (Starfish Bay Children's Books)
Cai Gao et al, Tan Hou and the Double Sixth Festival, translated by Helen Wang (Balestier Press)
Cao Wenxuan, Feather, translated by Chloe Garcia-Roberts (Elsewhere Editions)
Cao Wenxuan, Summer, translator not stated (Twinkling Press)
Chen Xiaoting, Father and Son Going Fishing, translated by Duncan Poupard (Candied Plums)
Dong Yanan, Express Delivery from Dinosaur World, translated by Helen Wang (Candied Plums)
Fu Wenzheng, Buddy Is So Annoying, translated by Adam Lanphier (Candied Plums)
Gan Dayong, Little Rabbit's Questions, translated by Helen Wang (Candied Plums)
Li Qingye, The Story of Ink and Water, translated by Zhang Chun (Balestier Press)
Shen Shixi, When Mu Meets Min, translator not stated (Starfish Bay Children's Books)
Tang Sulan, Snail's Crowded House, translator not stated (Starfish Bay Children's Books)
Tang Sulan, Where Should Grace the Witch Live?, translator not stated (Starfish Bay Children's Books)
Wang Chao, Alakazam, translated by Duncan Poupard (Candied Plums)
Wang Wenhua, Mr. Horton's Violin, translated by Chen Yu Yan (Balestier Press)
Wang Yimei, Rory the Rabbit, translated by Adam Lanphier (Candied Plums)
Wang Zaozao, An's Seed, translated by Helen Wang (Candied Plums)
Xia Lei, There's a Dark, Dark Hole, translated by Duncan Poupard (Candied Plums)
Xia Lei, Who Ate My Chestnut, translated by Duncan Poupard (Candied Plums)
Xiao Mao, Cee Cee, translated by Helen Wang (Candied Plums)
Xiao Mao, The Frog and the Boy, translated by Helen Wang (Candied Plums)
Zhang Tianyi, The Pidgin Warrior, translated by David Hull (Balestier Press)
Zhou Xu, Picking Turnips, translated by Adam Lanphier (Candied Plums)
Zhu Chengliang, Flame, translated by Helen Wang (Candied Plums)
--See also David Jacobson's Survey of Translations of Children's and YA Literature Translated from Chinese, Japanese and Korean
And, finally, here are some links to online publications posting free-to-view short stories translated from Chinese
(1) Read Paper Republic – after our marathon one-translation-a-week-for-a-year in 2015-16, we have continued with shorter series on themes:
- Afterlives (Nov 2016)
- Bare Branches (Nov 2017)
- Chinese month (Feb 2017) – a-blog-a-day-for-a-month – our collaboration with Global Literature in Libraries
(2) The Writing Chinese team at the University of Leeds continue with their author of the month and their annual translation competition, and have also started a new Schools Project and a new Reviewers Project
(3) The LARB has launched a new China Channel
(4) More short stories, essays and poetry translated from Chinese have been published in Asymptote, Words Without Borders and other online journals
Nicky Harman and Helen Wang