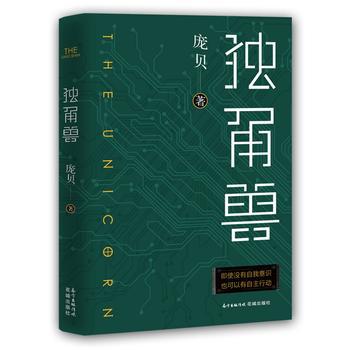 I've got a Twitter timeline full of 5G hysteria, Huawei backdoors, GitHub protests against the tech sector practice of 996 working hours (9 a.m. to 9 p.m., six days a week), the UAE running a drone war in Libya with Chinese tech, a Chinese developer getting nabbed for leaking a wildcard SSL key, Committee on Foreign Investment in the United States pressuring the Kunlun Group to sell Grindr, etc. etc. etc.—the world runs on but seems deeply anxious about Chinese tech.
That makes Pang Bei's Unicorn, a cautionary fable set in the present day Shenzhen tech world, very timely.
As the novel opens, Ai Ke 艾轲, a Princeton-educated biotech expert has just been released from prison after being falsely imprisoned over an intellectual property beef with a foreign firm. While Ai Ke is behind bars, he works with He Shi 何适, his former partner at Yunxin 云芯 and a tech whiz in his own right, to lead a strategic shift from drone technology to artificial intelligence—and he also finds the time to re-read Rumi and bargain his way to an early release by helping the Bureau of Prison Administration to upgrade their lie detection systems. Their goal, at least at first, is for Yunxin to be the first AI unicorn, the finance term for a privately held firm worth a billion U.S. dollars or more (Ant Financial, DiDi and Zhihu are prominent Chinese examples).
Reviews of Unicorn 独角兽 have contrasted Pang Bei's 庞贝 work with more purely sci-fi books like Hao Jingfang's 郝景芳 Floating Beijing 北京折叠 and Liu Cixin's 刘慈欣 Remembrance of Earth's Past 地球往事 trilogy, praising Unicorn for its realism and its concern with the ramifications of present-day technology. Part of that is perhaps continuing ambivalence on the part of establishment critics towards sci-fi.
The novel's references to drones, tech company lofts, TED Talks, Elon Musk, WeChat and street kiosks for CCTV's The Reader (I had to look that up to see if it was real) are fun at first, but start to feel tacked on and superfluous. Ai Ke's two year stay in prison is often the excuse for the observations of familiar technology. Sure, things change fast, but it gets tiresome to have Ai Ke constantly amazed, awestruck by things like the touchscreen controls in a limousine. Even without that prompt, it's not unusual for a paragraph to suddenly devolve, unrelated to the plot, into a superficial description of some high-tech doodad.
For all the talk from critics about realism, Unicorn heats up when Pang Bei begins his own sci-fi speculation about the technological singularity. Robot girlfriend warning and spoiler: the AI that gains autonomy in Unicorn has a personality based on Ai Ke's former lover, Lin Yun 林韵). Pang Bei has done his research, littering the book with notes on the 23 Asilomar AI Principles and UNESCO reports on robot warfare. He manages to mostly seamlessly work into the novel an intelligent discussion of the ethical problems of AI.
But it's clear that Pang Bei feels more at home deploying a quotation from a Rilke sonnet than he does describing lethal autonomous drones. His preoccupation with humans, rather than robots, saves the book. I agree, pondering the nature of human intelligence and emotion is more fun than talking about the mechanics and ethics of self-improving AI. The characters would be at home in a run-of-the-mill cyberespionage thriller and the dialogue is rough (and nearly every line of it ends with an exclamation mark, for some reason), but he manages to color his characters' relationships with a bit more emotion than you'd expect. The battle between moody romantic Ai Ke and the cold-blooded tech evangelist He Shi (it's clear he's a villain once we learn he's just come back from giving a TED Talk), the tender and tense friendship between Ai Ke and "cold-blooded sorceress" Gu Meng 顾濛, and the posthuman love affair between Ai Ke and Lin Yun are all outstanding. The man can write a chase scene but he's at his best in the lengthy existentialist monologues, surreal dream sequences, and moody pondering of misty Shenzhen.
Pang Bei, whose pen name is borrowed from the Chinese transliteration of Pompeii, was born in Qingdao in 1966 and graduated from the People's Liberation Army University of Foreign Languages in 1986. He worked for a brief time at the PLA General Staff Department before becoming a journalist and cultural entrepreneur, making a name for himself with novels, including the 2014 Mao Dun Literature Awards longlisted The Name of the Nun 无尽藏 (I can see references online to an English translation by that name published in Germany, but nothing concrete, and the title is translated elsewhere as The Endless Collection), screenplays, including most notably a co-writing credit on Sherwood Hu's Lord of Shanghai, and dramatic works.
The international rights to the book are held by Guangdong Flower City Publishing House.