Tsering Dondrup's "Tempête rouge" Translated from the Tibetan Wins Prix Montluc
http://prix-montluc.fr/laureats-litteraire/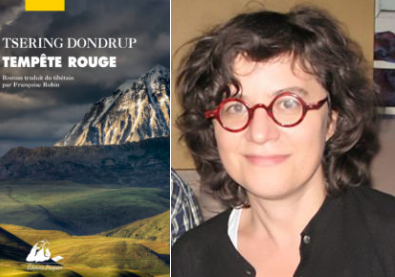 Translated from the Tibetan by Françoise Robin, the French rendition of Tsering Dondrup's Tempête rouge -- reportedly the premier modern Tibetan novel and certainly the only one to deal critically with China's invasion of Tibet -- has just been awarded the prestigious Prix Montluc Résistance et Liberté. It thus joins the recently published The Handsome Monk and Other Stories, from the same author, translated into English by Christopher Peacock.
A brief backgrounder on the novel and its author:
Issu d'une communauté de pasteurs nomades, Tsering Dondrup (né en 1961) écrit depuis les années 1980 et a fondé une des premières revues littéraires indépendantes du Tibet. Ses dizaines de nouvelles et ses six romans ont été accueillis depuis avec enthousiasme par le lectorat tibétain, en raison de leur mélange d'humour et de noirceur. Tempête rouge ne fait pas exception : seul et unique roman tibétain décrivant l'invasion chinoise du Tibet, il n'épargne ni les cadres corrompus ni les lamas vénaux. A la sortie du roman, en 2006, Tsering Dondrup a été radié du poste qu'il occupait aux archives de son district et qui lui donnait accès aux informations confidentielles ayant nourri les faits relatés ici. Le roman a été immédiatement interdit par les autorités chinoises et son auteur s'est vu confisquer son passeport.