The Best Shanghai Novels recommended by Paul French
https://fivebooks.com/best-books/shanghai-novels-paul-french/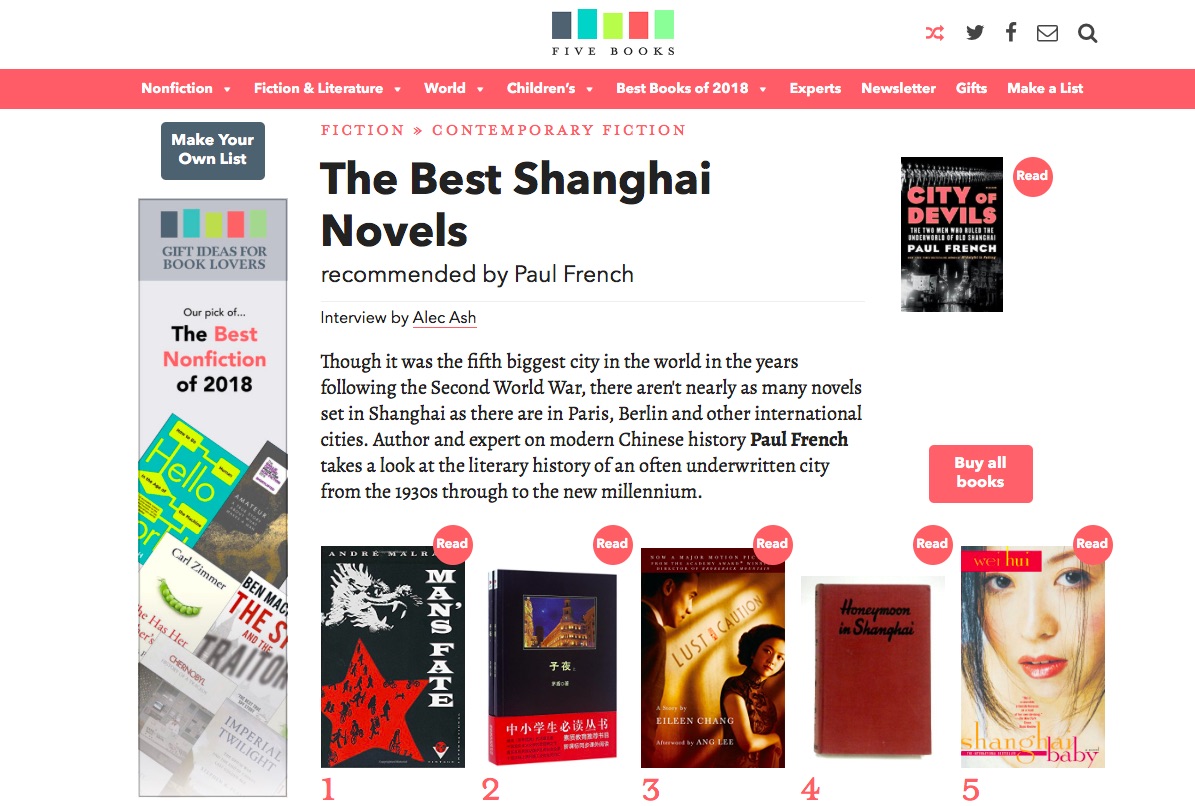 Alec Ash: Well, let me try to help. I'll swallow your bait and, for the first time after doing over eighty interviews for Five Books, break rank and lay into one of an interviewee's book choices. You've convinced me of the historical merit of Shanghai Baby, as a record of the time when Shanghai was re-opening to the world. But I can't help think it's a novel of pretty terrible literary merit. I read it in translation, but dipped into the Chinese to get a feel for the original, and I still find the characters to be paper-thin stereotypes, written pretentiously as utter clichés: the virile German, the Shanghai dolls, the effeminate Chinese boyfriend. Not everyone could have been that two-dimensional in Shanghai of the 1990s.
Paul French: And that is why you've spent so many years in Beijing, not Shanghai. You know what? Everybody was that two-dimensional. Everybody, myself included. We went to Shanghai because we were out to make money. Look at the foreigners of that generation who went to Shanghai: they're a money-obsessed, fairly frivolous bunch. To have had lots of depth and thought about what was going on? There wasn't time to think. There was so much happening. We just weren't as stoical and as serious as later generations and, particularly, the later generations that went to Beijing.
We came out of that crazy 80s decade in Europe and America, the go-go 80s, and went straight into the go-go 90s of Shanghai—it was a 20-year party that just moved from London to Shanghai. Of course, Shanghai itself had come out of nowhere all of a sudden. One day, it's bloody Tiananmen Square, and then the next day, you can go to a disco every day of the week and take drugs and no one gives a shit. That's an incredible thing within five years. So you could write the 'right-on' book about it, but this book instead feels 'spot on' to me. The Germans are spot on. The guys are spot on. The girls are spot on.