Prix Émile Guimet de littérature asiatique 2020: Fang Fang's Funérailles Mortes (软埋)
https://www.livreshebdo.fr/article/le-prix-emile-guimet-2020-recompense-fang-fang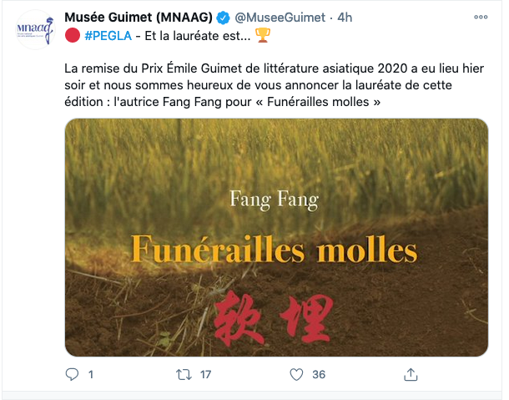 France's Prix Émile Guimet de littérature asiatique (Émile Guimet Prize for Asian Literature) has been awarded to Fang Fang (方方) for her novel, Soft Burial (软埋), translated by Brigitte Duzan as Funérailles molles.
PRC citizens may be a bit surprised --- when and if they hear the news --- since the novel was reportedly taken off retail bookshelves some time ago.
For the video of an interview with Duzan (in French) in which she discusses Funérailles molles, visit here and fast-forward to 33:00.
Fang Fang is also the author of the controversial Wuhan Diary: Dispatches from a Quarantined City (武汉日记), translated into English by Michael Berry.
Duzan hosts a weblog about Chinese short stories, as well as one highlighting Chinese cinema, and frequently leaves comments here on Paper Republic.