Zhu Ziqing (1898 – 1948)

朱自清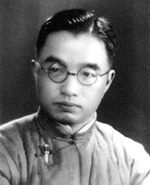 wikipedia | worldcat | MCLC | baidu | douban |
From Renditions: Wrote both poetry and prose, but is better known as an essay-writer than a poet. He was educated at Peking University and appointed professor of Chinese literature at Qinghua University in 1925. In 1931-32 he studied English literature and linguistics in London. Active early as a poet, he is best known for the long poem "Huimie" [Destruction]. His collections of prose include Beiying [Retreating figure] and Ni wo [You I].
Read Now: On Paper Republic
Original Works
The Paper Republic database exists for reference purposes only. We are not the publisher of these works, are not responsible for their contents, and cannot provide digital or paper copies.