Yo Yo

友友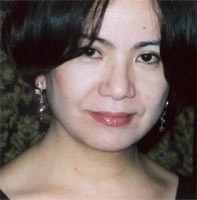 MCLC |
YoYo (Liu Youhong) was born in western China and moved to Beijing in the 70s. She worked as an art editor in the Chinese Theatre Publishing House during the 80s. YoYo began her literary writing in Beijing. There she met Yang Lian, her husband, an internationally renowned poet. They both were invited by the Australian Arts Council to visit Australia in 1988, and then became visiting scholars at the University of Auckland, New Zealand, in early 1989. YoYo and Lian were in Auckland when the massacre of Tiananmen Square occurred on the 4 June 1989 – a day that changed their lives. Following the news that two of Lian's books had been banned in China, the couple began their life in exile. Since then, YoYo has continued to work as a writer and a professional Chinese language teacher, her footsteps has been left in more than 20 countries in the world. She has published eight books of fiction in Chinese; two of them have been translated into English (among them Ghost Tide, a novel, published by Fourth Estate / HarperCollins, Australia/New Zealand in 2005). Since 1997, YoYo has been living in London and teaching at Eton College in Windsor and at SOAS, the School of Oriental and African Studies, of the University of London.
YoYo's writings are based on her complex experience that both troubled and inspired her life in China. Ghost Tide (published in Chinese in 2002, and in English in 2005) has been reviewed as "In fictional form it gives thoughtful and original consideration to some fundamental questions about China" by Nicholas Jose – a well-known Australian novelist – as well as "It's certainly the most convincing description I've read of what it felt like to be in rural China over those decades" and "It is funny, it is sad, and it is wildly original" by John R Saul – the president of PEN International. Her other book in English translation, to be published in the near future, is titled ONE MAN'S DECISION TO BECOME A TREE – (Beijing – London Quartet). It comprises four inner linked novellas, identifies the journey of Chinese people from China to the world, and ends in the depth of a lonely heart. Her other books include two collections of short stories, She Saw Two Moons (1995) and Wings of Desire (1999), a non-fiction book on the history and culture of Eaton college, Eton College in Windsor (2005), and a collection of prose and essays, Humans cape - Ghost Speak (1994). Her books have been translated into several other languages, besides English, such as German, Arabic and Slovenian. As an artist, YoYo staged two solo painting and installation exhibitions in Berlin, Germany, in 1991.
Yo Yo has been invited to take up writer-in-residence positions and arts projects throughout Europe and the world: such as Akademie Schloss Solitude and the Deutscher Akademischer Austauschdienst, in Germany; Yaddo, an artist colony in NY, USA; the Centro Civitella Ranieri in Italy; Cove Park in the UK and MEET in France. She gave readings at many literary festivals and universities around the world: the University of London, Harvard University, Amherst College in Massachusetts, the Universities of Bonn, Munich, Vienna, Zurich, Basel, the Vilenica International Literature Festival in Slovenia, the Sydney Writers Festival in Australia and many others.
YoYo continues to live and write in London, UK.