T.M. McClellan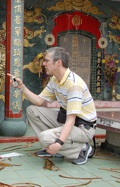 Dr. Tommy McClellan is a former Senior Lecturer in Chinese at the University of Edinburgh.
Education
MA Honours in Chinese with Russian, 1st class, Edinburgh, 1984.
PhD in modern Chinese literature ("Zhang Henshui's fiction: attempts to reform the traditional Chinese novel"), Edinburgh, 1992.
Selected Publications
Books
Zhang Henshui and Popular Chinese Fiction, 1919-1949 (Edwin Mellen Press, 2005, 375 pp.).
See also below for book-length translation.
Articles
"Home and the Land: the "native" fiction of Zhong Lihe", Journal of Modern Literature in Chinese, 9.2 (December 2009): 154-182.
"Wen Yiduo's Sishui Metre: themes, variations and a classic variation," Chinese Literature: essays, articles, reviews, 21 (1999), 152-167.
"Change and continuity in the fiction of Zhang Henshui: from Oneiric Romanticism to Nightmare Realism," Modern Chinese Literature, 10, 1 & 2 (1998): 113-134.
"Zhao Shuli," in Dictionary of Literary Biography Volume 328: modern Chinese fiction writers, 1900-1949, ed. Thomas Moran, Columbia SC: Bruccoli Clark Layman, 2006, pp. 333-40.
Published conference papers
"Urban alienation and urban culture in the fiction of Wang Shuo and Chi Li," in Universitá degli Studi di Torino, Papers from the XIII EACS Conference: "The Spirit of the Metropolis," Turin 2000 [CD-ROM, ISBN 88-900888-0-X], Turin, 2002. 3500 words.
Hilary Chung and Tommy McClellan, "The Command Enjoyment of Literature in China: Conferences, Controls and Excesses," in Hilary Chung ed., In the Party Spirit: Socialist Realism and Literary Practice, Amsterdam and Atlanta: Rodopi, 1996, pp. 1-22.
Hilary Chung and Tommy McClellan, "Images of Women: exploring apparent changes of attitude towards women in the May 4th era through literary imagery," in Viviane Alleton and Alexeï Volkov eds., Notions et Perceptions du changement en Chine, Paris, College de France, 1994, pp. 187-198.
Translation
Zhong Lihe 鍾理和, From the Old Country: stories and sketches of China and Taiwan, Columbia University Press, 2014.
Lin Sheng Xiang 林生祥, 《大地書房:山歌、文學、鍾理和》 The Land is my Study: music inspired by the literature of Zhong Lihe, trees music and art + The Zhong Lihe Trust for Culture and Education, 2010 (Music CD; insert lyrics and notes tr. Dr Tommy McClellan).
Zhong Tiemin 鍾鐵民 ed., Exploring a Literary Landscape: the Zhong Lihe Memorial Institute and its Environs 探訪鍾理和紀念館暨文學地景, Gaoxiong: Chunhui, 2010. ISBN 986632711-6 (bilingual volume, 99 pp., full Chinese text tr. by Tommy McClellan)
Ten poems in 洪素麗Su-Li Hung, 《打狗樹仔》 Trees of Takao, Taibei: Yunchen, 2010, pp. 217-227.
Zhong Lihe, "The Fourth Day" (Disi ri, 1945 [short story tr. with intro by T.M.McClellan]), Renditions 72 (Autumn 2009), 71-93.
Wen Yiduo 聞一多, "Five poems, including some early editions (1925-1928), translated into English or Scots" (Tr. with intro),Renditions, 69 [Spring 2008]), 76-102
Zhong Lihe 鍾理和, "Old Country Folk" (Yuanxiang ren 原鄉人, 1959 [Tr. with intro]), The Edinburgh Review, 124 (August 2008), 53-68.
Su Manshu, "The Tale of the Burning of the Sword", Renditions, 67 [Spring 2007]), 9-27.
Zhang Henshui, "Dream the Thirty-sixth: A tour of Heaven" (Tr. with intro from Eighty-one Dreams [fiction, 1941]),Renditions, 62 (Autumn 2004), 41-69.
Zhang Henshui, "Dream the Fifteenth: Twenty Years Ago" (Tr. with intro from Eighty-one Dreams), Renditions, 61, (Spring 2004) 27-49.
Ding Ling, "A Bullet Never Fired" (short story, 1937), Renditions, 58 (Nov. 2002), 117-126.
Zhang Henshui, "Prologue: Remnants from Rats' Teeth" and "Dream the Seventy-second: I am the Monkey King" (Tr. with intro from Eighty-one Dreams), Renditions, 57 (March 2002), 35-67.
Original Works
All Translations
The Paper Republic database exists for reference purposes only. We are not the publisher of these works, are not responsible for their contents, and cannot provide digital or paper copies.