He Qifang

何其芳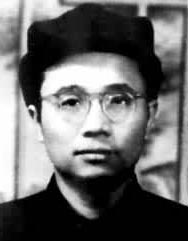 He Qifang (1912-1977), a prominent member of the modern literary circle known as the Beijing School (京派作家), was born into a wealthy landowning family in Wanxian, in the province of Sichuan. At fifteen, he escaped from the suffocating environment of his household and the traditional private classical education system to the new local high school, where he encountered the chaos and radical instability that defined the world of modern education in China at that time. Though he became an active Communist in the forties--even joining Mao in Yan'an--he was always first and foremost a writer, one who maintained an intense, romantic and utterly apolitical literary aesthetic. In an era in which realism and utilitarianism dictated in large part the evolution of Chinese poetry and other literature, his collections of poetic prose, Record of Painted Dreams (画梦录) and Notes on Returning Home (还乡杂记) emerged as entirely unique; written in a smooth yet masterfully controlled stream-of-consciousness style, his essays were a search for "unalloyed tenderness, unalloyed beauty (his own words)" in simple language.
His work is often lost amid reviews of modern Chinese literature, cut off from sunlight by the corpora of Mao Dun, Shen Congwen and the rest; and thus he has been rarely translated, the only substantial collection of his work being "Paths in Dreams: Selected Prose and Poetry of H'o Ch'i Fang" by Bonnie MacDougall (St. Lucia, Queensland: University of Queensland Press, 1976).

Canaan Morse is currently working on (re-)translating the essays from the 1937 unabridged edition of Record of Painted Dreams, which he plans to publish separately and later in book form. Excerpts from his very first translation, The Peddler, can be found on Paper Republic here.